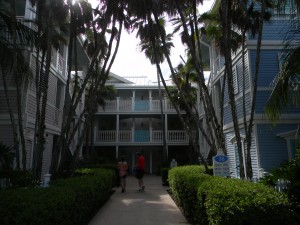 So – upon just returning from another visit to our beloved Walt Disney World, my mind is swirling with thoughts.  I have a lot to talk about!  I also have a bazillion (yes, that's the official count) new pictures to share with you.  I took three cameras, my iPhone, and even a brand new GoPro video camera – which I used for ride videos and as soon as I can figure out how to post those to Living a Disney Life's YouTube channel, I'll let you know.
For those of you who are regular readers here – I did nearly everything I had planned and knocked off several items from my Disney New Year's Resolution list – more about that later.  I love Walt Disney World as much as ever – I'm intentionally writing a balanced post of the highs and lows of this particular trip – I am in no way feeling negative about Walt Disney World in general.
If you have any questions about specific things, be sure to give me a holler!  I'll be happy to help in any way that I can.  Now, without further ado, may I present…
The Good, The Bad, and The Ugly:
The Good:
The grounds of the Old Key West resort are gorgeous.  Particularly the landscaping!  Because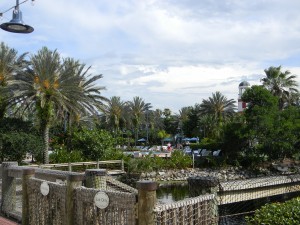 OKW is the original Disney vacation club property (early 1990's) – the trees and plants are mature and lush – very pretty.  The studio we had was spacious and in good repair – plenty of room for the four of us.
The service at Old Key West – was excellent overall.  The lady that checked us in was the least magical of them all and I'll give her a pass because I was pretty grumpy (got up at 3:00 am to catch a plane) and my opinion may have been skewed.  Because of OKW's out-of-the-way location maybe, it seemed everyone from the bartenders to the restaurant wait staff to the bell hops worked extra hard to deliver excellent service – like they were genuinely glad to help.  Moe at Olivia's was excellent.
T
he Festival of Fantasy Parade – It's really fantastic.  We roasted in the sun, sitting on our rain ponchos (so our, uhm, bottoms wouldn't fry on the burning hot curb) and hoped like heck the parade would be worth all the sweating.  It was.  More on that another day.  Just going to leave you with this:  Don't miss it.
Star Wars Weekend – I am NOT a huge Star Wars fan (about a 6 on a scale of 1 to 10), but the excitement is hard to resist!  We got to see the motorcade (but could not make the Symphony in the Sky fireworks, sadly) – John Ratzenberger was there the day we saw it and THAT was exciting in itself.  All the special Star Wars touches from the Storm Troopers to the Darth Vader and Yoda cupcakes – just great Disney fun!
Short wait times!  We arrived the day after the 24 hour event and were pleasantly surprised by
low-ish crowd levels.  Most attractions like Haunted Mansion, Pirates of the Caribbean, Jungle Cruise, Maelstrom, etc. (all non-headliners) had 20-30 minute waits.  We left quite a few FastPass+ choices unused.  We knew we could have changed them to something else, but never felt it necessary.  We used morning Extra Magic Hours and a few FP+'s to ride Rock'n' Roller Coaster, Tower of Terror, Space Mountain, Big Thunder Mountain, Expedition Everest several times each.  Yes, we DID get to ride the new Seven Dwarfs Mine Train, too!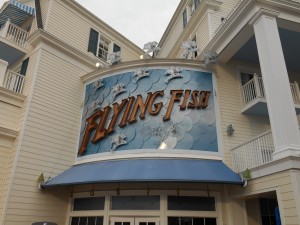 Flying Fish and Raglan Road – these were our two best dining experiences of the trip.  Yes, the food was delicious, but in both restaurants, the service was outstanding!  Bob at Flying Fish (Boardwalk resort area) must be among the best servers on Disney Property – he could describe a cardboard box in a way that would make you really want to eat it!  Brett at Raglan Road (Downtown Disney) was fun and charming – very attentive, yet easy going – a real pleasure.  I highly recommend both of these restaurants!  More to come on them in other posts.
Primeval Whirl – I'm just going to give a little shout-out to this odd little ride in Animal Kingdom's
 Dinoland U.S.A.  I'd never ridden it before, but on this visit rode it three times!  I thought it looked too spinny (made that up) and, well, silly in the past, but gave it a go and had a blast!
Pin Trading – Just as much fun as ever!  We asked at every resort and every shop if there were pin boards or books we could look at – Much trading fun ensued!
The Bad: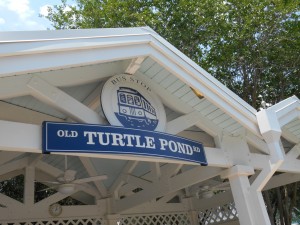 Our location.  Let's face it.  We are resort loop snobs.  We love the monorail resorts above all others.  We only stayed at Old Key West because, as Disney Vacation Club members, we had points enough left over after booking our October trip to stay at OKW for 6 nights.  We figured being anywhere on property was better than not going at all, but boy, oh boy, did we miss Bay Lake Tower!!!  Bus service was so slow, Raymond nicknamed the closest bus stop (Turtle Pond) to our building the "little stop of horrors".  It often (we timed it) took us more than an hour to get to (or from) a park or Downtown Disney.  We walked to the Hospitality House from our building (38) twice and it was a LONG haul.  The resort is huge and very spread out.
Magic Bands – a mixed review, really.  Raymond's band almost never worked on the first (or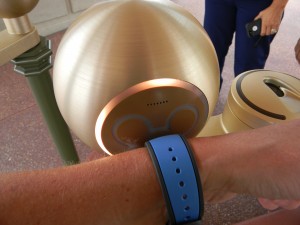 even second) try and sometimes not at all (like it was broken).  When you're trying to enter a park and your Magic Band won't work, it's a bit embarrassing, holds up the line, takes up valuable time, a senior Cast Member with a tablet has to be called over to assist – just bad all around and, in Raymond's case, happened more often than not.  We saw this happen to other people too, every day we were there.  When they worked, Magic Bands were really convenient.  Disney must find a way to add discounts automatically to the band – like DVC, Annual Pass, Tables in Wonderland, etc.  It's a pain to have to carry around all the cards and ID's for this.  Also, the app was VERY slow – Every time we tried to use it.
The Hollywood Brown Derby and Tutto Italia.  We will, most likely, never EVER darken the door of these two establishments again.  We have, on past visits, dined at Tutto Italia (Epcot's Italy Pavilion) and loved it…which is why we booked it especially for Raymond's birthday dinner.  Our meal there was a disaster – as was our first experience (and last) at the Brown Derby (Disney's Hollywood Studios).  In both restaurants our table was in stealth mode – you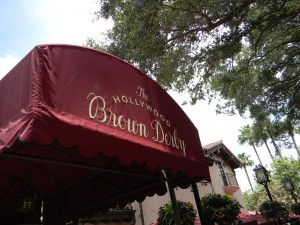 know, it was like we were invisible!  The servers ignored us – to the point that we made jokes about it to keep our morale up.  In both places we felt the food was overpriced and overrated – lacking in flavor and presentation.  Even the "famous" Cobb Salad at the Derby was awful – Megan and I both ordered it and both of us felt the bleu cheese (which I really love) was completely overpowering.  It's quite rare for us to not enjoy a dining experience at a Walt Disney World table service restaurant – I can't believe we had TWO such horrible experiences in the same week.
The Ugly:
The Disney bus service seems to have declined in general.  Maybe part of it goes back to not having a premium location, but one incident (Raymond and I were not present) stands out as indicative of this decline.  Joseph and Megan stayed out late one night to spend more time on park rides.  After catching the bus back to Old Key West, they had a very disturbing experience.  It actually frightened them both and, let me tell you, having me for a mother has made them pretty tough – they don't scare easily.  It seems there was an Hispanic family whose son was enamored of hanging onto the straps used by standing riders – the bus was not full,
nobody needed to stand.  This boy wanted to swing from the strap which made the bus driver super angry.
Long story short – the anger escalated, the bus driver yelled (in Spanish) at the family more than once and even stopped the bus in the middle of the road to try to kick them off.  The boy's parents and the driver had an extremely angry, prolonged exchange.  At this point, the driver's rage had him accusing the child of doing things he wasn't doing.  The other passengers tried to tell the driver – no one was standing up or doing anything wrong.  Emotionally compromised, the driver then acted recklessly by speeding off and "driving like a maniac", which prompted most people to exit at the next stop, even though it wasn't the stop they needed (due to fear).  Megan and Joseph overheard many families' comments about it.
The kids were both shaken up by the bus driver's complete disregard for passenger safety – plus, being at Walt Disney World, nobody expects there to be altercations of this nature.  The drivers usually seem capable of handling anything passengers can dish out – with a smile and a kind word.  Aside from this, bus service seemed "off" from prior experiences – there was often a longer wait than 20-30 minutes between buses.  Heaven help you if you try to park-hop midday from the Studios – the bus stops for the other parks are out in the wide open with absolutely no shade whatsoever.  I'd be interested in hearing how your recent experiences with Disney transportation compare with ours.
Those are my general overall thoughts and impressions of this trip.  I will write reviews of Old Key West and each restaurant we visited (and much more)  in more detail over the next few weeks.  Again, if you have questions or feedback, please leave me a comment.