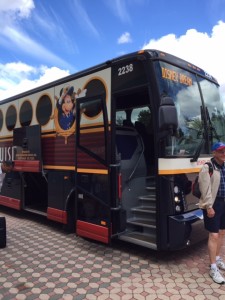 When I left off in Part One, I'd finished the Glass Slipper Challenge and enjoyed Sunday afternoon at Disney Springs.  Raymond and I had decided weeks earlier that it would be best to have a quiet dinner near our Bay Lake Tower studio and make an early evening of it on Sunday.  We could sleep in, pack up, and be ready to board our Disney Cruise Line bus by 11:30 am.
Disney Land and Sea – Trip Recap (Part 2)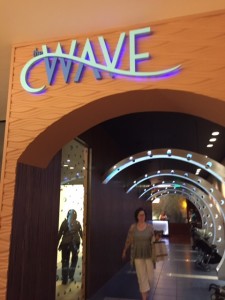 We chose The Wave in the Contemporary Resort for its proximity to our room and the fact that while we'd enjoyed wine and lunch in The Wave's lounge, we'd never eaten in the dining room proper.  Our dinner was very nice and the service was notably excellent.  I felt so drowsy by the end of the meal, I ordered coffee and determined to stay awake long enough to watch at least a little of The Wonderful World of Disney: Disneyland 60 that was airing on ABC that evening.  I managed to stay awake for about 3 minutes.
Monday morning felt glorious!  No early alarm!  No running!  We'd gotten nine hours of sleep and felt like new people.  Plus, we still had the entire second half of our vacation ahead – four nights on the Disney Dream!  We packed in record time and decided to hit Kona Café for breakfast before shopping the resort loop boutiques.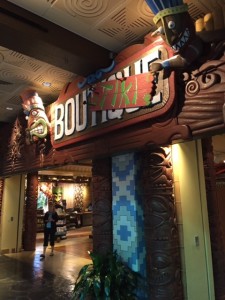 We ended up back at the Contemporary when I realized that I'd forgotten to pack any stateroom door decorations.  I couldn't stand the thought of a plain white door, so Raymond helped me find some magnets, a magnetic clip and Minnie and Mickey postcards we could use to set our door apart from our neighbors'.  Total rookie mistake, but I think our door turned out alright in the end.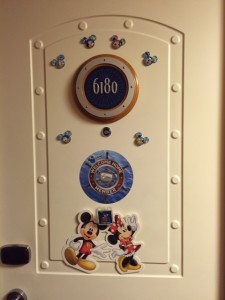 We knew we were going to miss our kids like crazy on this trip.  This would be our seventh Disney cruise, but the first one without Megan and Joseph.  We'd had such a spectacular time on the Disney Magic on the Norwegian Fjords cruise in 2015, it was hard to imagine what it would be like for Raymond and I to be all alone.  We decided to do things on this cruise much differently than we had on any cruise in the past with the hope that it would make sailing without them easier.  And it did…a little tiny bit…maybe.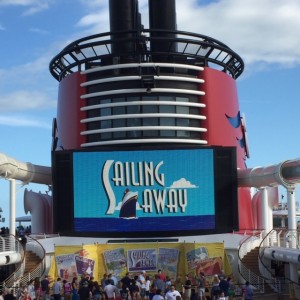 First of all this cruise was short!  In 2010 we sailed on a Castaway Cay 5-night double dip and the next three cruises after that were all 7-nights.  We couldn't believe how fast the trip went by even though we packed in a lot of activities while still making time to relax.  The ship was new (to us) and much larger than we were used to, so everything was different and a little bit foreign (but absolutely beautiful!).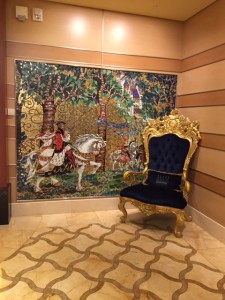 We'd booked dinner and brunch at Remy as well as a dinner at Palo.  This meant we planned to eat in our regular, rotational dining restaurants only twice and we wouldn't be getting off the ship at all in Nassau.
Mostly our plan worked well.  Very uncharacteristically, we skipped all the evening shows on this cruise in favor of either special dining experiences, exploring the ship, or relaxing.  If you've never been on a Disney cruise before, I DO NOT recommend missing the shows!  They're excellent, spectacular, amazing (and many other glowing adjectives as well)!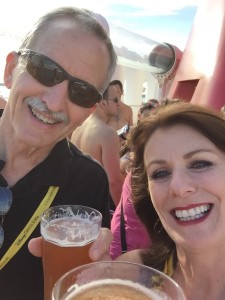 After we attended the lifeboat drill and Sail Away Party, we ate the first night at Animator's Palate with our assigned tablemates – a couple from Pennsylvania celebrating their 25th anniversary.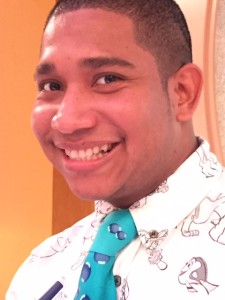 Our servers, Oldair (from Colombia) and Merrick (from Jamaica) were excellent and, except for the butternut squash soup I ordered (after Oldair told me not to), our food was good.  The special effects in Animator's were completely different from what we were used to on the Magic and the Wonder, but still fun.  That meal ended up being the only time we saw our tablemates, Oldair, or Merrick (except on the last night when we stopped by to leave tips).
Here's how the rest of our cruise went…
Tuesday was Nassau day.  We started with breakfast in Cabanas before hitting the fitness center where we intended to spend about an hour, but actually spent two.  We ran on treadmills (with awesome views!), worked out with weights, I had a foot/posture consultation (yes, I did buy the shoe inserts they were selling) and then it was time for spin class, so we stayed around to participate.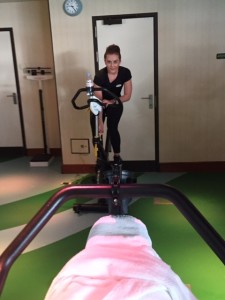 Sophie was her name, I think, the spin class instructor, and she was a pretty young lady from Australia – very deceptive!  Sophie was a devil in disguise!  I thought I was going to die.  The only thing that kept me going was thinking about the calories I was burning and the food I would be eating later.  After all that, we found a couple of deck chairs and drank recovery beverages called beer.  Feeling much better, we decided to get cleaned up and see about some food.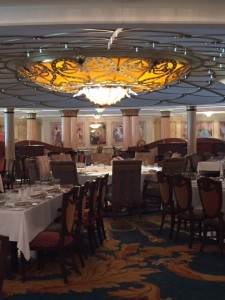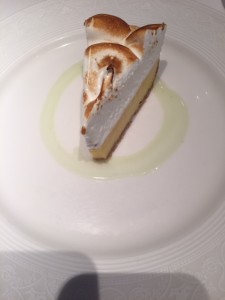 We had a nice lunch in a gorgeous restaurant called the Royal Palace (delicious key lime pie!!!) and then decided to solve a mystery with the Midship Detective Agency (an interactive ship-wide adventure that deserves its own post later).  This was lots of fun (to me…not sure Raymond would agree).  After successfully executing our super-sleuth assignment, we reported to the Senses Spa for our 4:30 appointment – the massage for two.  Very relaxing and tranquil, but we had to hustle once the appointment was over to get ready for our dinner at Remy.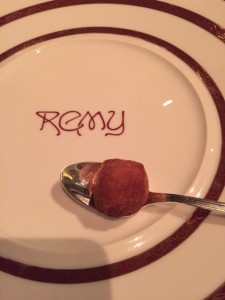 Again, this experience deserves its own article, so I'll just say we enjoyed our meal very much.  After six courses ordered from the menu, a cheese course, and at least three "surprises" from the chef, we were done for the day.  So full and sleepy, we headed to bed looking forward to spending the next day on Disney's private island, Castaway Cay.
Castaway Cay!  Raymond and I had registered for the Castaway Cay 5K, so we got up, ate at Cabanas, and met in the assigned location (Evolution lounge).  The Cast Member issuing race bibs and instructions was overwhelmed with the number of participants (over 300) and declared it to be the biggest turnout for the race EVER.  Raymond and I had a great time!  I even made a friend along the way.  Her name's Julie and she's from Cape Canaveral…Hi Julie!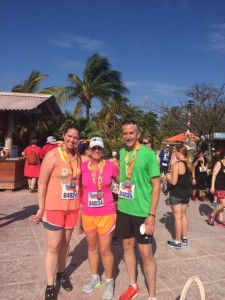 After the run, we headed for Serenity Bay (first time for us at the gown-ups-only beach!) and found it to be indeed quite serene (and a bit surreal with the complete absence of children).  The weather at the beginning of the day was very windy with occasional sprinkles.  When we arrived at the beach, the wind had calmed and the sun was shining.  We found lounge chairs and ordered fancy drinks before settling in for some serious relaxing…at least I tried to relax.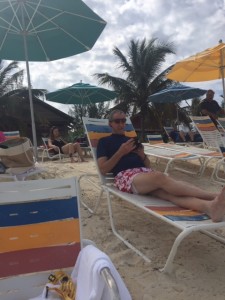 I'm not good at sitting still, so I made friends with Tammy and Stan (sitting near us) and spend most of the time wading around in the water until lunchtime.  Tammy, Stan, Raymond and I hit the beach-side buffet before heading back to the bay for more wading and "relaxing".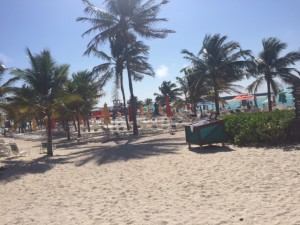 That didn't last long…I was getting sunburned and was ready to go back to the ship.  Raymond and I  stopped at the Conched Out Bar for a few minutes and enjoyed a Guinness to break up the walk back.  We were supposed to go to the Royal Palace for dinner that night but opted instead for room service and called it a day.
Last Day – Sea Day!  To start the day, we grabbed a quick bite at Cabanas before letting Sophie torture us again in spin class.  We then enjoyed a champagne brunch at Remy for which I will write a complete review, but let me say now that this was an especially excellent experience.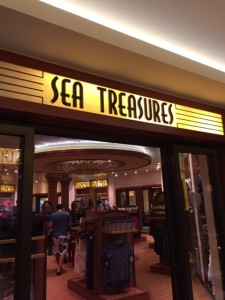 After brunch we browsed the ship's gift shops and watched a cooking demonstration for lobster ravioli.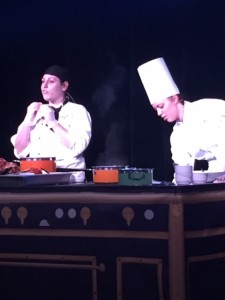 Then we attended a reception for gold and platinum Castaway Club members (Disney Cruise Line's repeat guest rewards program).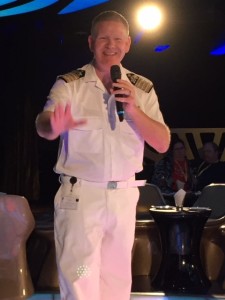 Somewhere during all that we also visited the future cruise desk to book a placeholder cruise (to keep the onboard booking discount without selecting a specific sail date) and we also bought the only pictures taken of us by a Disney photographer – our post-Castaway Cay 5K photos.  We ate dinner at Palo that night and were very pleased to find the restaurant exactly the way we wanted it to be.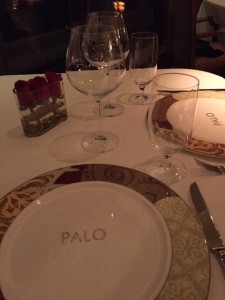 We'd enjoyed Palo on both the Disney Magic and Wonder and hoped Palo on the Dream would be just as good – it was perfect.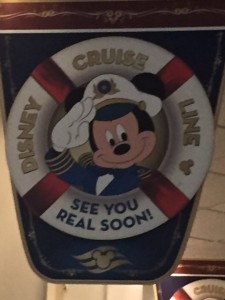 Watch for more reviews on the restaurants, the running events, activities, and the Disney Dream itself coming up in the near future.  If you have any questions about a Disney land and sea adventure, I'd be happy to help.
Have you sailed on the Disney Dream?  How was your experience?