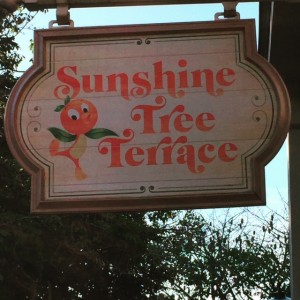 Ever since my ill-fated attempt to enjoy my one and only Dole Whip (yes, I know I'm weird), I've been looking for an acceptable new Disney sweet snack to try.  Enter the Citrus Swirl!
Last month on a warm and sunny December afternoon in Magic Kingdom, I found myself in Adventureland with some free time on my hands.  It was our last day of vacation and Raymond and I had decided to take things easy and savor every single moment.  We'd had breakfast at the Grand Floridian Café before heading to Magic Kingdom with no bigger plans than our three FastPasses – which were broken up by our lunch reservation at Whispering Canyon Café at the Wilderness Lodge.  (Begin flash-back sequence now….)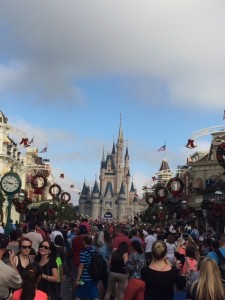 Another great Disney day!  We started with Under the Sea: Voyage of the Little Mermaid which had a short stand-by wait.  Then we stopped in Fantasyland near Gaston's Tavern to watch Gaston himself entertain a few guests with his hilarious ego-fuelled antics.  Then it was on to Mickey's PhilharMagic before using our first FastPass for Pirates and our second for Jingle Cruise (gotta love that holiday overlay!).  Time for lunch, so we caught the boat to Wilderness Lodge.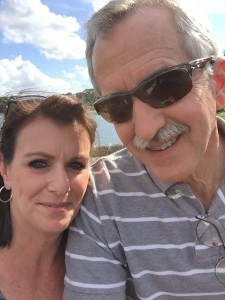 I remember thinking over and over what perfect weather we were having and trying to stay in the moment.  The wind on the water was soft as our nearly empty boat took us to lunch.  Our experience at Whispering Canyon was great, but we skipped dessert.  By the time we returned to Magic Kingdom, it was just in time for our third FastPass and we flew right on to Space Mountain.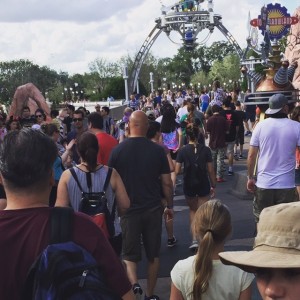 At this point, the crowds were definitely approaching an extreme level, but we weren't ready to leave.  We waited longer than we ever had before to cruise Tomorrowland on the PeopleMover (worth the wait!) before slowly making our way to see those amazing Country Bears (you love them too, right?).  We could barely move for all the people crowding the walkways, but we still didn't want to go.  That's when Raymond said, "Wasn't there something you wanted to eat in Adventureland?"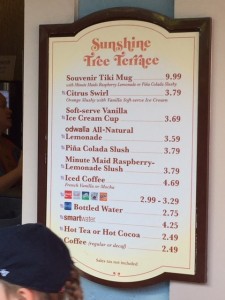 See?  This is why I married this man!  Citrus Swirl!  Yes, I wanted to taste a Citrus Swirl!  The line at Sunshine Tree Terrace was amazingly short.  In a few minutes I was madly trying to scarf down my snack as it rapidly melted in the sun.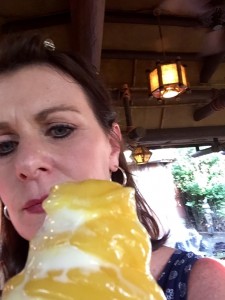 That's when I got the idea that we could find some shade by seeing the Tiki Birds.  Bear in mind that it had been decades since we'd been in the Tiki Room.  I honestly didn't realize that snacks are prohibited until it was too late – I am not advocating rule-breaking at all.  Please do not do this (no matter how happy you think it will make you)…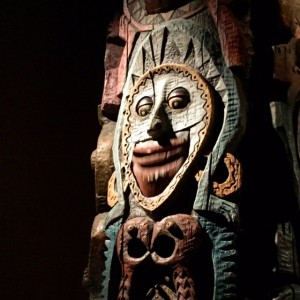 We waited in a very short line, caught the pre-show, made our way into the Tiki Room, and found our seats.  All the while I was calmly and openly snacking away on that Citrus Swirl – oh, the deliciousness!  Right about the time the show started and the announcer asked guests to refrain from eating and drinking…my paper cup was empty and I set it and my spoon aside to take with me and discard after the "concert".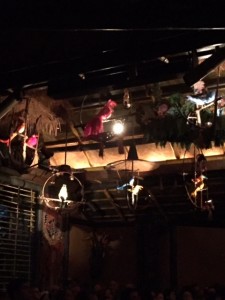 I enjoyed the birds, but I liked that Citrus Swirl more!  Me, born without a sweet tooth, hater of Dole Whip, in love with the perfect combination of creamy soft serve and tangy orange slush – worth every penny of its $3.79 price.
My first Citrus Swirl made me a fan – and I've got the memories of an amazing day to go with it.  In 30 days, I'll be back at Disney World and I'll be heading for Sunshine Tree Terrace.
How about you?  Have you tried a Citrus Swirl?  Are you a fan?