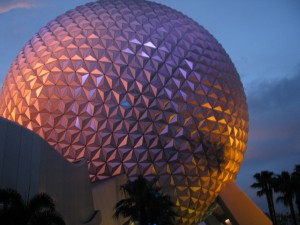 The iconic heart of Epcot's Future World, this much-photographed geosphere is a beloved park favorite at Walt Disney World.  Spaceship Earth is both a weenie and an attraction – and adored by legions of Disney fans around the world.  The ride inside Spaceship Earth takes us on a slow and easy journey through time for a peek at various innovations in communications technology and how those discoveries influenced human lives through the ages (and will shape our future, perhaps).
For my family, this 16 minute tour of both past and future never gets old and we're not alone in our love for this attraction!  We've been known to ride Spaceship Earth many times during a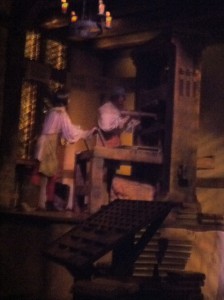 single vacation – even multiple times in a single day.  Is it the animatronics?  The narration?  The smell of Rome burning?  The peek into our personalized future on Earth?  No!  I believe there's no single moment of the experience, but the perfection in the combination of all the components, the small details and the expansive scenes.
Once again, I asked and you answered.  Twitter followers and Facebook friends were happy to respond to my request for shout-outs, in Haiku form, expressing feelings for Epcot's icon.  I'm happy to share these gems of poetic beauty with you now…
For Love of Epcot's Spaceship Earth
From Facebook, there were only two entries, but both were highly creative!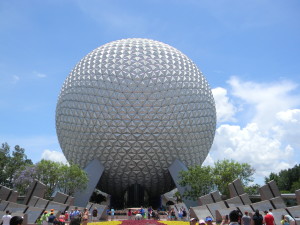 Submitted by Anastasia:
Golf ball cool and dark
Invites me to sit and rest
I can haz nap now
Gaylin posted her fondness this way:
Bright golf ball of love
Beckons all to ride away
Past to future slow.
On Twitter, the response was overwhelming! (If you're looking for Disney friends on Twitter, you should follow all of these awesome folks!)
From @BerryMary92, a beautiful poem: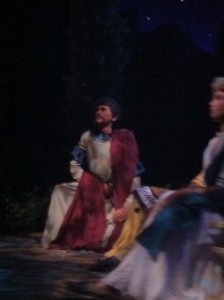 One of Disney's icons
beautiful site to behold
stands proud in Epcot
From good friend (and occasional guest writer) @AndrewCfran:
At Epcot Center
Lies a geodesic dome
Called Spaceship Earth
@bscala1986 composed this very touching entry:
Grand and miraculous.
A symbol of immortality.
Tomorrow's child awaits.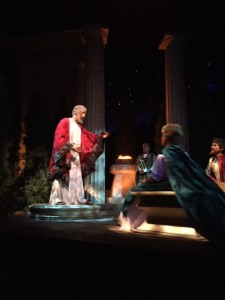 @WDWParkHopper captured Spaceship Earth's best moments:
Thank the Phoenicians
I can smell the fire in Rome
Time to head back home
@Bekka_C writes of her own Spaceship Earth memories (Bekka – stay awake & you'll remember it better!):
Every time I ride.
I swear it is new inside.
What a great sleep ride.
@HLebischak also captured the spirit of Spaceship Earth with:
Time traveling sphere –
in the center of EPCOT –
thank you, Phoenicians.
@scottquaile seems to feel the latest Disney technology has not been good for SSE!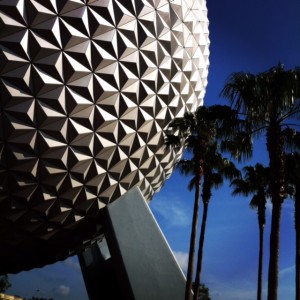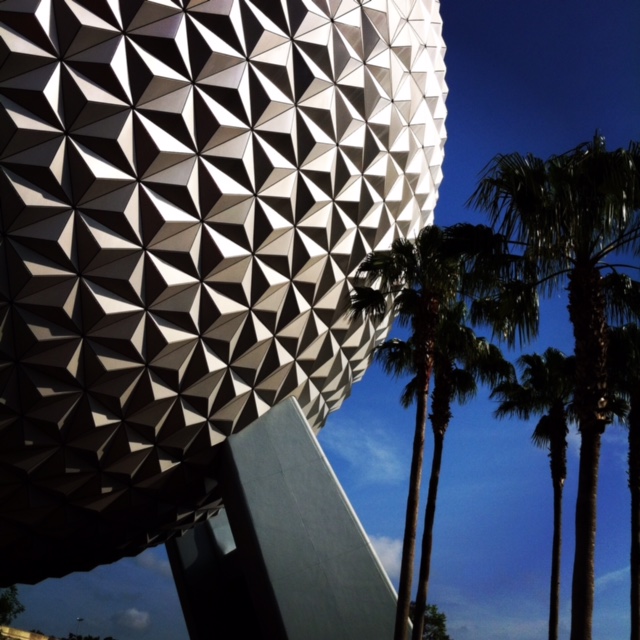 My Magic Plussed
Long lines it has
EEHHHHHHHHH…
@TacoMan945 submitted this beautiful piece:
Jeremy Irons
Many think you're a golf ball
Smell in burning Rome
@GoAwayGreen played along this time with a profound piece of art!
Most fragile transport
Of the knowledge collected,
Analyzed and shared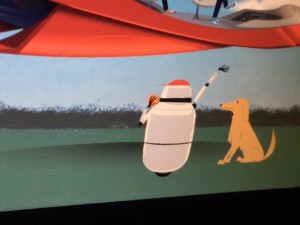 In @YoPaulieNJ's entry, Paulie weighs in on SSE's most recent updates:
The last ride descent
Once so very inspiring
Now a dumb cartoon
Finally, I am proud to bring you the artistic talents of @AmyBethCombs, who didn't just compose one poem – Amy's obvious love for SSE could not be contained in a single Haiku.  Amy is the clear winner of today's game (Congratulations, Amy) with this Ode to Spaceship Earth composed of several entries…
Spaceship Earth is cool.
Spaceship Earth is really cool.
Wow I love Epcot.
Look at those three guys.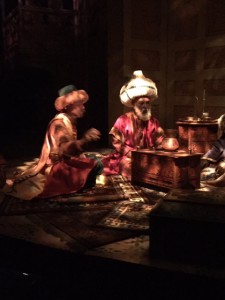 That guy's hat looks like garlic.
I love Spaceship Earth.
Hey, do you smell smoke?
Oh no! Rome is on fire!
Well, there go the books.
Thank the Phoenicians.
You know what they invented?
The alphabet, chump.
How did they do that?
The cave painting on the wall.
It moves. That is cool.
When it turns backwards
That can be kind of scary
The angle is steep.
Each entry was awesome – some of their expressions of love, others for their honesty.  How do YOU feel about Spaceship Earth?  Which attraction would you like to see tributes for next?