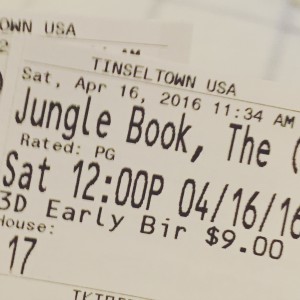 Raymond and I had a double date on Saturday afternoon for a movie and late lunch with Joseph and his girlfriend, Lyndsey.  I'd been looking forward to seeing the new live-action Jungle Book for what seems like YEARS – having been captivated by the trailers.  Star-studded, action packed, amazingly detailed CGI effects…all of those things put this movie on my must-see list.  Luckily, the rest of the group was agreeable, so we hit the first 3D matinee of the day and settled down with our popcorn, sodas and 3D glasses.
Thoughts on Jungle Book-Live Action Version
This is NOT a spoiler-free post, so if you've not yet seen this movie and don't want to know what makes this version of Jungle Book unique, stop reading – go see the movie – come back and share your thoughts later.  If you have seen Jungle Book (or don't care about spoilers), please read on then share your thoughts about the movie.
I understand there's a pretty big group of Disney fans who do not like these live-action remakes of popular movie classics.  The thing is, they're doing well in theaters and while I've yet to see one I liked as much as say, Zootopia, I did enjoy seeing characters like Maleficent and Cinderella come to life with gorgeous cinematography and pretty good CGI effects.
This movie had plenty of familiar moments to keep an old Jungle Book fan like me happy.  What really makes this new version stand out is the incredible CGI characters.  From Kaa (Scarlett Johansson) to the wolf pack, to Bagheera (Ben Kingsley), Baloo (Bill Murray), and King Louie (Christopher Walken) – I couldn't stop marveling at the precision of the minute details – hair, skin, eyes, movements…I was in awe.  The single character that stood out to me as less spectacular than the others was Shere Khan (Idris Elba).  At times it felt to me as if his face was less clearly detailed than the faces of the other animals and his movements were less natural.  Anybody else notice this?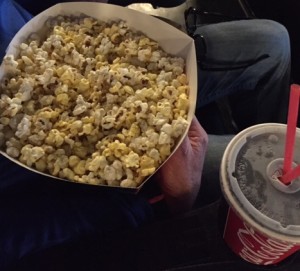 Mowgli (Neel Sethi) could not have been better in this role.  This mancub was perfect for the part and did not disappoint.  The jungle animals, so accepting of Mowgli as one of their own (except for Shere Khan, of course), realize that his use of "tricks" would make him more human than animal and this seems to some a curse and others a great fortune.  I thought this one element of the story was the most important in setting this Jungle Book apart from its animated predecessor.  Mowgli alone must choose to remain safely with the animals by abiding by their rules and rejecting what would make him human or embracing the part of him he'd been taught to deny in order to save himself and others.  Lots of lessons here, if you're looking.
This is not a movie for very young children.  Because we were at the Saturday matinee, the theater was packed with families.  It became clear that children younger than 7 or 8 did not care for the dark, scary scenes at all.  The little boy in front of us demanded to know (in a frightened voice), "Is this ACTUAL??!?!"  It was clearly difficult for the younger kids to determine real from make-believe in this movie.  There is death, although delicately handled (think Lion King), and no shortage of frightening moments.
All in all, this film is visually stunning, suspenseful, action packed, and recreates enough of the animated Jungle Book's lovable moments to please most fans.  It has a lot of heart and a happy ending.  It also has the most interesting treatment of the credits at the end – worth staying to watch.  Finally, if you (like me) hear the name Christopher Walken and immediately think about this sketch from SNL, there's a little something in Jungle Book just for us.
Have you seen Jungle Book yet?  What did you think?