Disney's Animal Kingdom is immersive, exquisitely themed, and carries guest away on exotic adventures.  For visitors looking for a signature dining experience that perfectly reflects the park's theming, Tiffin's is the place!
Tiffins – Disney Park Signature Dining Perfection
My favorite attraction in Animal Kingdom may be in Asia (Expedition Everest), but my favorite section of the park is Africa.  From the Dawa Bar and Burudika Band to the Harambe Market, Festival of the Lion King, and the Gorilla Falls trail…Every square inch of Africa is amazing!  I have yet to visit when I didn't see several things I'd never noticed before.  On the last visit, we were serenaded by a wandering musician…what a unique and unforgettable experience!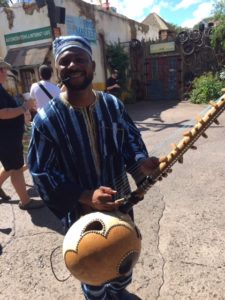 When the opening of Tiffins was announced, we knew we had to try it.  We love adventure in both vacation activities and dining.  By all accounts from the early Tiffins reviews, the experience sounded both exotic and delicious.  (This is probably not the best restaurant for picky eaters.)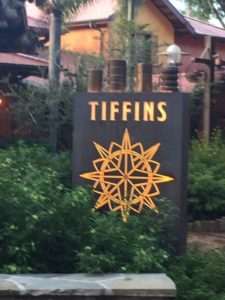 We booked an early dinner for seven to cap off a full day of Animal Kingdom touring.  The exterior of Tiffins blends well into its surroundings.  When we walked in, it was obvious that the carefully crafted details outside the building were magnified on the inside.  The most meticulous care went into making the restaurant's interior feel uniquely special and perfect for its location.
What we liked – Everything!  The service (ask for Kile!), the ambiance, the food, the wine…every detail was fantastic.  Kile, our server, was passionate about Tiffins and was happy to share details with us about everything from the artwork on each wall to the flavors in the menu's dishes.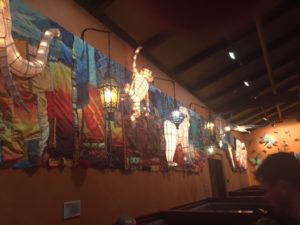 Notice the colorful fabric behind the lighted animal figures (just like the floats in Rivers of Light!)?  Those fabric pieces were once Animal Kingdom Cast Member costumes.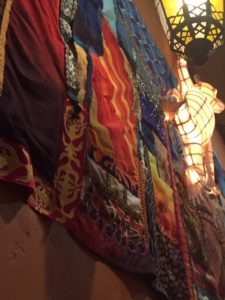 See the wooden poles?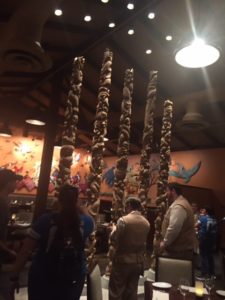 They are covered in carvings of a multitude of different animals – these very same poles were once painted bright blue and stood in Camp Minnie-Mickey.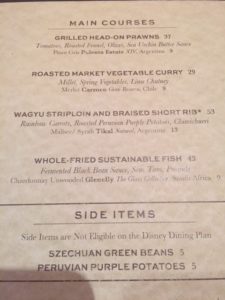 What we didn't like – Nothing.  We loved everything about Tiffins…it was us we didn't like.  This restaurant is special and we felt a little soggy and grimy after being in the park all day and maneuvering through an afternoon downpour.  We were a ragtag bunch eating in a very nice place.  Luckily, that's to be expected with any in-park dining, so while we wished we'd been a bit more presentable, we enjoyed an excellent meal just the same.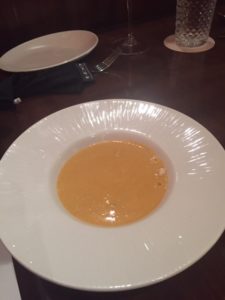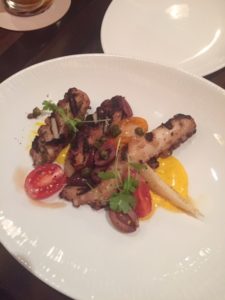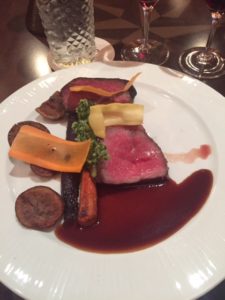 What would get us back – Time and budget.  Signature dining = expensive meal, so we'd need to plan accordingly.  Also, we'd want to book a meal at Tiffins during a day we were already planning to be in Animal Kingdom.  Unlike signature restaurants on the monorail loop or at resorts in or near Epcot, the Animal Kingdom park is pretty far away from where we usually stay.  It's not someplace we would visit just for a meal.  All that being said, we do already have anther reservation at Tiffins in about a month.  Our first impression was great and there are many things on the menu we'd still like to try.
If you're an adventurous eater and you love Disney signature dining, Tiffins is a solid choice for a unique and special experience.  Have you tried Tiffins?  How was your meal there?