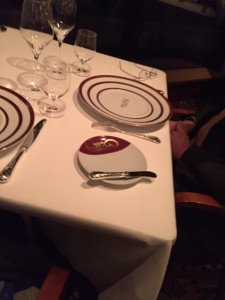 One of the best things aboard a Disney Cruise is the opportunity to enjoy adults-only dining.  I am not ashamed to say – dining without children around is sometimes a rare treat on a Disney vacation…One we're inclined to take full advantage of!  When sailing on the Magic and the Wonder, our choice for this was Palo – which we have loved every single time we've been there.  On the Dream, we had two choices for grown-up dining and opted to try them both.  Palo as a tried and true favorite and Remy as a new and highly anticipated experience – so much so, we booked both brunch and dinner.  For today, let's just focus on one particular meal…
Disney Dream – Dinner at Remy
If you're interested in a night out sans little ones, Remy is an excellent choice.  We were delighted with our meal, in fact, and I have only glowing, positive things to say about it.  So, in the manner I so often employ, let me give you FIVE good reasons to enjoy a dinner at Remy.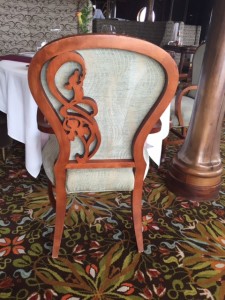 The atmosphere – I'll do my best to describe the setting, but Remy's ambiance will need to be experienced in order to truly appreciate every detail.  The restaurant is named for the famous chef from Ratatouille and there is no shortage of Remy references and tributes throughout the dining room.  The  hostess, Maître D', and servers are French and their pride in the restaurant and the service delivered is obvious from the moment of arrival until the final au revoir.  The tables, chairs, lighting, windows…so much attention to detail is incredible.  There are even little padded footstools near each table in case a guest should need a place to set down a handbag.
You like a culinary adventure – Remy boasts two world-class chefs – one French and one American – Chef Arnaud Lallement of L'Assiette Champenoise restaurant (two-Michelin-stars) located near Reims, France and Chef Scott Hunnel from Walt Disney World's Victoria & Albert's.  The two chefs present two different six-course meals and guests may choose one of those to enjoy OR meals can be built of separate, individual menu offerings.  I chose the six courses presented by Chef Hunnel and Raymond preferred to build his own meal from the a la carte menu options.  Both meals are accompanied by "surprises" (amuse-bouche) from the kitchen sent out by the chefs during the meal.  Our first surprise was a tiny brown ball that looked rather like a small hush-puppy, but was instead a delicately wrapped "bite" of tomato soup!  The second offering was a foie gras foam with macadamia nuts topping a bit of salted caramel.  This sounded so ridiculous, but was, in fact, absolutely wonderful.  The rest of the courses would take many hundreds of words more to describe (ask me if you have any questions), but included things like shrimp, duck, sablefish (personally my favorite part of this meal), Kobe steak, pork tenderloin, chicken, and more.  Dessert for both of us included a lot of chocolate.
The exquisite service – Alexia was amazing!  She helped us through all our food selections (with her gorgeous French accent) and as our courses kept being presented and we gradually got fuller and fuller – we were confronted with a real dilemma – the cheese course.  Had this surprise on a cart arrived bearing anything other than cheese, we could have resisted, but it was full of CHEESE!  Alexia understood that we were quickly running out of intestinal real estate but wanted to taste all the cheeses, so she prepared tiny samples of 12 different cheeses with their dried fruits and honeycomb accompaniments for us to try.  She placed the cheeses on the plate in a particular, circular order and explained their presentation from hard and mild to softer, to the most strongly flavored.  We were even presented with a list of the cheeses to take with us!  If you love cheese like we do, this alone was worth the price of admission (see #5).
Romance – There's a dress code at Remy.  There's candlelight and lovely china and table linens.  We like dressing up from time to time and acting like mature human beings, plus, we enjoy each other's company.  26 years of marriage is not something that happens by accident.  Remy was the perfect combination of delicious dining in a romantic setting – exactly right for spending the evening with your favorite person in the world.
You have an extra $400 lying around.  The up-charge to dine at Remy is $85 per person.  If you don't want to pay for water with your meal (there are a staggering number of pricy options), specify TAP WATER.  If you opt for the wine pairing offered with each course, add $105 per person.  We (having learned our lesson about wine-pairing-perils at Jiko) opted for a single bottle of wine – one of the more economical offerings – with help from the sommelier for $187.  Once gratuity was added…well, we'd spent much more on this meal than we'd intended.  Was it worth it?  YES!  Raymond and I both gave this experience a resounding two thumbs up, but for sure it needs to be accurately budgeted!
What about you?  Have you dined at Remy?  What did you think about the experience?  If you're planning a Disney cruise in the future, is this something you'd splurge on?