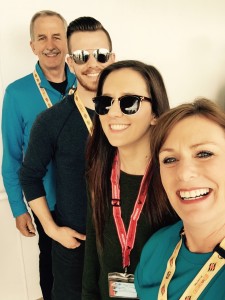 Gracious!  We'd done and seen so much!  Having the last day of our Disney cruise in Norway be a day at sea might seem anticlimactic, but in reality, it was absolutely perfect.  We'd worn ourselves out hiking, kayaking, bicycling, touring and finally, an entire day of relaxation stretched before us.  To make it even more wonderful, the weather was incredible.  Clear, sunny, warm, calm – just spectacular.  Leaving Megan and Joseph sound asleep, Raymond and I took to the upper decks for a stroll – letting the day unfold the way it would.
First we grabbed some breakfast at Cabanas.  Then we walked around soaking up the sights and sun.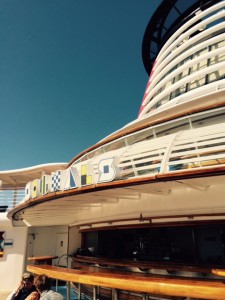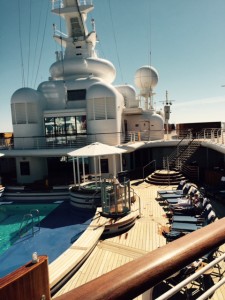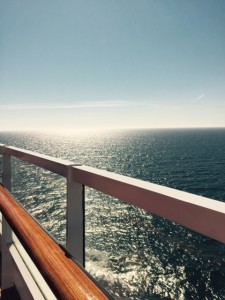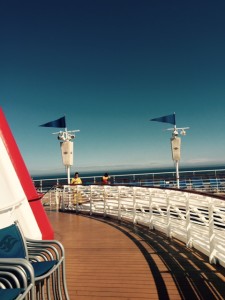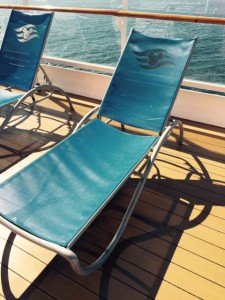 We ran into our new friend, Philip Walker, and chatted with him for quite a while.  Moving on, we decided an adult beverage in the form of a specialty coffee in the Cove Café was in order.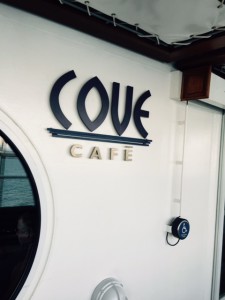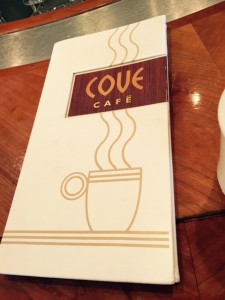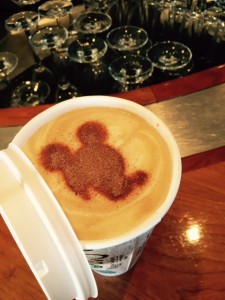 This little grown-up corner of the ship is a great place to hang out and we visited for a while with a fantastic young couple from Colorado we'd first met on our hike to Pulpit Rock.  Then we just roamed around – trying to squeeze the last bit of magic from the Magic on the last day of our unbelievable vacation.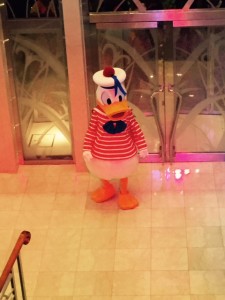 Suddenly, my phone started going crazy with notifications – Disney's onboard texting service meant our kids could let us know if they needed us for any reason and, based on the number of texts rolling in (accompanied by many exclamation marks), Megan and Joseph were in O'Gill's Pub and needed us immediately.  Hmmmm – what could that possibly be about?  TRIVIA!  It was Movie Quotes Trivia and we, ancient parents that we are, were actually going to be of some use for that!  We didn't win, but that didn't matter – we managed to get lots of correct answers and we had so much fun!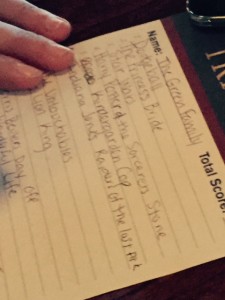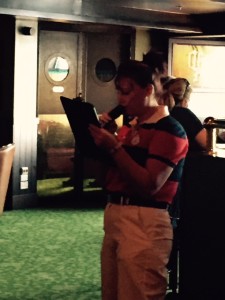 When the game ended, we realized it was time to do one of only two things we'd planned for the day – See Avengers – Age of Ultron!  In 3D! (Check out Meg and Joe's tee-shirts – pretty cool, aren't they?)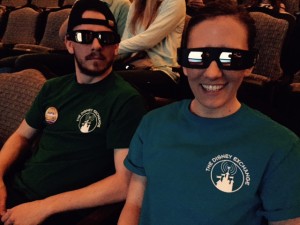 We'd seen the movie before, but something about seeing it at sea made it just as enjoyable as the first time.  Then it was time to get ready for the second thing we had planned – Dinner at Palo to celebrate Joseph's birthday!
We had to hightail it back to our stateroom and convinced Joseph to take his shower first so we had time to get his presents ready and run them up to Palo.  We'd celebrated Megan's 23rd birthday two years earlier on the Magic, also in Palo, on our Mediterranean cruise and knew that the Cast Members in Palo would be more than happy to hold Joseph's gifts until we were between entrée and dessert.  Unfortunately, we'd taken a detour to the shop for a couple of last minute items and by the time we got back to our cabin, we were really pressed for time.
That's when we discovered that the shower – sure, Joseph got to take his shower – was broken.  The handle was stripped and would just spin around…without turning on the water.  We're not the type of family to let something minor like this throw us off our stride or make us grumpy.  We made two phone calls – one to the maintenance department and one to Senses Spa.  A repair person would be right up and, of course, the spa had no problem at all with us schlepping all our evening-out-prep-supplies there to get ready.  The spa is so posh and relaxing, it was tempting to curl up and take a nap, but NO!  We had to hurry!!!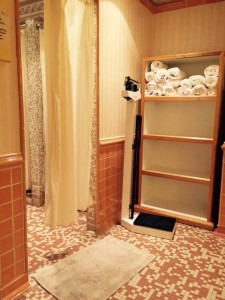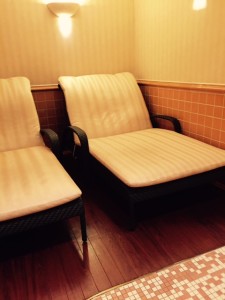 We arrived at Palo almost on time and looking pretty presentable, if I may say so.  Seated at the very same table we'd had in 2013, we were ready to relax and enjoy some incredible food, provided by exceptional service, in an enchanting atmosphere.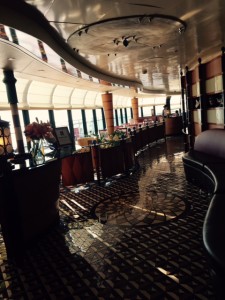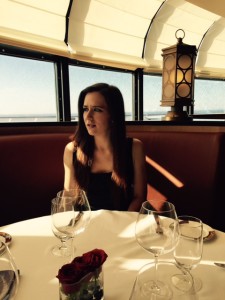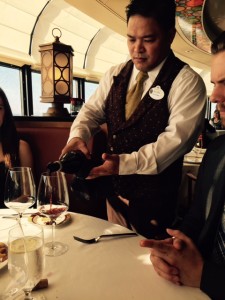 Palo has always been exactly what we'd hoped for, every single visit – and this time was no exception.  We loved our food and Joseph was (or at least acted) surprised when our server brought out his gifts.  I scooped up every moment into my heart and memory as fast as I could. (Joseph loved his new sunglasses!)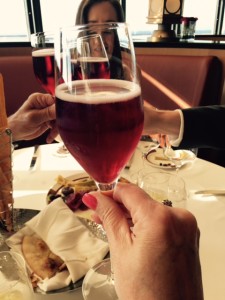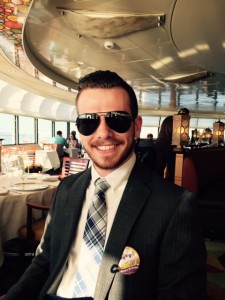 What a great way to end one of the best vacations we've ever taken!  Two years of planning and anticipation and the results exceeded our wildest expectations.  I cannot wait to get started on the next adventure.  We have plans…big plans!  And as soon as we know for sure they'll work out, you'll be the first to know.
Thanks for sticking with me for this lengthy trip report – I appreciate your comments and support here, on Twitter, on Facebook and on YouTube more than I can say.
Links to the other parts of this trip report: