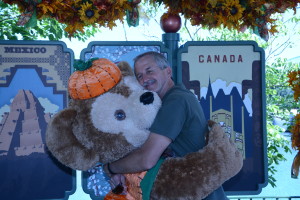 This article is dedicated to our darling children, Megan and Joseph.  We adore them…in spite of their views on the subject of today's post.
If there could possibly be a more polarizing topic in our household, I can't name it.  Disney's sweet bear, Duffy,  is to blame for a house divided!  Our house, to be exact.  Exactly how such an innocuous, cuddly, mild-mannered being could create an unprecedented level of strife, I cannot explain.  It's true nonetheless.
Here's the deal…years ago, when "Duffy the Disney Bear" first began to appear at Walt Disney World, our kids were suspicious – WHO is this guy and WHY is he a "thing"?  The more he showed up, the greater the suspicion grew – before long, that seed of doubt (about Duffy's legitimacy as a "real" Disney character) sprouted into annoyance and swiftly grew into active dislike.  One or both of our offspring would frequently complain, "HE. IS. NOT. A. REAL. CHARACTER.!!!!!!!" – every time they saw poor Duffy in any size, shape, or form.  He's not a movie star, not part of any ride or attraction, and NOT part of any of their happy childhood memories.  Duffy haters they became – both of them vying for who could dislike Duffy the most.  Trust me when I tell you that the snarky comments that accompanied Joseph's "modeling" of the Duffy ears were epic.  That smile is NOT genuine – it's straight up vicious.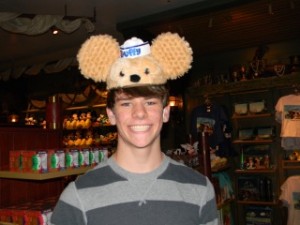 Thanks to Duffy's popularity at Tokyo Disney, he became legit – and part of Walt Disney World in the form of stuffed animals (and dress-up costumes for them), pins, and his very own Character Meet-n-Greet.  Raymond and I did not board the Duffy-hater bandwagon with our children.  We were rather ambivalent for a long time, certainly not offended by the poor guy, that's for sure.
Fast forward to October, 2014 – Raymond and I are at Disney World to celebrate our 25th anniversary by enjoying the Food & Wine Festival sans kids.  Raymond suddenly recalls (as we're approaching the World Showcase at opening time) that there's a Duffy meet-n-greet on the Mexico side, near World Showcase's entrance.  He suggested, based on all of the above, that we have our picture made with Duffy for our children.
We laughed the entire time we waited in line for Duffy's arrival.  We laughed harder when Duffy showed up in his pumpkin costume!  This was going to be GREAT!  We'd get the Cast Member to take pictures with our phone and upload our Duffy pictures directly to Facebook.  When our turn came, we were laughing like loons.  What we didn't expect, was to fall in love with Duffy.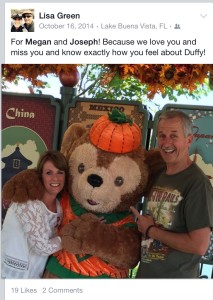 Of all the characters we've "met" at Walt Disney World, Duffy was one of the very best.  For a character that doesn't speak, he conveyed a world of information.  We got the distinct impression that Duffy knows his reputation as a fringe, slightly sketch character and does his level best to make up for it.  Duffy was cute!  Duffy was funny as all get out!  Duffy won us over!!!  AND caused us no small amount of grief when we confessed our newfound adoration for Duffy and his charming ways.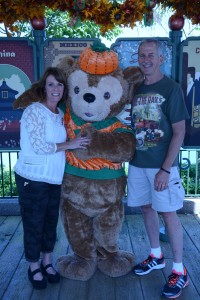 So, there you have it.  Duffy loathers on one side, Duffy fans on the other.  No small shortage of snarky comments from one corner and fond Duffy memories from the other.  I don't imagine this will change anytime soon…sigh.
Do you have any Disney controversy in your home?  What's it all about?  Tell me!