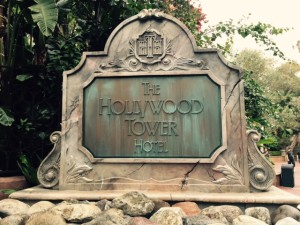 It's October and I'm feeling Halloween-ish.  Last week, I listed my favorite things about Magic Kingdom's Haunted Mansion.  This week, I feel it's only fair to do the same for the Twilight Zone Tower of Terror in Disney's Hollywood Studios.  As it is most certainly one of my top three favorite attractions, I have plenty of love for every dark, spooky, incredible detail.  Where to begin?  That's easy!  The Tower of Terror's draw begins long before guests step into the queue.  Stroll down Sunset Boulevard and you'll see (and hear) what I mean.  The Tower's exterior, complete with screaming faces in the upstairs window, is sure to capture your attention.
Tower of Terror – 10 Best Things
What about YOU?  How do you feel about the Twilight Zone Tower of Terror?  Do you love it?  What's your favorite detail about this attraction?