You guys are the best!  I don't tell you enough how much I appreciate you.  Another year has come and (nearly) gone – it's hard to believe it!  2015 was incredibly busy and also full of life's joys and sorrows.  I know sad times are necessary for us to truly appreciate happy ones, but that knowledge doesn't always make those tough times easier to bear.  What did make a difference in my life in 2015 was all of you.
Through this blog and the Disney Exchange Podcast, on twitter, Facebook, and Instagram – you and I have formed friendships.  In many cases, we've shared life's challenges and successes and cheered and supported each other along the way.  Our common interests brought us together and the kindness of the Disney fan community is humbling and amazing.
Living a Disney Life – 2015
In February, I ran in my first three runDisney events and you were there via social media with words of encouragement.  From the Frozen 5k (very appropriately named as the weather was certainly freezing) to the Enchanted 10k and the Princess Half Marathon…I shared my view along the way tweeting pictures as I ran and your responses kept me going when I got tired.  Thanks for that!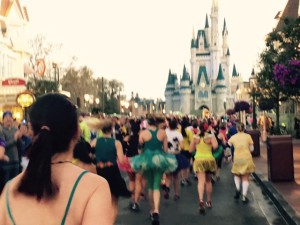 In June, family tragedy struck.  Just before The Fam and I sailed through the fjords of Norway on the Disney Magic, I lost my mom after a long battle with Alzheimer's.  This blog would have gone dark for weeks if not for my Disney friends' help.  Mike and Gary from the Por Favor Podcast, Keith and Sean from Enchanted Tiki Talk, Andrew from The Mouse for Less, Curt from Geekin' on WDW, and of course Nick and Barbie from Disney Musings all provided entertaining and informational Disney articles for your reading pleasure.  They also offered me kind words of friendship and support during a difficult time in my life.  That meant more than I can say.
In September, Raymond walked Megan down the aisle and suddenly our little Princess became a grown-up married woman and our family of four became five.  The entire pixie-dusted wedding was as perfectly perfect in every way as any of our imaginations could have dreamed up.  We are as proud to call Grant our son as Joseph is to call him brother.  After a honeymoon at Walt Disney World, the newlyweds have settled well into their new life together.  Thank you for all the well-wishes and kind words during that time.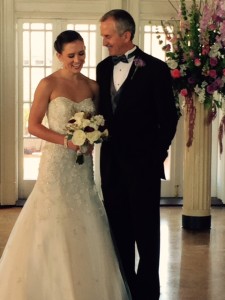 The year is coming to a close – Many months ago, Raymond and I decided that we couldn't let 2015 end without one last visit to our favorite vacation destination.  In a year packed with hellos and goodbyes, we consider ourselves blessed with the very best family and friends any two people could ever wish for.  Thank you from the bottom of our hearts!  We love you guys!  We'll be back with more Disney adventures in 2016 and we hope you'll be along with us again!  Wishing you a very Happy New Year – Lisa