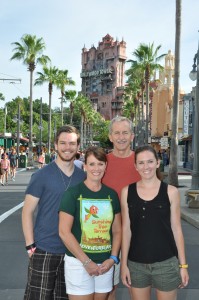 What a great year this has been!  I'd been looking forward to 2014 and it did not disappoint.  I can hardly believe it's almost over!  Two trips to Walt Disney World – one of them a second honeymoon – and a full year of blogging about my love for all things Disney made for a great big bunch of fun!  Just in the last few weeks, even more exciting things have happened.  I could gush about the blessings of 2014 forever, but I want you guys to hang in with me all the way to the end of the list, so I'll narrow my happy moments down to ten of the very best!
My Disney Best of 2014
10. Best Disney Recipe at Home – I had trying a couple of recipes on this year's Disney New Year's Resolutions list.  Hands down, those Maui Potatoes (formerly of 'Ohana fame) were the most delicious Disney delicacy produced in my kitchen with my own little hands.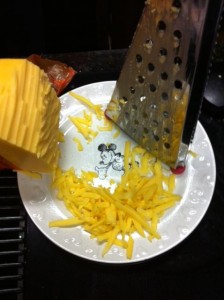 9. Most Popular Reviews – I wrote blog posts about a wide variety of topics, but by far the most popular of all those posts were the reviews of Disney's Memory Maker.  We totally blew it on the first go (review here), but gave it another chance after we learned some important lessons and totally got our money's worth on the second try.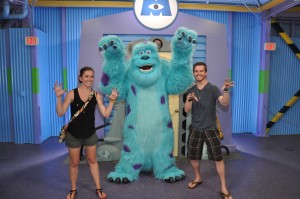 8. Most Relaxing Disney Moment – It was a tremendous, extravagant splurge, but worth every penny – the massage for two in the Senses Spa at the Grand Floridian.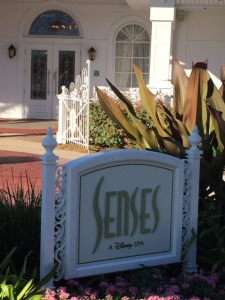 7. Best Disney Meal – This is TOUGH!  Raymond and I enjoyed Citricos (Grand Floridian) more than I can say, but because Megan and Joseph were with us for this incredible dining experience, I'm going to have to say the Flying Fish (Boardwalk) takes the top spot in this category.  The atmosphere, the food, and the service (Bob!) were all impeccable.  We couldn't have had a better time anywhere on or off Disney property.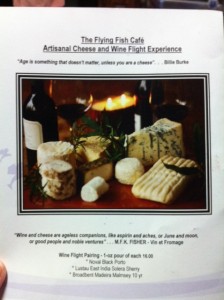 6. Best Disney Purchases – I bought some limited edition t-shirts and some great new pins and they were all pretty darn special, but my best Disney purchases this year were the new Christmas ornaments Raymond and I picked out together at Disney's Days of Christmas in Downtown Disney.  We had a great time choosing just the right mementos of our vacation then enjoyed the memories those ornaments brought to mind as we decorated our tree.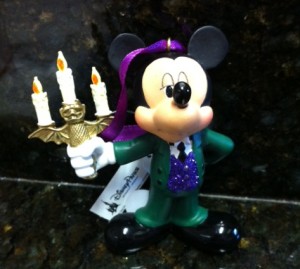 5. Best Disney Snack – I'm only making this a category because I threw myself into Disney snack consumption this year with gusto!  I'm still reeling over the number of snacks I purchased and consumed in the name of research.  It's no wonder I gained a few extra pounds!  The winner has to be the Croissant Donut (a.k.a. Cronut) from Epcot's Refreshment Port.  It's the perfect snack food…but not for sharing.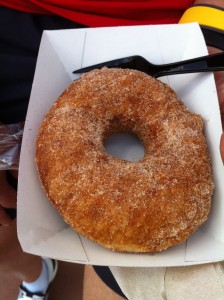 4. Best New Disney Endeavor: Hosting a New Podcast – If you haven't heard, The Disney Exchange is a brand new Disney podcast.  Episodes 1 and 2 are available from all your favorite podcast sources.  Listen to me.  Really, go download an episode and listen to me and my buddies Nick and Dave while we debate, argue, laugh, and joke our way through discussions of our favorite Disney topics.  With over 80 years of combined Disney travel experience between the three of us, sooner or later we're bound to say something useful to someone somewhere.  In the mean time, I am having a blast!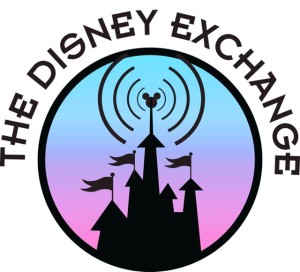 3. Priceless Family Vacation Moments – It's pretty challenging to coordinate schedules and get the four of us on vacation together, but we pulled it off in 2014 (and will do it one more time in 2015).  Those of you with small children will wonder if Disney vacations lose their magic when your kids grow up and I'm happy to tell you that in our family at least, Disney vacations have just gotten more fun.  I savored every moment of our May vacation, but enjoyed the evening meals we shared together the most.  Being together in the place where we've had so much fun through the years and created so many happy memories – looking across the table at our children and seeing the fun, happy, productive, well-adjusted adults they've become was indescribably special.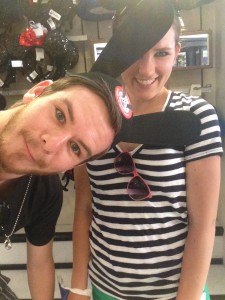 2. Best Disney-Induced Euphoria – Feeling Like a Kid Again – Even though I was about to turn 50 and Raymond had just turned 60, when the two of us were at Disney World in October, we were kids again.  We didn't have to be anything to anyone, we just were.  Relaxed, go-with-the-flow, joking around, trying new things, meeting new people, doing what we wanted, when we wanted, soaking up the Disney magic and the joy of each other's company.  It's good to be married to your best friend – especially one who loves Disney as much as you do!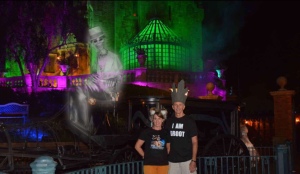 1. Best Disney Gift – New Friends – I've said it many times this year in many different ways, but the Disney fan community is just amazing.  I've met some of the nicest, funniest, most caring people you could possibly imagine.  If I could change anything about this year, I would have used pixie dust to bring us all together at Disney World so I could meet everyone face to face!  I was lucky enough to meet Nick and Barbie (Disney Musings) and Jane and Heather (fellow Disney Divas) and a couple of dozen other fantastic folks, but there are scores of friends yet to meet!  Hello 2015!!!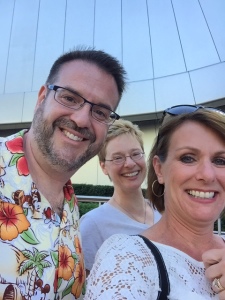 What's on your list?  What were your best Disney moments of 2014?