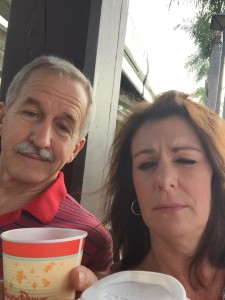 When I say "mature people" it's my nice way of saying older-and-slowing-down people.  Like me.  Raymond and I have reached the age where we don't have to keep up with our kids or make concessions for nap times (that aren't our own).  We can do what we want, when we want to and now that we've arrived at this part of our lives, we find we do want to slow down and take it easy.  Where Disney vacations were once about seeing and doing as much as humanly possible for 15+ hours a day, we've earned this time of soaking in the little details, meandering, leisurely exploring, going to bed early and sometimes getting a late start on the day.
Don't get me wrong – we are thrill ride junkies and book FastPasses for our favorites.  Today's list is more about the attractions we enjoy when we're between FastPasses or have an unscheduled half-day for going with the flow.
Disney World Attractions For Mature People

Mickey's PhilharMagic – It's a fantastic show.  Plus the queue's short and indoors where it's nice and cool.  All our favorite Disney songs, a 3D movie, smell-a-vision and a comfy seat.  Yup, this one's a perennial favorite.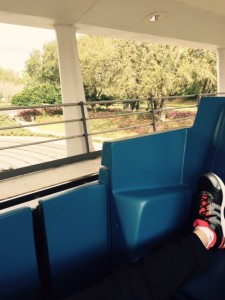 The PeopleMover – So underappreciated by young whippersnappers!  This thing's the bombdiggety.  Sure, it's outdoors, but there's no ride in the World more relaxing to me than this gem of an Omni-mover taking me on a Tomorrowland tour.  No thrills, no water, no animatronics, no worries.  (BTW – The tunnel-of-love aspect should not be ignored!)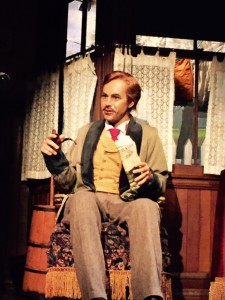 Carrousel of Progress – An attraction as old as I am!  The awesome theme song and the unforgettable moments through American history make this classic…well, classic.  Campy?  Cheesy?  That may be your opinion.  I think it's perfect.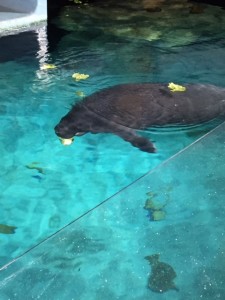 The Seas With Nemo and Friends – No, I'm not talking about the ride, but the Seas pavilion itself – although there is something to be said for a nice relaxing ride in a clam-mobile.   It's no secret that I'm a huge fan of Epcot's manatees and their home in the Seas.  Indoors with multi-level viewing areas, this Future World pavilion is a great place to chill during a hot summer afternoon and soak up the surroundings.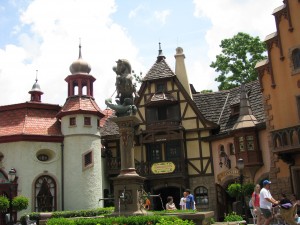 World Showcase Shops – Maybe not an "attraction" in the strictest sense, but a very fun way to spend an afternoon.  I don't care if we start in Canada or Mexico, wandering through the pavilions' shops never fails to delight.  Even if I don't buy anything (oh, who am I kidding…I always buy something!), the shops are interesting and the Cast Members, if not too busy, are full of awesome information about each country along the way.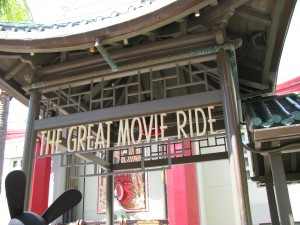 The Great Movie Ride – While parts of this kill me (Tarzan, I'm talking to you!) with their need for an update, I enjoy the experience.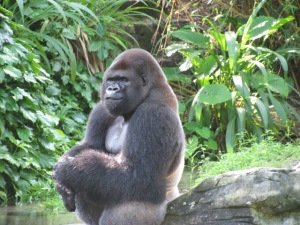 Pangani Forrest Trail and Maharajah Jungle Trek – Sure, during the warmer months the entirety of Animal Kingdom is almost unbearably hot, but these two trails are irresistible to me!  So much to see and if we go when we're not pressed for time, the experience is so much better!  To get the most of both the Pangani Forrest and Maharajah Jungle, you need to have plenty of time and patience.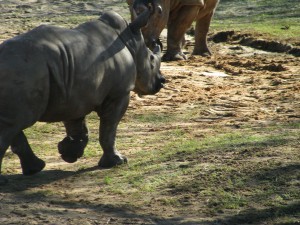 Kilimanjaro Safari – I'm crazy stupid on this attraction no matter how many times I experience it.  Every. Single. Time.  I take a bajillion pictures and am captivated by each and every animal we encounter.  Added bonus – I can rest my feet from walking the trails.
How about YOU?  Have you reached the older-and-slowing-down people phase yet?  Which attractions do you love the most for their relaxation factor?
If I haven't told you lately…thanks so much for visiting my blog.  I'd love to interact with you over on Facebook too!