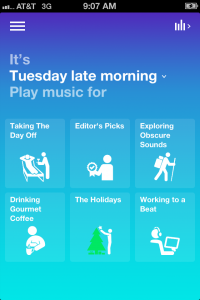 Not long ago while riding in the car with both of my children – a very rare occurance these days, I can tell you – one of them took over our musical entertainment by plugging in their iphone to the car's audio jack and playing… Disney tunes!  I was happily surprised by the choice and jealous of their playlist.  When I asked if they'd downloaded all those awesome songs from itunes, they said, NO – it's an app called Songza!  WHAT?
Songza is a music streaming site with a free app (you can pay $3.99/month to have an add-free version) that will quite literally play any and all types of music, courtesy of a "music concierge" based on what you want to hear a
t any given time.  I couldn't believe it!  How had I never heard of this before?  I'm always listening to music when I run and it can get expensive to keep adding songs to make new playlists when one gets boring.
Skeptical by nature (probably growing up in Missouri has something to do with it), I said, "show me!".  People!  This thing is awesome!  When you open the app, you see information from the concierge – what day it is, what time of day, what your playlist options are (based on what you're doing) for a quick selection (if that's what you want) – like songs for singing in the shower, for example.
If you're like me and you want a very specific playlist, move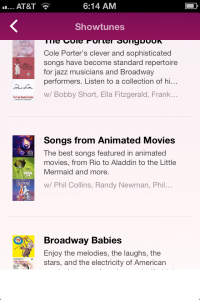 onto the next screen and choose "Genres" and then on the screen after that – you'll be presented with tons of choices ranging from Bluegrass to Disco, Hawaiian, Indie, Jazz, several types of Latin, Pop, Rap, Reggae, and more – The last choice on the list is Showtunes!  In that category alone there are TEN playlist choices – like Songs From Animated Movies –  Most of which are DISNEY!!!  The Animated Movies playlist also appears under the "Children's" genre section along with other choices like Pretty Princess Magic Mix, Superheroes and Dinosaurs!, and Sweet Lullabies (and more).
If you choose "Activities" or "Moods" instead of "Genres" and you can choose playlists suitable for doing things like Ballroom Dancing, Being Creative, Breaking Up, Curing Road Rage, Pleasing A Crowd or acompanying moods like Angsty, Celebratory, Funky, Motivational, Nocturnal. (Loads of other choices)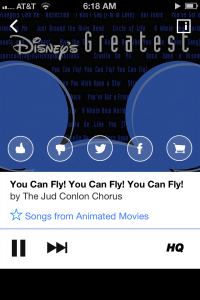 Using the search function, you can, for example, enter a particular artist you like, let's say Randy Newman for instance.  You'll be presented with a list of different playlists to choose from – all based on your search for Randy Newman.  Not all of the songs will be Randy Newman songs, but his songs will be among the ones making up the playlists – a sort of if-you-like-Randy-Newman-you-should-also-like-these sort of thing.  There are many more options and features – it's a pretty amazing array!
If you like music of any type of music and Disney music in particular, Songza is pretty fantastic and FREE!  Have you tried it?  What did you think?
In case you're curious – I have no sponsors on my blog, so if I'm telling you about a product or service – it's purely because I like it, not because I'm being paid to do so.  If that ever changes, I'll make a full disclosure – promise.