We're a family that likes outdoor activities…A LOT.  You may have noticed this if you've been here before.  We're into running, bicycling, hiking, and we once had that interesting sea kayak adventure in Norway.  In an effort to keep challenging ourselves and have even more fun at the same time, 2017 was the year for scuba diving.  Like we do most things, it was a family affair and we're now proud PADI Advanced Open Water Scuba certified.  Of course that meant that we looked for opportunities to try out our newfound skills.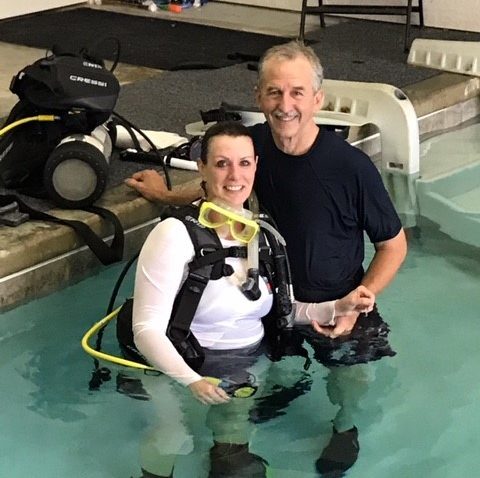 Disney Cruise Excursions – Nassau Scuba Diving Adventure
Raymond and I signed up for the Certified Scuba Dive at Stuart Cove to add an activity to our 4-night cruise on the Fantasy in September (other than eating!).  Let me disclose right now that we missed Megan and Joseph every minute we were on this excursion – they would have loved it so much!  If you have your open water scuba certification and are sailing with Disney in the Bahamas, we highly recommend this adventure.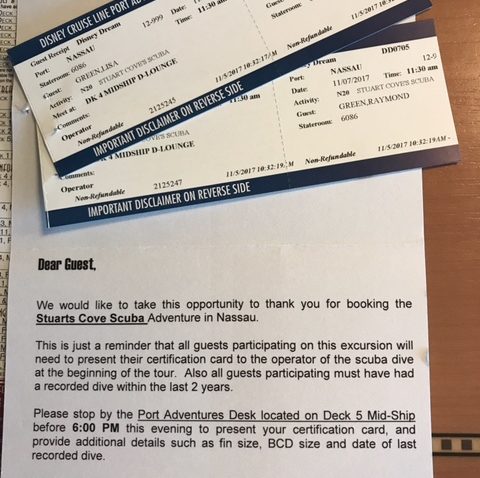 As with every other Disney cruise excursion we've taken, we met our tour group at the designated area on the ship.  In this case, it was at the D-Lounge where we found out our entire excursion group consisted of four people.  Raymond and I, along with a father and his tween (8th grade) daughter.  You know me, so you know I did try to make friends, but they were a hard pass on virtually any conversation – with us and with each other.  To each their own, we say, so we respected their preference for silence throughout the adventure.  Raymond and I kept our discussions to ourselves, the boat captain, and the dive master.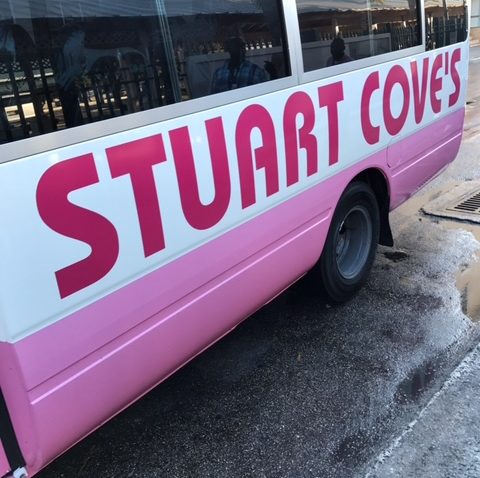 We'd been asked shortly after boarding the Fantasy to stop by the Excursions Desk to present proof of scuba certification and verify our BCD (Buoyancy Control Device) sizes.  So when we arrived at D-Lounge and checked in, we were on our way off the ship almost right away.  We were met at the pier by some representatives from Stuart Cove Scuba who led us through the crowded port area to our transportation.  We boarded a clean, well-kept van with plastic-covered seats and found a seat among other cruise line passengers also headed to Stuart Cove.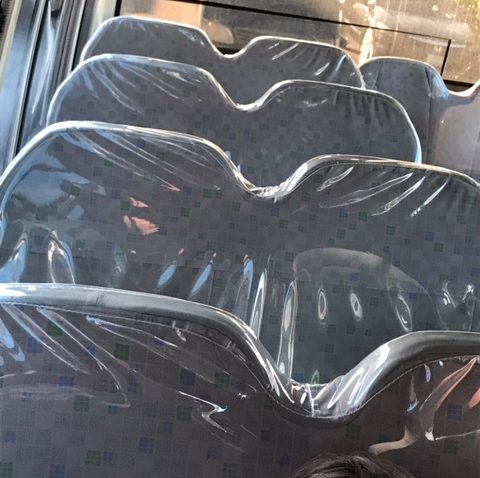 If you've been to Nassau before, you may have already experienced what I'm about to describe.  The trip from port to cove was an indirect route that took us through lovely, manicured properties and trash-filled razor-wired areas by turns.  The driver directed our attention to points of interest along the way, but there's no disguising Nassau's…well, I'll call them warts.  Luckily, Stuart Cove is lovely and the dive shop well-equipped and professional.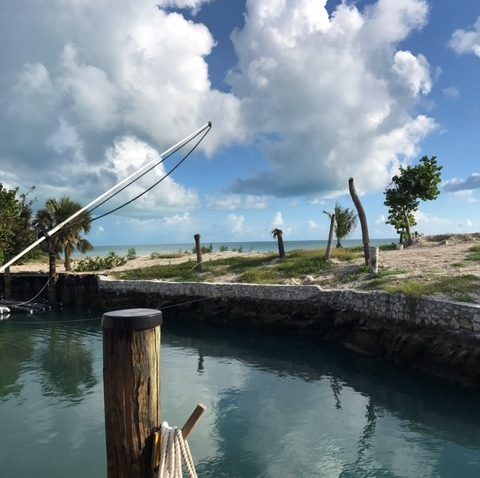 In short order, we'd gotten our equipment together and boarded the boat.  Raymond and I had brought along our own regulators, masks and snorkels for comfort, but all necessary items were available.  We were off!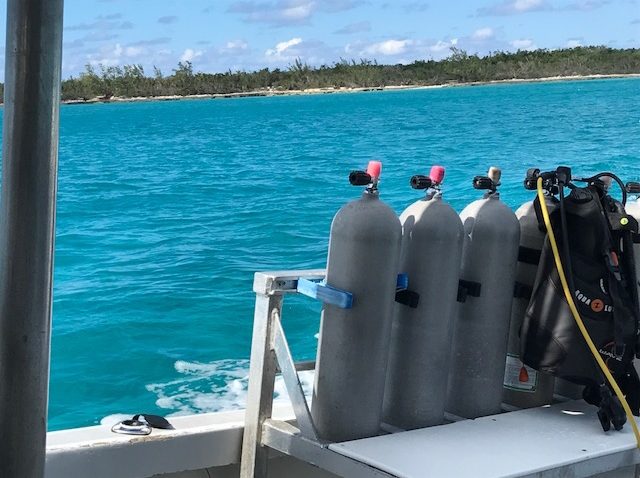 This was a two-tank dive and our first stop was Mike's Reef.  What a fantastic spot!  Visibility was great and I don't know who Mike is, but his reef was teeming with life.  Colorful fish of all shapes and sized swam among beautiful corals and plants.  There were sharks!  Black-tipped reef sharks swam around us, but not close enough to be anything other than thrilling in a fun way.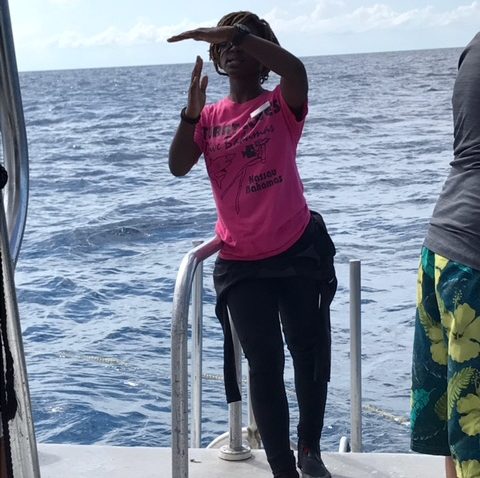 Our second dive was to see Two Sisters – a double wreck site.  The swim there was as devoid of life as Mike's Reef had been abundant.  Except for the lone shark that we saw when we first entered the water, this area of the cove was like an underwater dessert – sand, sand, and more sand.  Finally, one of the Sisters appeared out of the dark.  Fish were abundant all over both wrecks.  We were able to explore each sunken boat from stem to stern and as a novice diver, I was blown away.  They were like haunted houses, but covered and filled with amazing (instead of scary) sights.  Once we'd used up most of the air in our tanks, it was time to head back to shore.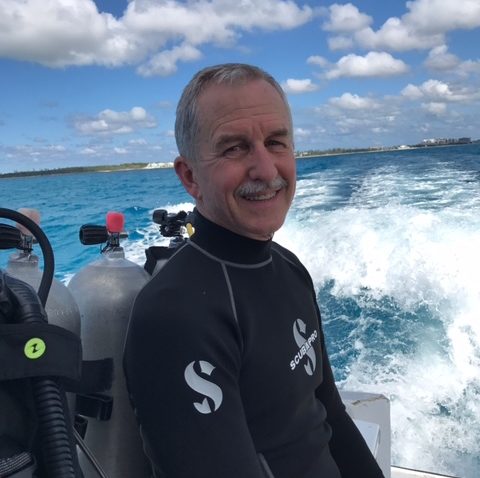 This was, to date (and by far), the best of any visit we've had to Nassau.  Given the chance, we'd do it again for sure.  Once home, I made like my mother and ordered the National Audubon Society Field Guide to Tropical Marine Fishes so Raymond and I could show Megan and Joseph all the cool sea life we'd seen.  And we could revisit the adventure by looking at fish pics again and again.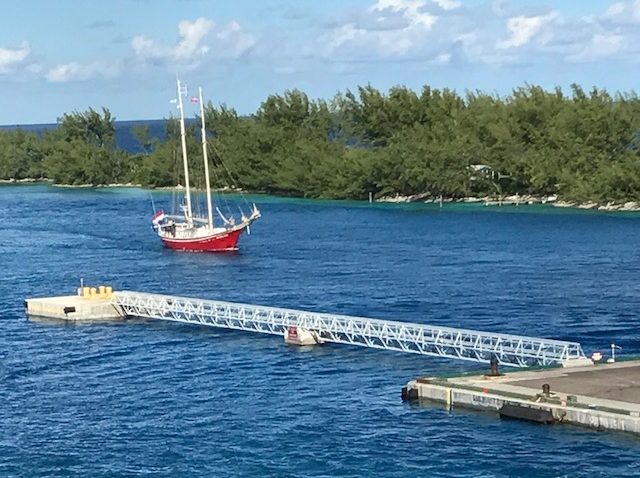 I highly recommend two things for your first (or next) Disney Cruise to the Bahamas.  Get your open water scuba certification and give the Stuart Cove Scuba excursion a go!  It ranks up there with some of the best fun we've ever had on a Disney cruise.
Have you sailed with Disney?  What were your favorite port adventures?