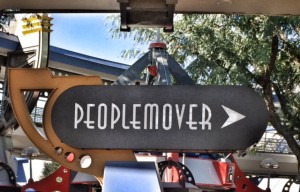 Diehard Disney fans!  What's the Tomorrowland attraction we love the most?  Is it Space Mountain? Nope, not that one.  Buzz Lightyear and his Space Ranger Spin?  No, that's not it.  Ask around among long-time Disney lovers and one attraction stands out as a traditional, perennial favorite – The PeopleMover!  It's not very thrilling, it's not speedy, hilly, or packed with special effects or fancy animatronics.  Why, then, is it so popular?  Glad you asked!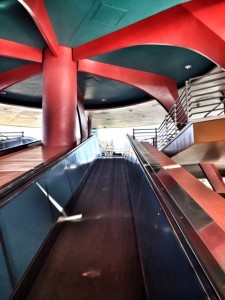 There's just something so DISNEY about riding the PeopleMover.  Originally, the ride was called the WEDway PeopleMover when it debuted in 1975 (WED = Walter Elias Disney).  Now it's officially named the Tomorrowland Transit Authority PeopleMover and also affectionately know as the TTA.  The cars, powered by eco-friendly linear induction, move silently along a mile-long route around Tomorrowland.  During this 10-minute tour, you'll have a chance to rest your feet or even catch a quick nap if you like.  The views are great and include a peek into both Space Mountain and Buzz Lightyear's Space Ranger Spin.  Day or night, there's rarely a wait for this hidden gem of an experience.  On our most recent visit to the Magic Kingdom, we rode the PeopleMover late one morning to dry off after getting soaked on Splash Mountain.  We may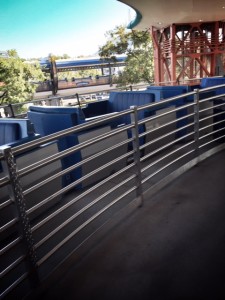 have been the only riders at that time and we loved every minute of it.
A few days ago, I invited my friends over on Twitter to show their love for the PeopleMover by writing a haiku in tribute – the speed at which these awesome works of poetic artistry were tweeted back to me is a testament to how passionately we Disney fans feel about our most beloved Tomorrowland attraction.  You know when some of my favorite podcast hosts are writing poetry on Twitter, they are serious about their favorite attraction! (If you aren't currently listening to the Mighty Men of Mouse, the WDW Northeast Podcast, or the Por Favor Podcast, you should be!)
Ode to Walt Disney World's PeopleMover (Many thanks to Dutch, Dean, Gary, Deb, and Heather!)
Zero incline track
Breezy Tomorrowland views
There's never a line – Dutch Lombrowski (@DutchLombrowski) Host, Mighty Men of Mouse
Slow but exciting
See true Disney history
Love to ride at night – Dean (@CT_Mickey_Man) Host, WDW NE Podcast
Every single time
You hope Space Mountain is lit
Darn, perhaps next ride – Por Favor Podcast (@PorFavorPodcast)
Oh, PeopleMover we love thee
You give us a break from walking
Please keep on moving us – DisneyDeb (@DisneyDeb67)
Ever moving round
People watch, photo op spot
Tomorrowland fave – Heather Lebischak (@HLebischak), contributing writer as "Tangled Diva", Tips from the Disney Divas and Devos.
What about you?
  Is the PeopleMover a must-do attraction for you?