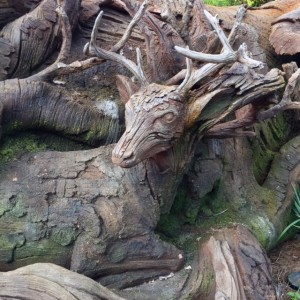 We are days away from our next Walt Disney World vacation and all the speculation about what's happening with the Animal Kingdom at Night is making me crazy!  I'm on a roller coaster of excitement followed by crushing disappointment…then hope…then despair…then excitement again.  What's the deal?
Nighttime Animal Kingdom Speculation
There are many unofficial Disney websites along with news and social media outlets that broadcast doom and gloom.  They started announcing that Disney will be discontinuing the new nighttime offerings at Animal Kingdom after one summer of late night fun.  According to these sources, until Rivers of Light launches, Animal Kingdom's nighttime activities and attractions will be no more.  Then suddenly, these same sites have had to walk back those statements when the reduced October park hours once again expanded into the evening.
While I'm not ready to shun social media for confusing me with all these somewhat sketchy prognostications, I'm going with what I do know – officially.  And I'm cautiously optimistic!
We are (and have always been) planning a day-and-a-half at Animal Kingdom…because it is more than a full-day park to us (and should be for you too!).  We started our planning by booking our ADRs (Advance Dining Reservations) 180 days pre-trip for an 8;30 am breakfast at Tusker House and a 4:30 pm early dinner at Tiffins – both new experiences for us – on our full day, open-to-close Animal Kingdom visit (with our half-day visit scheduled for a few days later).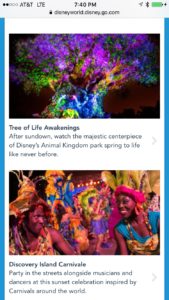 Shortly after we selected our dining options, we learned Rivers of Light was delayed, but all the rest of the nighttime activities like the Tree of Life Awakens, Kilimanjaro Safari at Night, and the street parties (Harambe Wildlife Parti and Discovery Island Carnivale) were in full swing (and we expected them to continue).  Jungle Book: Alive With Magic (the temporary replacement for the delayed Rivers of Light) was not enticing to us, so we had planned on riding Expedition Everest and Kilimanjaro Safari after Tiffins before hitting one of the street parties.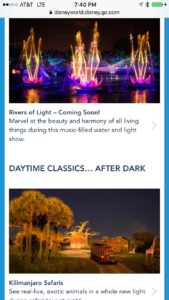 Then the park hours changed.  I started paying attention and saw Animal Kingdom suddenly closing at 7:30 pm during the week of our visit.  While some social media chatter had the park closing in October at 6:30 pm, I faithfully checked the My Disney Experience app and never saw closures earlier than 7:30 pm for our trip.  While this was a little disappointing, I still believed we'd have time between dinner at Tiffins and park closing to squeeze in some attractions and thought maybe the Tree of Life would still "awaken".
Then the hours suddenly extended again to an 8:30 pm closing time, Facebook ads by Disney continue to promote Nighttime at Animal Kingdom, and rumors started up about Rivers of Light suddenly being much closer to a launch date.  Last week, we received our fall edition of the Mickey Monitor (pass holder newsletter) and it contained a section promoting Animal Kingdom at night.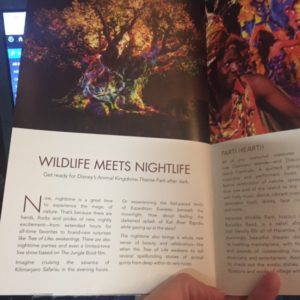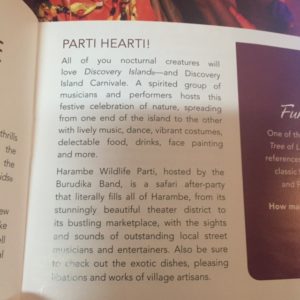 I'm stepping off the roller coaster of speculation and believe we will get to experience at least some of the new nighttime offerings at Animal Kingdom on our visit.  I'd be crazy to hope that Rivers of Light would somehow be ready for a soft opening (at least) 10 days from now, but with 9:00 am – 8:30 pm hours on our full day at Animal Kingdom, I'm sure we will not leave disappointed!
What about you?  Are you looking forward to Animal Kingdom at Night on your next visit?