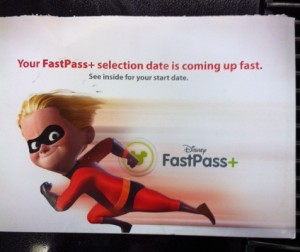 This is our family's strategy.  We're all adults, we're thrill junkies, fans of park-hopping, and are nostalgic about certain attractions based on 25 years of Walt Disney World vacations.  This list ranks all FastPass+ choices into three categories:  Must Have, Might Have, and Do-Not-Care.  The Must-Haves are the attractions that we are going to definitely ride and feel strongly about not waiting in line for (at least once).  The Might-Haves are attractions we like, but will wait in line for if we need to and know we're probably not looking at waits of more than 40 minutes or so under most circumstances.  The Do-Not-Cares are attractions we either won't waste a FastPass on, are pretty sure will have short lines anyway, or don't intend to experience at all.
I should add that because of FastPass+ tiers at Epcot and Disney's Hollywood Studios, our ranking does not imply that it's possible to book all our must-haves at a given park in a single day.  We'll book different combos on different days to end up with at least one FastPass+ for our must-haves during our vacation.
My FastPass+ Rankings
Must Have
Magic Kingdom:
Big Thunder Mountain Railroad – This is a fantastic ride!  It's thrilling, has loads of details, wonderful theming and is long – almost 4 minutes of fun!  The queue is good, but this is one attraction that we'll book a FastPass for and also wait in line to ride again.
Seven Dwarfs Mine Train – We don't care how wonderful the interactive queue is – the line will be long and will take up more time than we're willing to spare for a two-minute experience.  If we can't get a FastPass, we're most likely skipping this one.
Splash Mountain – Unless I know for sure we'll hit this one first thing after rope-drop in the morning, we're getting a FastPass for it.  Unlike Seven Dwarfs Mine Train, we will wait in line if we have to, but always try to book a FastPass every time.
Epcot
Soarin – This attraction deserves a better queue.  So popular – it's a great experience (even in its current badly-worn condition) with a queue so torturously boring we cannot make ourselves wait for this one.  FastPass or just pass.
Disney's Hollywood Studios
Toy Story Midway Mania – We LOVE this attraction – It's all me. I'm the reason we don't wait in line for this one. I hate the queue with an unequaled passion.  I've gotta have a FastPass and I make it a priority!
Rock'n' Roller Coaster – The queue's pretty boring and usually extremely long and hot (most of it being outdoors).  We'll wait if we have to in the early morning, but will always book at FastPass in advance, at the earliest possible time, to get at least one ride in our super-stretch limo without the long wait.
Twilight Zone Tower of Terror – We actually love the queue for this and will book a FastPass AND ride it with a wait. We cannot get too much of this one.
Disney's Animal Kingdom
Expedition Everest – Love this attraction!!!  Since we'll ride it multiple times, having a FastPass once or twice saves time.  The queue's the best, so we'll also wait in the stand-by line at least one time too.
Kilimanjaro Safari – We always ride this first thing in the morning without a FastPass…then we'll ride later in the day at least once during our vacation and we use a FastPass for that later adventure.
Might Have
Magic Kingdom
Haunted Mansion – Unless we're there during peak season, we will monitor the wait on the My Disney Experience app and hit this one when we're looking at 30 minutes or less.  Don't get me wrong – this is a must-do ride, but we've found we don't need a FastPass for it.
Pirates of the Caribbean – Like Haunted Mansion, we are riding Pirates on every vacation.  What makes us pass on the FastPass most of the time is that the queue is inside, is cool and dark, and totally bearable.
Jungle Cruise – I love the punny humor of this attraction.  We don't care for the queue (boring, long, hot) yet won't burn a FastPass unless it sort of falls in our lap.  We'd like to take the Cruise on every trip, but if it doesn't work out that way, we're okay with it.
Space Mountain – Similar to how we feel about Jungle Cruise with two notable differences – the queue isn't horrible (indoors, cool and dark with a few interactive elements), but Raymond and I feel the jerkiness of this ride more now than we used to (I KNOW! We must be getting old!), so we kind of hesitate to use a FastPass for it when we don't love it as passionately as we once did.
Enchanted Tales With Belle – I want to see this!  We've yet to fit Belle into our plans.  Gotta change that next time we go.
it's a small world – Not everyone in our family loves this attraction as much as I do. 
The Many Adventures of Winnie the Pooh – It's cute, but not a must-do, we'd rather see if we can work out a trip to London and Neverland on the next attraction on the list.
Peter Pan's Flight – If we see an opportunity to add a FastPass for this one, we'll usually take it.  It's cute and fun and the line's normally crazy long.
Epcot
Spaceship Earth – Sometimes we have a FastPass, sometimes we don't.  This is absolutely a must-do for us, but we don't have to have a FastPass.
The Seas With Nemo and Friends – We usually end up with a FastPass for this at least once, but we like this ride.  The line's usually pretty short and we'll happily wait in line, no FastPass necessary.
Disney's Hollywood Studios
Star Tours – It's popular and we'd rather not wait in too long a line for at least one of the times we ride (which might be several, depending on who's in our travel party).  If the wait's not bad, we'll ride without a FastPass.
Indiana Jones Epic Stunt Spectacular – Really no need for a FastPass, but sometimes we end up with one in our selection for a particular day.
MuppetVision3D – Same as Indiana Jones, but we'll see this with our without a FastPass and, except for extreme crowds / peak seasons, never need one.
Disney's Animal Kingdom
Festival of the Lion King – We have waited on may occasions for this, but will certainly book a FastPass if we can.
Dinosaur – Like some of the other attractions -if we end up with a FastPass in the mix for the day, we'll ride Dinosaur.  If not…no big deal.  It's not a must-do.
Primeval Whirl – I believe a FastPass in our lineup was the reason we ever gave this ride a try in the first place.  Who knew we'd find it weirdly adorable?  Not a must-do for us though.
Do Not Care
Magic Kingdom
Under the Sea: Journey of the Little Mermaid – It's cute and we'll always try to fit this in our schedule.  The queue is as entertaining as the ride.  We've yet to need or use a FastPass for this one.
Ariel's Grotto – We've not been here before.  Have you?  Would you use a FastPass?
Barnstormer – Nope.  It's 57 seconds of kiddie-coaster and doesn't currently fit into our touring plans.
Tomorrowland Speedway – *cough, cough* We prefer to watch this from the PeopleMover as it makes its way around Tomorrowland than actually "race" around the track.
Buzz Lightyear's Space Ranger Spin – We'll ride this if the line's not too short, but won't deliberately book a FastPass – if one ends up in our lineup, so be it.
Princess Fairytale Hall – Never been and won't be going until we have a little on traveling with us again.
Mickey's PhilharMagic – This is certainly a must-do for us, but doesn't need a FastPass.
Dumbo The Flying Elephant – I'm honestly not sure how the rest of my family feels about this ride.  I almost rode it once.  Can't imagine booking a FastPass for it.
Monster's Inc. Laugh Floor – We love this attraction, but don't find the line long enough to make a FastPass necessary.
Festival of Fantasy Parade – We'll wait in one of our favorite spots.  The FastPass viewing area isn't all that great to us.
Main Street Electrical Parade – Booking a FastPass so late in the day means you'll never use your allotted three and get the option to book another.  Plus, even if we had a FastPass, there's a good chance Raymond and I will be too tired to wait up for this.
Wishes Nighttime Spectacular – We love Wishes!!!  Like Festival of Fantasy – we'll wait for it where we can find a place and don't need a FastPass for it.
Mad Tea Party – Too much potential for motion sickness.  Pass.
Magic Carpets of Aladdin – We don't want to ride this one.
Epcot
Living With the Land – Line's usually short and it's not an every-visit attraction for us.
Test Track – Only occasionally do we care to do this one.  If we get the urge, we'll try to get a FastPass.
Illuminations – I don't mind waiting in a prime location IF I want to see Illuminations.  The FastPass+ viewing area was not that great to us the one time we tried it – although being able to arrive last minute and have a spot was pretty cool.
Mission: Space – Not unless a double-dog-dare is involved in some way will I be on this ride ever again.
Turtle Talk – I like crush, but am probably not wasting a FastPass on him.  Maybe someday when we have grandkids.
Journey Into Imagination With Figment – Figment's cute and if the line's not long, we'll jump in.  Otherwise, we'll pass.
Captain EO – NO.  Not under any circumstances.  No.
Disney's Hollywood Studios
Beauty and the Beast – Live on Stage – We've seen this many times.  Unless Megan begs to see it again, we'll pass altogether or wait for it…no FastPass necessary.
The Great Movie Ride – The line's usually not too long.  This isn't a must-do attraction for us – if we get the chance and have time, we'll get in line.
Fantasmic – We'll get there early if we want to see this.  Or we'll do the meal package (at participating restaurants), but we won't be booking a FastPass for it.
Lights Motors Action! Extreme Stunt Show – This falls in the "once and done" category.  We saw it once and that was enough.
Voyage of the Little Mermaid – Sure, we'll watch this if we have time and the opportunity presents itself, but no with a FastPass.
Disney Junior Live on Stage – We've never seen it.  Aren't planning to anytime soon.
Disney's Animal Kingdom
Kali River Rapids – We don't dislike this ride, we just hate getting completely soaked on it.
It's Tough to be a Bug – We like this one, but don't need a FastPass for it.
Finding Nemo – The Musical – We really don't feel a FastPass is necessary.  If we check the app and the line is short, we'll head that way.
Wow!  If you're still reading, thanks for sticking with me this whole time!!!  What jumps out at you as completely opposite of what you're family does?  I bet if you have little ones your ranking is totally different.  When you book your FastPasses, what are your top picks for every visit?