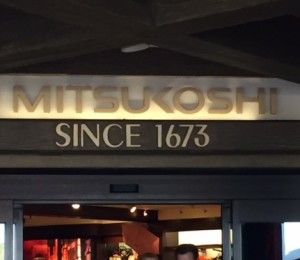 Our love for World Showcase is indescribable – The whole being so much greater than the sum of its parts.  One of the very best of those individual parts is and always has been the Japan pavilion's Mitsukoshi Department Store.  More than a shop – it's a destination on its own – worth making time for or planning in advance.  Spend some time in this fantastic building and tell me if you don't agree – what cool merchandise!  Amazing sights, sounds, tastes!  Fabulous service – excellent Cast Members!  And sake tasting.  Did I mention the sake tasting?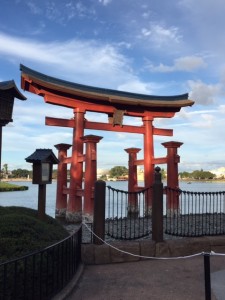 Sake is an adult beverage.  Referred to as rice wine, sake is actually brewed more like beer, but has a unique flavor unlike anything else.  We like sake with sushi and other Asian dishes, but until recently knew only basic sake info and had no idea it came in so many different kinds.  We learned all about Sake in Mitsukoshi at the Sake Bar.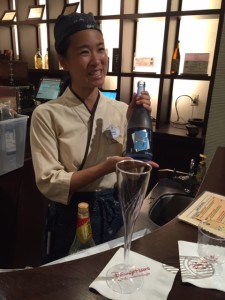 Way in the back of the store is the coolest room devoted to Japanese food, snacks, candy, and beverages – including Sake.  I highly recommend a stop into this very impressive corner…in fact, here are five reasons you should give it a try…
Mitsukoshi in Epcot – Sake Tasting
Enjoy Delicious Sake – There are choices aplenty.  Raymond chose something dry.  I chose my sake strictly on the fact that it contained gold flakes.  It just seemed so exotic and decadent!  I couldn't pass it up.
Learn Something New – We picked up quite a bit of information just listening to the couple next to us ask questions.  The patient and knowledgeable Japanese Cast Member knew her sake!  Basically, she explained this, but with gracious loveliness and flair.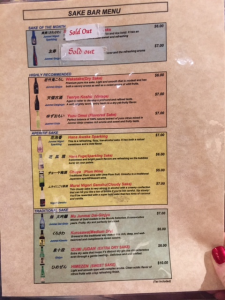 It's Economical – Unlike most pubs or lounges, this walk-up counter does not accept gratuities.  The price you see is what you pay and for less than $10 per serving, the entire experience is worth the price.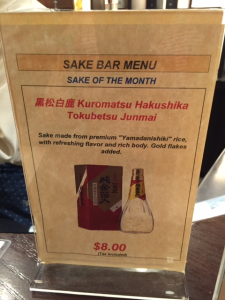 It's Fun and Relaxing – This is actually not the place to take a load off since you stand at the counter, but stopping for a few minutes to be adventurous felt very relaxing.  We meandered through Mitsukoshi making our way to the sake bar and back out to World Showcase again.  We spent about 30 minutes there and loved every minute.  What a welcome break from the crazy World Showcase crowds!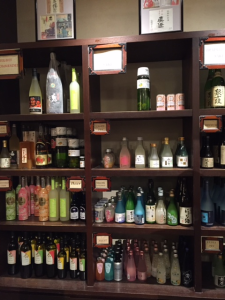 Shop!  Mitsukoshi has a staggering array of goods.  From the pick-a-pearl counter to the knives and swords, the clothing, jewelry, home goods, bonsai trees, tea sets, chop sticks…and so much more.  Want to know more?  Read all about it here.
Have you visited the Mitsukoshi Department Store in Epcot?  What's your favorite section? Did you know about the sake bar?  Is it something you'd try?