Oh, Boy, can Disney devise devious ways to separate you from your money!  One of their most successful efforts has got to be Disney pin trading.  How can you not get swept away?  Even if you don't actively trade them, those pin kiosks are everywhere and the pins make great souvenirs.  Princess pins, Disney Pixar character pins, park pins, vinylmation pins, Muppet pins, ear hat pins, pins to commemorate holidays and special occasions, pins for every year,  pins for everybody!
We started pin trading when we took Megan and Joe on their second visit to Disney World.  We bought lanyards, lanyard "charms", and starter pin sets.  At first it was hard to part with freshly purchased pins, but once we got rolling…we were like sharks in a feeding frenzy.  We traded like crazy with Cast Members, bus drivers, other guests – at the parks, on boats,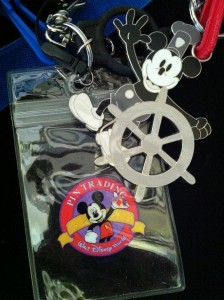 trains and buses, at the hotel front desk, at pin trading events and then we even traded pins on Disney cruise ships.  This may be hard to believe, but we are not hard-core collectors who try to find rare or valuable pins or complete sets (with one exception).  I think if we took it to that level, it wouldn't be as much fun for us.  We trade for pins we like or that have special meaning to us in particular.  On a couple of trips we didn't do any pin trading at all (but still bought a few to add to our collection).  Last year our pin-trading love was rekindled simply by taking along a couple of friends who were just getting their Disney pin collections started.
Megan's friend Ashli and Joseph's friend Jason were able to join us on our trip to Disney World last May.  Ashli was celebrating her recent graduation from nursing school and Joseph and Jason were both celebrating finishing their junior year of high school – excited about becoming seniors in the fall.  Ashli and Jason got swept up in pin mania just like we had in the past- starting slow at first and then gaining momentum – finally trading with gusto!  Their enthusiasm was contagious!  I wanted to collect the Orange Bird pin set and that was my main focus.  Jason jumped right on in and started collecting his own Orange Birds  – we all worked together to help each other find the pins we wanted.  It added another layer of fun to an already great vacation!
Pin collecting and trading is fun!  Over the next few weeks I'll post tips and advice for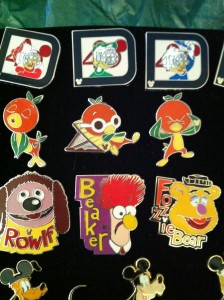 making the most of this great Disney opportunity to part with your hard-earned money, while having a heck of a good time doing it.  If you have any questions or particular aspects of pin trading/collecting you'd like to know more about, please let me know.