Who doesn't love elephants?!? I'm a huge pachyderm fan myself and my favorites, the most lovable elephants around, can be found at Walt Disney World. 
Happy (Disney) World Elephant Day!
Dumbo!  Has a cuter elephant ever been imagined?  I think not!  While I can't say I'm a fan of the ride in Fantasyland (I did try to ride it once), I can wholeheartedly claim a love for Dumbo that stretches all the way back to the 1960's.  That's a long time!  Dumbo even holds a place of honor on our Disney Christmas tree.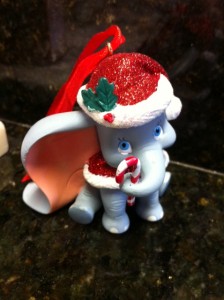 The Jungle Cruise Gang – What bunch of good looking elephants.  Old and young, fierce and adorable – these guys (and the Skipper's commentary) make this a must-do ride for me. I love the babies the best and if Disney ever makes a statue of this one… I will buy it at once for my home!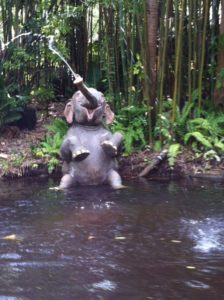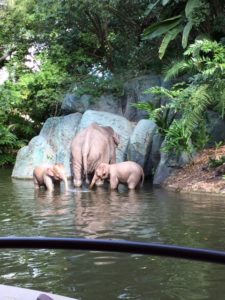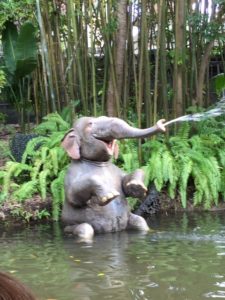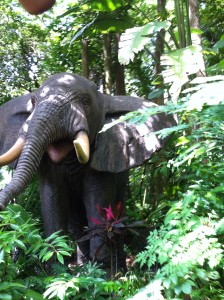 "And look at all the elephants out here today! This comes as a complete surprise to me cause I had no idea these guys were going to be here. If you want to take pictures go ahead- all the elephants have their trunks on." – Jungle Cruise Skipper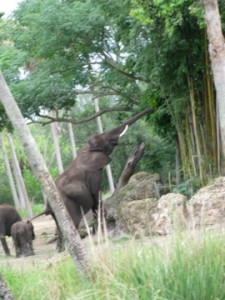 Animal Kingdom's African Elephants – Nobody I know loves Kilimanjaro Safaris more than I do! I'm crazy about seeing all the animals, but the elephants are the icing on the zebra dome  to me.  It's simply awesome to see Animal Kingdom's African elephants in person and I'm fascinated by the care they receive from their food to foot-care to enrichment activities provided by the staff.  You can find more information about these gorgeous animals here.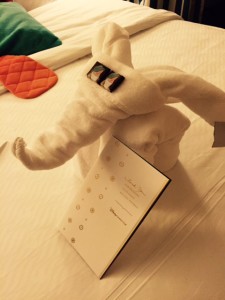 Honorable Mention (not at WDW) – DCL Towel Elephant – One of the best stateroom perks on Disney Cruise Line is the way your Stateroom Host leaves you chocolates, Personal Navigators (itineraries for the next day), and towel animals!
Which Disney elephants are your favorites?  Happy World Elephant Day, Disney Friends!!!