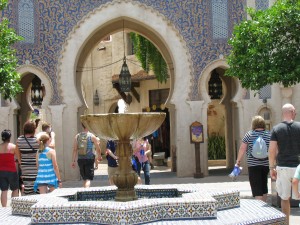 One of the most amazing things about the World Showcase in Epcot is how each country's pavilion embraces guests in a way that allows them to feel they are actually visiting that country.  I love that!  This magic – taking you away to an exotic place far away – is particularly well done in the Morocco Pavilion.
Located between the Japan and France Pavilions, Morocco is unique, extremely well-themed, and absolutely charming.  With warm colors, beautiful landscaping, and exotic architectural shapes – you genuinely feel transported.  Here's a fun fact – If you look past the Morocco Pavilion, you can see the Twilight Zone Tower of Terror off in the distance at Disney's Hollywood Studios.  The tower's color was chosen specifically because it would be visible in such a way – it's painted to blend in with the color of the buildings in the Morocco Pavilion.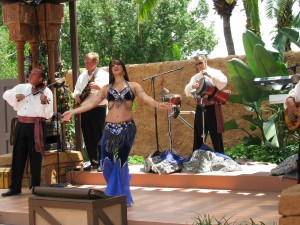 Five Great Things about the Morocco Pavilion
1. Entertainment – Mo'Rockin!  This is my favorite part of visiting Morocco – live music and belly dancing!  Talented musicians play Middle-Eastern and African inspired music on an outdoor stage (on the side of the Morocco Pavilion closest to Japan).  The belly dancer performing with them is amazing.  The act appears several times throughout the afternoon and evening.
2
. Food – So many choices!  Restaurant Marrakesh:  Table Service dining offering flavors of Morocco and the Mediterranean for lunch or dinner. Tangerine Café:  Quick/Counter Service restaurant (Mediterranean wraps and Shawarma platters are the specialty) , and Spice Road Table:  Newest eatery in Morocco offering small plates; perfect for a light meal or evening snack.
3. Shopping – Morocco's shops are a treasure trove of authentic merchandise.  You'll feel like you're in an exotic marketplace as you shop for jewelry, clothing and accessories, wood crafts, baskets, musical instruments, carpets, and textiles.  There's a lot to choose from!
4. Characters – Jasmine and Aladdin are available in the Morocco Pavilion for meet-and-greets.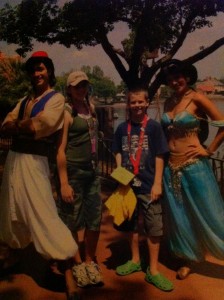 These are two of our favorite characters because of the way they interact in perfect character for fun and great pictures.  Once we even ran into Jafar in Morocco and while he wasn't a speaking character, he was exactly the way you'd expect – aloof and arrogant and very funny.
5. Henna Tattoos – Opportunities to learn about the Moroccan culture abound in this pavilion and include the opportunity to get an ornate, unique and completely temporary henna tattoo.  Both Megan and Joseph took the time for this experience several years ago.  Design books are available for help in selecting just the right image.
Is Morocco one of your favorite stops along the World Showcase?  What's your favorite thing to do or see there?