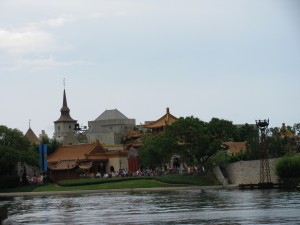 Epcot's World Showcase!  The opportunity to visit 10 foreign countries without leaving Disney World and you don't need a passport.  Circling the World Showcase Lagoon, each country's pavilion holds wonderful surprises, beautiful details, and educational opportunities for all ages.
Nestled serenely between The American Adventure and the Moroccan Pavilion, is Japan.  A tidy cluster of buildings surrounding a central courtyard, the Japanese Pavilion offers visitors unique shopping and dining experiences (among my most favorite in the World) and opportunities to be entertained by unique Japanese demonstrations.
If you haven't yet taken advantage of all there is to see and do in Epcot's Japan – here are 5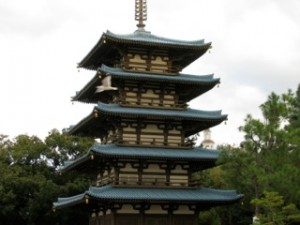 reasons to go:
1.  Mitsukoshi Department Store – this place is awesome and HUGE!  The building's outside is a replica of sections of Japan's Imperial Palace, but the inside is an incredible, modern store packed with a stunning array of Japanese items – toys, books, clothing, games, swords and knives, kitchen items (sushi-making supplies!), pick-a-pearl (you select the oyster and a Japanese Cast Member will open it and retrieve your treasure), and much more.  Do take time to visit this place – it's amazing!  Joseph once bought an gorgeous Japanese sword there and had it shipped home – service was perfect, sword arrived safe and sound.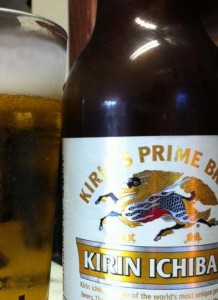 2.  The Food (and Beverage).  Three dining options, all delicious – chopsticks optional!
Teppan Edo offers guests hibachi-cooked meals where your meal's preparation is as entertaining to watch as it is tasty to eat.  Beef, chicken, seafood (alone or as part of a combination) are served with fresh vegitables and rice.
Tokyo Dining – if you enjoy tempura or sushi, this is the place.  Diners enjoy traditional Japanese fare in a classy, modern setting.
Katsura Grill is a quick / counter service option offering a wide variety of Japanese dishes.  Dine inside our enjoy the gardens in the beautiful outdoor seating area.
3.  The Japanese Art Display in Bijutsu-kan Gallery – Learn how Japan's cultural history gave rise to some of today's most popular cartoon and video game characters.
4.  The Entertainment
Matsuriza is an impressive show featuring taiko – a form of drumming.  I've only seen (heard?) this one from a distance – it absolutely merits a closer look / listen.
Miyuki – Displaying her skills since 1996, Miyuki's demonstration involves making artwork out of a piece of rice candy – the candy starts off as a soft ball which hardens as Miyuki forms it into a fanciful masterpiece.  I've seen this up close – prepare to be amazed!
5.  Agent P's World Showcase Adventure.  Pick up your "Interactive Evil Detection Device" called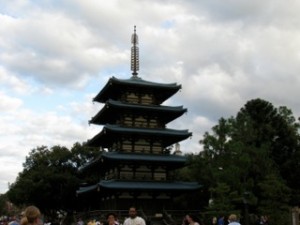 F.O.N.E. (Field Operative Notification Equipment) at one of three different Epcot locations and get busy on your mission.  Join Agent P as you receive clues you must solve to foil the evil Dr. Doofenshmirtz.  Your mission will lead you through several different countries (7 possible) as you stamp out evil and save the world!  Complete details here.
If you've overlooked the Japan Pavilion on a previous visit to Epcot or you're headed to Disney World for the first time, be sure to slow down for a few minutes and appreciate all this incredible spot along the World Showcase has to offer.