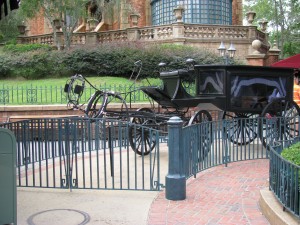 Haunted Mansion!  That most perfect example of Disney magic at its best.  Back in October, I highlighted all we love about the Haunted Mansion for a Halloween post.  For Christmas, we brought a little Haunted Mansion to our own humble abode.  No, a ghost didn't follow us home, but almost just as good!
Megan and I had certainly been thinking alike back in December (although we wouldn't find that out until Christmas morning)!  Last fall, the Disney Store had some great Haunted Mansion items in their home-goods section – oddly enough, I didn't see what Megan bought for me when I was shopping and she didn't see what I bought her.  You might recall (if you saw my Disney Christmas gifts post) that I received a nifty Haunted Mansion wine bottle stopper – perfect for me since my love for both wine and the Haunted Mansion are well-known to The Fam.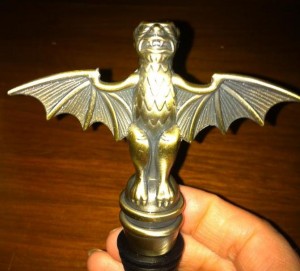 I bought Megan a set of coasters for her apartment.  Sounds boring, doesn't it?  These are no ordinary coasters though – they're tombstones from the Haunted Mansion's graveyard!  They even come in an adorable coffin-shaped box that says "Tomb Sweet Tomb" on the top!  Go ahead, admit it….right now you're wishing your mom had given you an awesome gift like that, too.
Sadly, my original purchase arrived broken.  This was strange to me – I ordered a mug for Raymond, three ornaments (Sally, Steampunk Earhat, and Mulan) and the coasters – the box arrived with virtually no packing material in it – all the items were just rattling around in there.  There was also no receipt or order confirmation document of any kind.  The ornaments and mug were wrapped securely, but the coasters were just in their unprotected box and each one was shattered (they're ceramic or some such). 
On December 20th I emailed the Disney Store per the website's "contact us" instructions and explained my plight – then promptly got swept up in the holiday madness and forgot all about it.  Christmas morning arrived – and this is, again, strange.  Megan gave me a Disney cookie jar…turns out it was the second one she'd ordered because the first one came in broken.  Note:  She wanted that cookie jar in time for Christmas, so when the broken one arrived she immediately called the Disney Store and they shipped a replacement one right out.  That's when I remembered the coasters and told her that while I hadn't heard back yet, I was sure my email was being processed and replacements would be on their way soon.
Fast forward to last Monday.  Megan came over to do some laundry and watch a couple movies with me (yes, Disney movies) and said, "I guess I'm never getting those coasters, am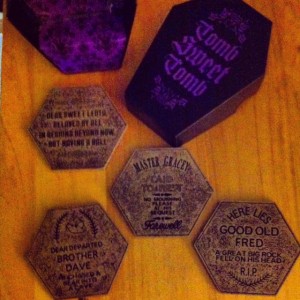 I."  Yikes!  I'd forgotten all about them.  I called the Disney Store and explained the situation – that I had emailed and received no reply (I offered to forward a copy of the email if necessary) – The lady on the phone – who's every sentence was liberally sprinkled with terms like "magical" and "pixie dust" and even a reference to "Fairy Godmother" (I kid you not) – said she would send replacement coasters out posthaste with no further action on my part necessary.  Sure enough, three days later I had a box from the Disney Store on my doorstep.  New coasters safe and sound.  Aren't they CUTE?
Moral of the story – do NOT email the Disney Store if there's a problem with your order – give them a call.  They'll be magically helpful and certain to offer whatever pixie-dusted assistance is necessary (even enlisting Fairy Godmother's aid, if required) to ensure your happily-ever-after satisfaction.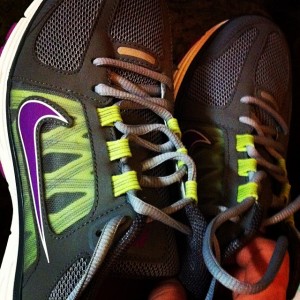 So, last Saturday Raymond and I went to a big shoe sale at our local running store.  I was able to score a much-needed new pair of Nikes for 40% off!  Not my usual color-choice, these beauties are gray, purple, and neon green (hello?  ON SALE!) – They're growing on me though – I'm calling them my Haunted Mansion shoes.