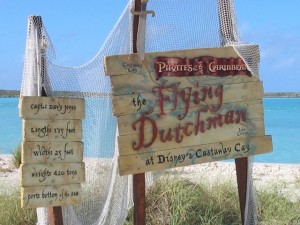 Disney's Flying Dutchman – Gone but not Forgotten
For a few years, from 2006-2010, guests on Disney Cruise Line visiting Castaway Cay (Disney's very own private tropical island) would be greeted by an amazing sight!  Next to the main docking area, moored in a quiet cove, was none other than Davey Jones' ship, the Flying Dutchman.  She sat in ghostly stillness and appeared to be constructed from intricately carved driftwood – the perfect subject (and backdrop) for amazing vacation pictures.  This very special treat was a breathtaking addition to the already spectacular scenery on Castaway Cay.
Highly detailed and exactly as she appeared in the Pirates of the Caribbean movie series, the Dutchman's spooky weathered gray exterior, three soaring masts, and ragged, toothy bow delighted visitors – as did the appearance of Captain Jack Sparrow – in a perfect spot on the beach to create the perfect meet and greet.  You and Jack Sparrow – with the Flying Dutchman in the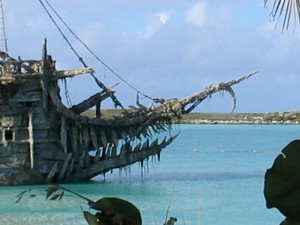 background!  Jack Sparrow – arrogant, eccentric, and perfectly dressed, down to the smallest detail – would take a few minutes to visit with each guest, ask questions, make hilarious comments and create some wonderful memories (and photo ops)!
Our family was lucky enough to see the Flying Dutchman (and Captain Sparrow) on several occasions during the ship's time on Castaway Cay.  While weather, time and the elements took their toll on the Dutchman through the years, the magic of those Disney details from bow to stern never ceased to amaze us.  The shore-facing side of the ship was the one we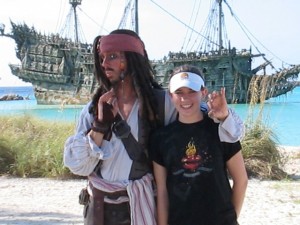 remember from the movies.  The outward-facing side of the Dutchman that could be seen from the deck of the Disney Cruise ship was open and incomplete – like the movie prop the Dutchman actually was.
In November, 2010, the Flying Dutchman was removed from Castaway Cay (rumored to have been dismantled and destroyed), but the incredible wonder of seeing her there, in the Caribbean – straight out of Pirates of the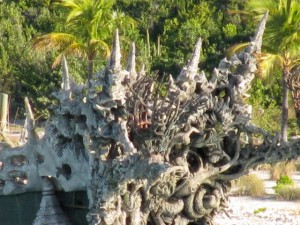 Caribbean will never be forgotten.
Did you get the opportunity to see the Flying Dutchman at Castaway Cay?  What do you remember most about the experience?