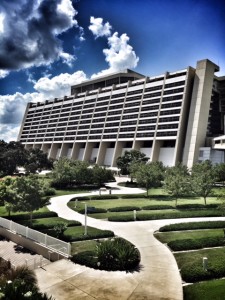 Way back (a long time ago) when we were fortunate enough to stay at Disney's Contemporary Resort for the first time, I did some research so I could share some interesting facts with The Fam.  I'm known for doing this – researching stuff to great extent prior to vacation,  So my peeps have become pretty tolerant and sometimes, on rare occasion, manage to act a bit interested in my fact-filled narratives.  Once in a great while, they even actually listen.  Really, it doesn't hurt my feelings that much because the research (and the sharing of it) is really for my own amusement.
So, there I was, talking about the amazing Contemporary – how it was one of the original Disney World resorts that opened in 1971, how the monorail runs right through the building, how there's this really fantastic and unique Mary Blair modern art mural in the Grand Canyon Concourse, how the mural (a mosaic) depicts animals, plants, and Native American children (The Fam, a little glazed, still sort of listening) and is 90 feet tall, how on the mural, Mary Blair placed a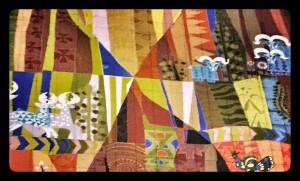 five-legged goat – Wait!  WHAT?  Yep, that got their attention.  Indeed.  There's a five legged goat on the mural – placed there on purpose to remind people that nothing man-made is perfect.
So, all checked in and situated at the resort, we go exploring a bit before our dinner reservation at Chef Mickey's.  When we're able to view the entire mural on the walls in the concourse, we immediately start looking for the goat and there it was!  Cute as can be – even with the extra appendage.  Well, Joseph (being Joseph), immediately starts singing about the goat – changing the jingle from a certain well-know sub shop's commercials.  C'mon, you know what I mean.  Sing along with me now – Five…..five legged……….five legged foot goat! (any, any, any).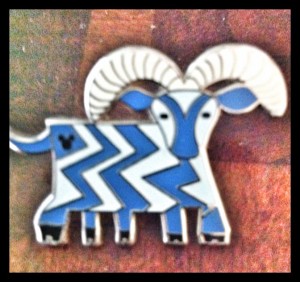 In 2009 on another trip to Disney World, Joseph and Raymond went exploring in Downtown Disney while I shopped for a little while.  When we met back up, they proudly presented me with this pin!  And yes, we all burst into song at once.  The five-legged goat pin is my most favorite pin of all.
Have you seen The Contemporary's five legged goat?