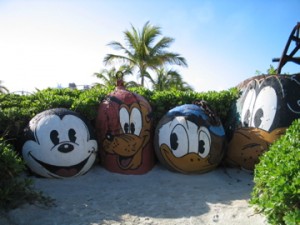 If you've been considering a cruise on the Disney Cruise Line, consider this:  Castaway Cay.  Disney's very own private island in the Bahamas, visited as a port of call on most sailings with departures from Florida.  What's so good about it?  Every.  Single.  Thing.
Castaway Cay (pronounced KEY) is a tropical paradise with something for everyone in the family.  No matter what sort of beach person you are (or aren't), you'll find happiness on this beautiful island.  Bask in the sun kind of person?  Check.  Action lover who wants to bicycle, boat, snorkel, swim, or run?  Check.  Teen who wants to get away from the parents?  Check.  Adult who wants to get away from any and all children?  Check.  Family that wants to stay together and enjoy a variety of activities?  Yep, Castaway Cay is for you.  The worst thing about a day in this paradise is that it's too short!  Even if you don't like sand – you will like Castaway Cay.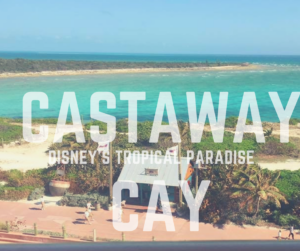 Sometimes Disney Cruise Line offers "double dip" cruises that visit Castaway Cay twice on one cruise – awesome opportunity to pack in even more fun.  We took such a cruise in 2010 and had the best time ever.  Get up and off the ship ASAP!  All aboard comes all too soon and will most certainly leave you wanting more time in this Disney-style paradise.
Here are some things to do on the island that we recommend: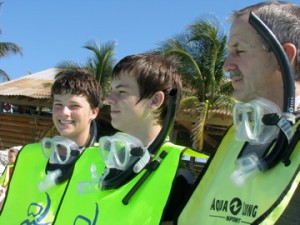 Snorkeling.  In the lagoon (equipment rentals available-$25 adults, $10 ages 5-9), the snorkeling is okay, but pretty barren with a few underwater surprises hidden around for you to discover – a better choice is the "Seahorse Catamaran Snorkel Adventure" (Currently $52 for adults and $36 ages 5-9).  Oh, the things we saw!  We swam with a sea turtle, saw tons of colorful fish, gorgeous reef plants, even a stingray joined us for a bit.  I highly recommend this fantastic experience, however, I think it could be a bit of a challenge for the very young or inexperienced swimmer.
Bicycling around the island ($39-adult, $19-child/1-hour bike rental).  If you're not a huge fan of sand, exploring the island on a bicycle is a fun way to spend time and burn off some cruise food calories.  Park your bike and climb the observation tower for an incredible view of the island.  We thought this was a fun way to spend an hour and see what was "out there" away from the beach.
"Castaway Ray's Stingray Adventure" ($35 adults, $29 ages 5-9, lasts an hour).  This is a ton of fun and a not-so-scary way to learn about and interact (by feeding and petting) some small-ish and harmless stingrays.  Then you get to gear up and snorkel with stingrays of all sizes in an enclosed lagoon.
Crab Races – this is hilarious!  Cheer your team's crab on to victory!
Cabana Massage (Raymond's recommendation) – I surprised Raymond with a booking through the ship's spa for an open air cabana massage on Castaway Cay.  He said it was great – very relaxing – and he would most definitely do it again.
Lunch on the island is a very tasty buffet (no extra charge) plus there are souvenir shops, a bar (hammock-side service available), adult beach, family beach, teen beach, activities for little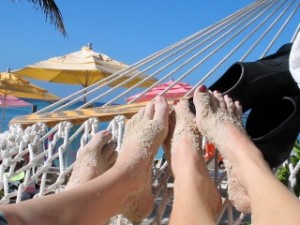 ones, a 5k run, and much, much more!  Once, while there was a dance party going on – I just happened to walk by and there was Stitch – he ran right up to me and made me dance with him.  (The Fam missed the whole thing and thought I was joking when I told them about it.)  That's another great thing about Castaway Cay – it's full of surprises just waiting to be discovered.
You can find the complete list of the current excursions / activities offered on Castaway Cay here.
Have you been to Castaway Cay?  What did you like best about it?