Disney's Animal Kingdom – Mickey's Jammin Jungle Parade
Twelve years is a pretty good run for a parade.  Mickey's Jammin Jungle Parade, which debuted in 2001, took its last trip around Disney's Animal Kingdom on May 31st – and that made me a little sad.  I'm all for change and everything, but it's still hard to see the parade that had become such a normal part of a day at Animal Kingdom go away – I'm sure for good.
Let's take a minute to look at the current Walt Disney World Parade situation…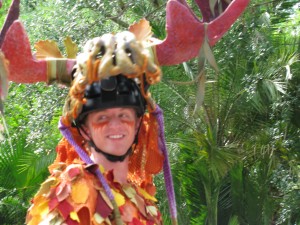 Magic Kingdom's Festival of Fantasy and Main Street Electrical Parades, along with some special occasion parades (and the Electrical Water Pageant) are the only ones left at Walt Disney World!  There used to be a daily parade in ALL FOUR PARKS!  Tapestry of Nations (became Tapestry of Dreams) ran at Epcot (1999 to 2003), Hollywood Studios had a daily parade almost continuously from 1991 to 2013, which changed themes many times over the years (Pixar Pals Countdown to Fun was the final one).  And now we've said farewell to the parade at Animal Kingdom.  Do people just not love parades anymore?  Is this the result of Disney cost-cutting?  Is a parade too old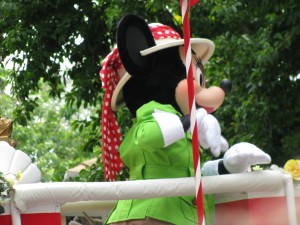 fashioned?  Too much maintenance and dependence on good weather?  WHAT?
Back to Animal Kingdom and Mickey's Jammin Jungle Parade…
Since we were at Walt Disney World during the last week of May – and since I most certainly do love parades (and always will), I felt I needed to watch Mickey's Jammin Jungle at Animal Kingdom one last time and bid it a fond farewell.  Sources say the parade route is being negatively impacted by new construction for Avatar land.  Ever since the daily parade at the Studios ended in 2013, I've always felt Animal Kingdom's parade would be next on the chopping block anyway.  I DO want Animal Kingdom to get more rides and attractions.  I am also thrilled beyond words about the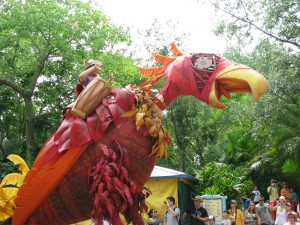 prospect of getting to enjoy Animal Kingdom at night.  I'm still going to be sad about the parade.  But that's okay – changes happen, sacrifices must be made, and, well, Disney is never more exciting than when there's something new to see or do.
Weigh in – are you sad about the lack of a daily parade at every park or is it not important to you?