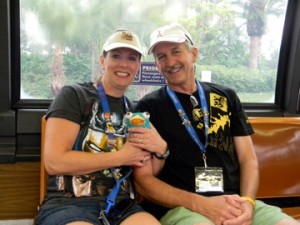 If you've been here at all over the past three days, you read my thoughts and experience (so far) with Disney's MyMagic+.  Well, all that serious blogging put me in the mood for some FUN!
So today's post is simply about how having fun on a Disney vacation can take many different forms and sometimes, Disney surprises you by unexpectedly helping you take fun to a whole new level.
Cue Flashback Sequence…..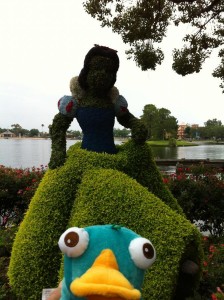 Back in May of 2012, my very good best friend Phyllis (as Forrest Gump would say) was wishing me a happy vacation the day before The Fam and I (and our friends Jason and Ashli) were headed to Disney World.  Phyllis's last words to me were – "Bring me something".  I knew she was just kidding, but Phyllis and I have been friends for more than 20 years…I would bring her something very special!  Hmmmm – what would Phyllis like?  A pin, maybe.  I could get her a tee-shirt or perhaps something Disney for her kitchen.  Suddenly, I had an idea!  Phyllis would be back at the office, working away over the old grindstone so to speak, while I was foot-loose and fancy-free at the Happiest Place on Earth.  I would indeed bring Phyllis a souvenir of our trip – if she couldn't go to Disney, I would bring Disney to her.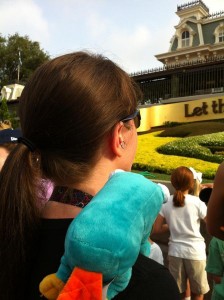 As soon as we arrived at Disney World, I carefully made my choice – something or someone, I should say, that would be easy to carry – and by carry, I mean literally carry with me everywhere we went.  I chose Perry the Platypus as the co-conspirator for my plan (the whole espionage, Agent P angle was perfect).  Now the fun began.  It started slowly at first and grew.  I began texting Phyllis a few pictures of Perry enjoying his Disney World vacation along with commentary about Perry's day at the parks.  Then Perry started meeting people, riding rides, enjoying great food and beverages.  Yes, Perry was having the time of his life and we texted every moment to Phyllis!
Once we got home, I gave Perry to Phyllis and told her that I'd had more fun than I could ever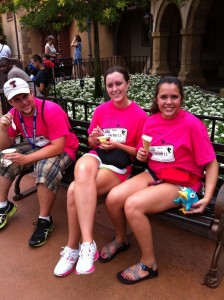 imagine involving a vacation souvenir.  Every member of our traveling party participated in the fun as did Cast Members, Characters, and even random strangers – like the nice folks from Texas in Epcot that were celebrating their recent graduation.  I thought I was being so clever and funny – but in that special, yes, magical way Disney World has – the whole idea turned into something bigger and better for me because of how everyone we met was so willing to play along. I'll leave you with a few of Perry's more memorable moments….