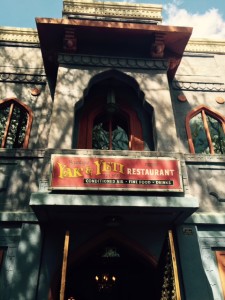 Not long ago, we tried (and loved) Yak & Yeti's counter service eatery.  The really special thing about Animal Kingdom's Yak & Yeti?  It also boasts a very unique table service restaurant!  Yes!  In the Asia section of the park, you'll find TWO great dining choices – quick-serve on the outside, sit-down-dining on the inside.  Pretty neat, right?
Knowing we'd be heading to Animal Kingdom post-Princess Half Marathon and knowing I'd probably be starving, I booked an ADR (Advance Dining Reservation) for lunch.  Normally, we are strictly dinner ADR people, but I'd been wanting to try Yak & Yeti's table service option and eating there guilt-free, having burned a few calories over 13.1 miles, it seemed the perfect time to give it a go.
We arrived a couple of minutes late – we try never to do this, but I was moving uncharacteristically slow.  No problem for the kind Cast Member at the check-in podium and we were seated after only a very short wait.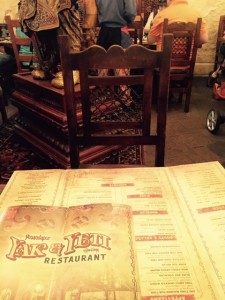 I was a bit apprehensive about our table's location – right in the very middle of the first floor's dining area, but then I realized I could take in all of the atmosphere and see details of the restaurant's unusual décor without having to move.  Not moving was a very nice option that day, I assure you.
The Pan-Asian menu offered a surprisingly broad range of options and our server, who seemed very busy, was sweet and attentive.  We started with the Pork Pot Stickers (the choice was tough because so many dishes sounded great!) and were happy with our selection.  We also ordered some sake to enjoy with our meal.  The cocktail/adult beverage menu was amazingly full of a huge variety of drink options – one of the best you'll find in any Disney park, I'll bet.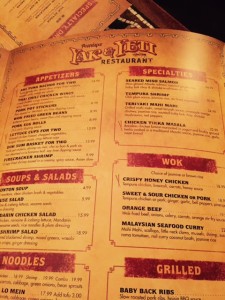 Now that I was sitting down, sipping sake and had put the worst of my hunger pangs at bay with a couple of pot stickers, I had more time to look around and soak up the ambiance.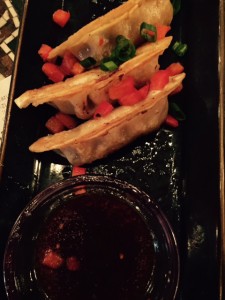 The décor was very ornate and I felt a bit like I was eating in a museum.  In a good way.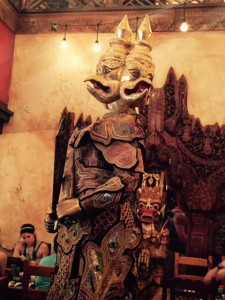 Raymond and I, after studying the menu for quite a while, went for completely opposite ends of the food spectrum.  He chose the Kobe Beef Burger.  I chose the Chicken Tikka Masala.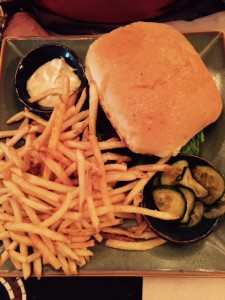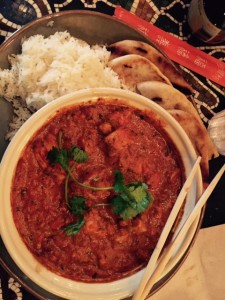 When our entrees arrived, there was very little conversation at our table!  We both thought the food was great – especially for an in-park table service restaurant at Disney World.  Perhaps this is because the Yak & Yeti is not Disney-owned.  It's true – it's a Landry's establishment (see the website here).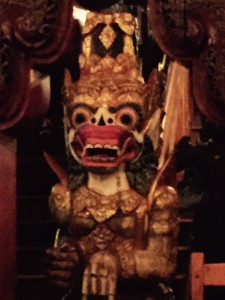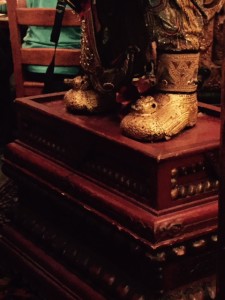 Relaxed, rested and satisfied, we passed on dessert in favor of hitting some of our favorite Animal Kingdom attractions.  Lunch totaled around $70 with tip, but we felt the service, food, atmosphere, and convenient location made this a reasonable price for our meal.  Would we eat here again?  Absolutely.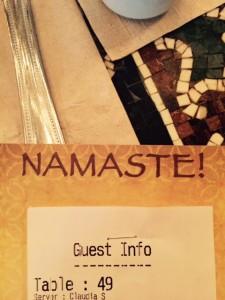 How about you?  What's your favorite table service restaurant in Animal Kingdom?