In less than a week it'll be time to book dining reservations for our fall vacation to Walt Disney World.  Sure, we're mostly going for Food & Wine and plan to try as many kiosks as we can, but we'll want some nice, sit-down meals as well.  Our travel party is made up of seven adults:  Our children, Megan, Joseph, and son-in-law, Grant, plus Joseph's girlfriend, Lyndsey, and his lifelong buddy, Jason.  If you've been reading this blog for a while, you might remember Jason from 2010's Castaway Cay Double Dip vacation, Walt Disney World in 2012, and our Magic in the Med Cruise in 2013.  Since the purpose of this vacation is to celebrate Joseph's 21st birthday, we feel it's important for Lyndsey and Jason to come along! We'll be at Disney World for seven days and nights.
Disney World Dining – Party of Seven
Choosing restaurants for this trip is harder than I thought it would be, so I reached out to my Disney friends on Twitter and asked for suggestions.  I want the restaurants to be unique, with crowd-pleasing menus, and also to be a good value (we have Tables in Wonderland, which helps a bit).  The response was tremendous and I got some great ideas, but I'm really no closer to knowing what to do.  That's where you come in…please add your suggestions in the comments.  Thanks, everyone, for your help!  Here's what's been suggested so far…
@kivus was the first to weigh in with "Via Napoli. Ordering XL pizzas is a great value for a party that big." @joshgonz seconded this idea adding, "2 XL pizzas should work for 7. They even split the pizzas into 2 different kinds so you could try 4 different kinds"  Josh also mentioned 'Ohana as being great for big groups. – I am totally in favor of Via Napoli for our arrival day dinner and trying to squeeze in an 'Ohana dinner.  Thanks, John and Josh!
@WITHinMCO suggested choosing "the latest Crystal Palace or Tusker House breakfast so it's like brunch" – I'd been thinking along these lines already.  We've never been to Tusker House and if there's a Rivers of Light dining package offered as reported by several reliable sites, Tusker House moves to the top of the list.
@HoCoHowie said, "Sanaa all day." and, while this was another idea that hadn't occurred to me for this trip, Sanaa is an excellent place for an adults-only dinner in a terrific atmosphere!  Howie also added, "And with the trios you can do a lot of sharing!" – Without a doubt, after Sanaa's bread service starter, there's no way I could do justice to an entrée, so sharing would be perfect (and economical)!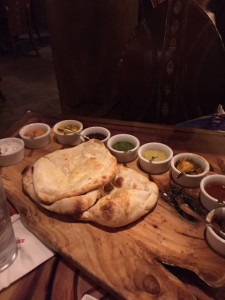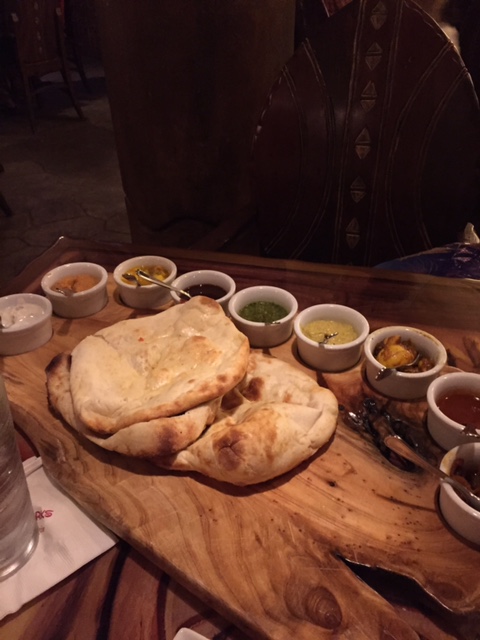 From @UrbanOtaku22 – "I would say The Wave and Raglan Road are two adult friendly places.  Raglan road because of the beer.  Wave due to food."  We love Raglan Road and have enjoyed an evening there many times in the past.  Recently, Raymond and I discovered The Wave's super menu and great service.  All these ideas may be making our decision harder instead of easier!  We will be staying at Bay Lake Tower, so The Wave is very convenient!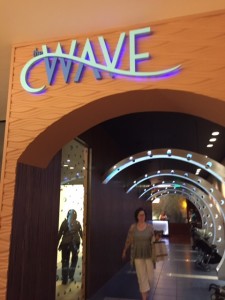 @CT_Mickey_Man (aka my friend Dean) suggested Wolfgang Puck Express because, "a few can share their pizzas. Good sized salads. good prices." – Yet another Disney Springs place we've never tried!  Sounds like an excellent choice for a big group, but I don't know if that's where I'd choose among all the great places in Disney Springs since we've not eaten there before.
@SC_singledad (Steve) threw Trails End onto the list of restaurant candidates.  I thought, Hey! We've never eaten there, but I understand the food at dinner is the same fare served at the Hoop Dee Do Musical Review.  I have to say, that fried chicken is amazing!  Plus, all you care to eat!  Good idea for a group with big appetites like ours!  Turns out, Steve was actually suggesting breakfast over dinner, and thinks Trails End and Boma are the top two breakfast buffets on property.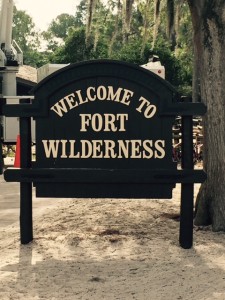 @ree1064 offered up three different ideas – The Plaza in Magic Kingdom (economically good food), 'Ohana (Polynesian Village Resort), and Artist Point (Wilderness Lodge).  Of these, 'Ohana is my favorite – nobody goes away hungry, the food is good for the price, and the Poly has Trader Sam's and the Tambu Lounge – both fantastic places for a pre-dinner cocktail.  I'll confess, I've never been to The Plaza and Artist Point was a two-time disappointment.  'Ohana just moved to the top of the list (right after Tusker House).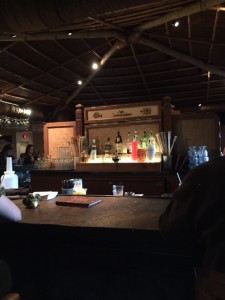 @sprinklemedis mentioned hearing that Biergarten in Epcot's Germany pavilion is good for larger parties.  I'm thinking this…Pros:  It's in Epcot where we plan to spend lots of time, I've been trying to get there for a while (unsuccessfully) since I'm half-German, and it's a buffet, so probably a good value with plenty of options to choose from.  I could use more input on this one if you're so inclined.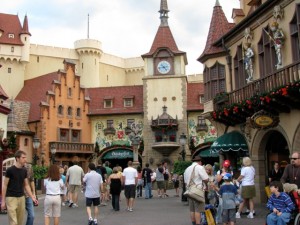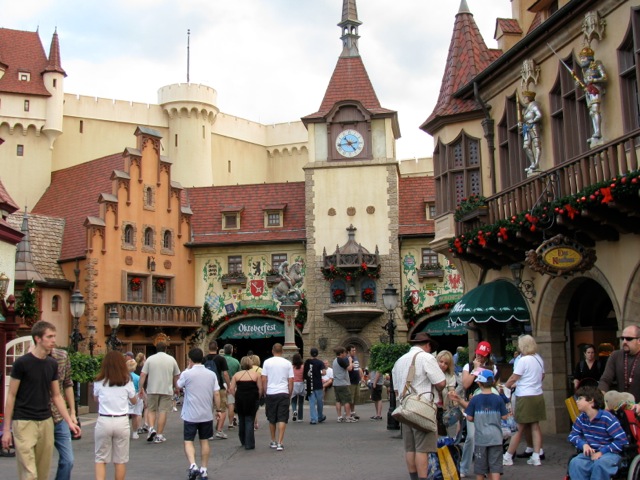 @mechurchlady made several suggestions like Boma (Animal Kingdom Lodge), Tusker House (Disney's Animal Kingdom), Garden Grill (Epcot), Bongos (Disney Springs), Cape May, and Turf Club.  She added Kona Café (Polynesian), Boatwrights (Port Orleans Riverside), Olivia's (Old Key West) and Portobello.  And also suggested The Plaza (Magic Kingdom), Teppan Edo, Tokyo Dining, and Coral Reef (all at Epcot) as well as Shula's (at the Dolphin)  Of these, Cape May stood out – We've never been there, but have heard great things.  It's at the Beach Club (convenient), is a seafood buffet (we're all seafood lovers) and a good value.  If we can afford the splurge, Shula's would be excellent.  Raymond and I could not have been happier with our experience there in December.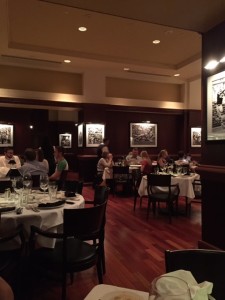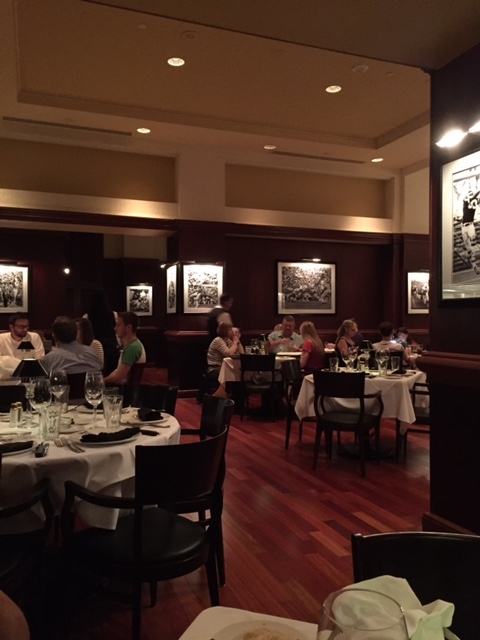 @SteveGehret was another vote in favor of The Wave – "The Wave has room for big groups, again pricey.  Hit that up at dinner then take the monorail to Trader Sam's." – nothing wrong with that, Steve!  Thanks!
@hkeller thinks, "Food and Wine. Every day." is the way to go.  I'm with you there, Heather, we do plan on spending plenty of time making the rounds.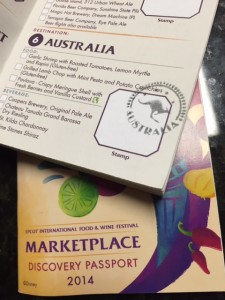 @JamboEveryone voted for Sanaa, Kona Café, Restaurant Marrakesh, and Tiffens.  I agree with Safari Mike on Tiffens as a very strong possibility – Opening at the end of April (I believe), Tiffens (new table service in Disney's Animal Kingdom) sounds wonderful with a menu dedicated to the art of travel.  I'm keeping my fingers crossed for either Tusker House or Tiffens offering that Rivers of Light dining package.
@PeasandCarrots3 (Hi, Carmen!) thinks La Hacienda (Mexico Pavilion) and Boma are two great options.  Of the two, Boma is the stronger option for our group since, sadly, Raymond and Joseph are not fans of Mexican food (at all, not even a little bit).  We haven't taken a family vacation that did not involve at least one meal at Animal Kingdom Lodge in many years.
After all the helpful advice, I've got Tusker House, 'Ohana, Via Napoli, Tiffens and Sanaa as top choices right now with Trails End, Boma, The Wave, Cape May, and someplace at Disney Springs as possibilities.  Have I mentioned how hard this is?  What would you do???
Special thanks to @DutchLombrowski for spreading the word on Twitter that I needed help.