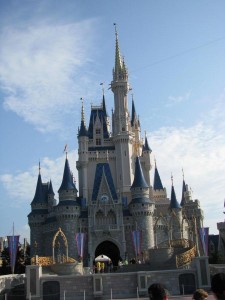 As difficult as the transition to "Empty Nest" status has been, I've discovered one really great perk!  We can now go to Disney World any time we want to.  Any time of the year!  We are no longer tied to summers and school breaks – we can go during any season, any month, any special event!  We can plan our trip to avoid crowds and enjoy cooler weather if we want to or…not!  Okay, this empty-nest thing is looking UP!!!
In my heart I believe that ANY time at Disney World is better than just about anytime elsewhere, so I've put together a list of reasons to go to Disney World and things to do for every month in 2014.
January and February –
Two great months for runDisney fans and also a great time to take advantage of lower crowd levels and cooler, drier weather.  Average high temperatures are in the low 70's, average lows are around 50-degrees and rainfall averages are around 2.5″ a month (compared to over 7″ per month in the summer).
The Walt Disney World Marathon Weekend is January 8-12, 2014  and offers participants the opportunity to run a 5k, 10k, and both a half and full marathon!  In February, runners flock to the Disney Princess Half Marathon and Princess 10k (Feb. 20-23).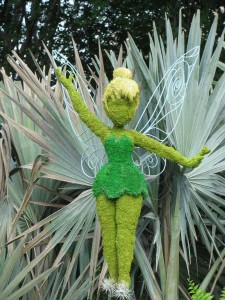 Planning Note:  Unless you're going to cheer on your loved one, non-runners may want to avoid those race weekends as those very popular events boost crowd levels tremendously.
March and April –
Epcot Flower and Garden Festival.  Even if you are ambivalent to horticulture, you will still be delighted by the many magical touches and pixie-dusted details that abound in Epcot in the spring.  The Flower Power Concert Series is part of the Festival and you would not BELIEVE the awesomeness of the bands in 2014's lineup! (The Guess Who, Herman's Hermits and The Lovin' Spoonful – need I say more?)  New in 2014 – Kermit and Piggy will star! – immortalized in all the topiary glory those Epcot wizards have become famous for.  Also, if you're there, don't miss out on the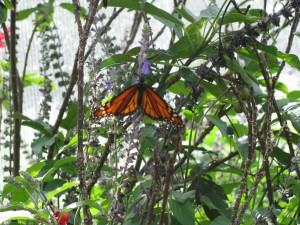 Butterfly exhibit – an absolute must-do if you have little ones.
May –
As Flower and Garden wraps up in Epcot (ends May 18th), over at Disney Hollywood Studios, Star Wars Weekends are just getting started (weekends, May 16-June 8).  While I'm not a Star Wars geek, I'm enough of a fan to get a big kick out of all the Stars Wars-goings-on during this summer-long event.  Your little Jedi (under 12) can attend the Jedi Training Academy and you can meet (and get autographs from) some of the most famous Star Wars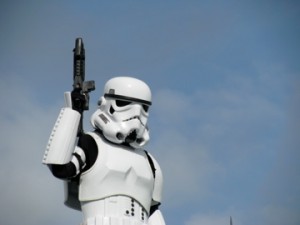 superstars in the world.  The Storm Troopers on top of the Studios' entrance are SO cool – and not above providing a little fun photo op if you can get their attention.
June –
School's out for summer and June's a great time to visit Disney World!  The last Star Wars Weekend is June 8-10 then the Sounds Like Summer Concert Series at Epcot runs from about the second week of June to the last week of July.  This musical gathering of tribute bands offers guests some fantastic opportunities to have a rocking good time – included in Epcot park admission.
Expect afternoon thunderstorms and be prepared with rain ponchos (a good attitude doesn't hurt either).  There are plenty of fun activities you can still enjoy even if the weather isn't perfect.  At least those summer showers are usually short in duration and you can right back out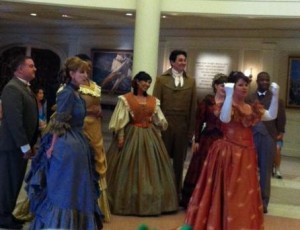 into the action.
July –
It's HOT, it's crowded (with a ton of tour groups from our South American neighbors), but, with a little extra planning, you can still have an awesome Disney vacation.  Especially if you're patriotic!  As with all holidays, Disney does Independence Day right!  While the official celebration activities have not been announced yet, you can bet that the Magic Kingdom fireworks will be spectacular!  Guaranteed to bring a tear to any red-white-and-blue-blooded American lucky enough to find a viewing spot on Main Street!  For anytime patriotic pleasure – go see the Voices of Liberty at the American Adventure in Epcot.  This a capella group is simply amazing and the acoustics in the rotunda are perfect!  Teary eyes and goose bumps guaranteed.
August –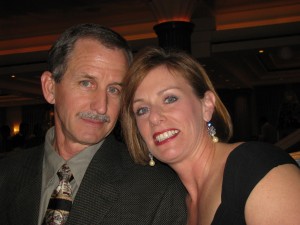 As all the kiddos head back into the classroom – it's still hot and sunny in Florida!  The second week in August is an ideal time to head to the World.  Crowds are much lower and one of the very best events in Disney World begins – Epcot's International Food and Wine Festival.
Imagine if you will:  A morning spent hanging out by the very un-crowded resort pool to catch a few rays (sunscreen, people!) before heading over to  your massage appointment at one of the many resort spas at Disney World.  (Raymond recommends the "Custom Firm-Pressure Massage" at the Contemporary Resort's Olympiad Fitness Center.)  After a quick, light lunch spend the rest of the afternoon on the attractions at your favorite park.  Finally, enjoy a relaxing evening out for dinner and drinks before taking in your favorite nighttime show – like Illuminations at Epcot or Wishes at the Magic Kingdom.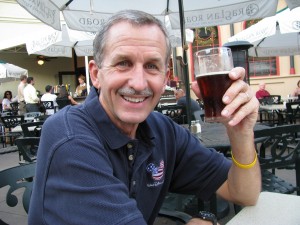 September and October –
What a fantastic time to visit with and without children.  The parks get all decked out for Halloween and Magic Kingdom presents Mickey's Not So Scary Halloween Party on select dates through the first week of November.  Epcot's International Food and Wine Festival is in full swing offering guests the chance to sample culinary treats (and special beverages) from around the world.
RunDisney Event Alert! 
October 4-5 is the Twilight Zone Tower of Terror 10-Miler Weekend
November 8-9 is the Wine and Dine Half Marathon Weekend
November and December –
Over at the Magic Kingdom, Mickey's Very Merry Christmas Party helps you get into the holiday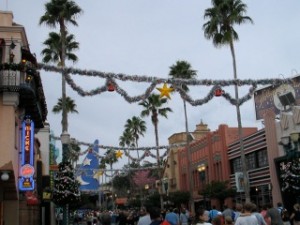 spirit on select dates beginning around the second week of November.  Spectacular holiday decorations are everywhere.  All the parks and every resort show off their seasonal best for Thanksgiving, Christmas, and New Year's celebrations.  Epcot presents Christmas Around the World as well as the Candlelight Processional (select dates).
Crowds are at their absolute extremes during these two months.  If you avoid Thanksgiving week and the Christmas to New Year's Day period, you can find some less crowded days to enjoy.  If you go during school break expect capacity crowds – careful planning is a must but you can still make a visit during this wonderfully crazy time a very magical vacation indeed.
Are you taking a Disney vacation in 2014?  What time of year are you going?