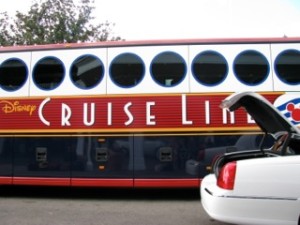 I am so stoked about our upcoming Disney Cruise.  Sure, I have a little weekend at Walt Disney World first during which I need to run 19.3 miles, but hey! Once that's behind me, Raymond and I are off to Port Canaveral to catch our ride…uhm boat…I mean SHIP for our first cruise aboard the Disney Dream.
This will be our 7th Disney Cruise, but the first one sailing from Florida since 2010.  We've missed the Disney land-and-sea combo!  We've missed Castaway Cay!  I'm admittedly feeling a teeny bit apprehensive about sailing on one of Disney Cruise Lines newer, larger ships.  All of our previous cruises have been on either the Magic or the Wonder.  Will the Dream seem foreign?  Will I get lost?  Will I like it as well as our two favorite ships?  We shall see.  I am, however, really excited about our plans.  So today I'd like to share with you the five things I'm most looking forward to!
Disney Planning – Disney Dream 4-Night Cruise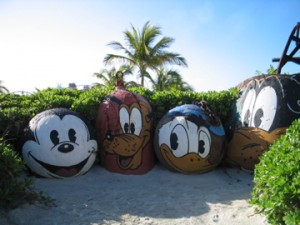 Dining at Remy!  If you've read any of my previous cruise trip reports then you already know that we are HUGE fans of the adults-only dining aboard Disney Cruise Line.  We always have at least one meal at Palo (this cruise is no different).  Since this will be our first opportunity to check out Remy, we decided we should have both brunch and dinner there.  In the interest of research.  For you.  We are totally doing it for you. (Seems awesome now that we have Remy in our kitchen in the form of cruise art we purchased a few years back on another Disney Cruise.)
Nassau.  We are looking forward to this port of call because we are staying on the ship!  We have no excursion plans.  We are hoping all our fellow cruisers will get up and go…right off the ship so we can have the place to ourselves.  We've booked dining and spa treatments and personally, I'm planning to rest my feet with this in mind…
The Castaway Cay 5k.  I'm a little disappointed that there's no runDisney, post-Glass Slipper Challenge, official Castaway Cay 5k the way there was last year.  It meant an extra medal and was a very cool deal.  In fact, if I remember correctly, Raymond thought we should book this very cruise just so I could take advantage of the opportunity should it again be offered.  Oh, well,  the regular 5k on Castaway Cay (Disney's private tropical island paradise) should still be available and I bet Raymond will run it with me to keep me company…which will be excellent. (Love you, Honey!)
Senses Spa – We're spoiled.  We love the Senses Spa and also the on-board exercise facility.  This cruise, we've once again booked a couples massage.  After the Glass Slipper Challenge and the Castaway Cay 5k, this will be such a welcome treat!
All the rest – the special, unique, magical Disney Cruise components that keep us coming back for more.  The adults-only areas of the ship, the shows, the roomy stateroom, the rotational dining – all of it!  This will be our first cruise alone.  I know we'll miss our kids – especially since we had such an incredible time last year on the Disney Magic as she made her inaugural trip through the fjords of Norway.  In contrast to that epic, action-packed, fun-filled, super busy vacation, this one will be more low-key, but with new and exciting elements for us to experience for the first time.
Have you sailed on the Disney Dream?  Any there tips or tricks we need to know?