It was bound to happen sooner or later.  As I was perusing Disney Musings Blog for a Saturdays With Nick selection, one of the items in Nick's Disneyana collection looked familiar!  Black fame, white mat, combination of background picture and Disney pins!  I have that picture!  I remember where I got mine – and it wasn't at Walt Disney World.  I got my picture from a friend at work who was having a garage sale, knew I loved Disney, and offered me the picture for what she paid for it.  I could tell she was somewhat reluctant to part with it and wanted the picture to go to a good home, so to speak.  So, for $15, I had my Cinderella Castle Pin Print delivered to me at my office.  Here's Nick's story…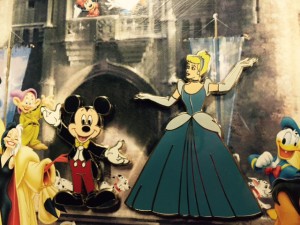 Disney Pins: Cinderella Castle Pin Print
From: Nick
Off the Wall: Cinderella Castle Pin Print. I got this framed pin set from Walt Disney World a few years ago. I believe it was $14.95, with a $25 purchase at The World of Disney Store, in Downtown Disney. A wide selection of favorite Disney characters are illustrated here, with a few being represented in pin form.
 Pluto popping up in the foreground.
Tinker Bell over the castle.
Mickey Mouse shares center stage…
…with the castle's namesake, Cinderella.
A pretty nice collectible at an affordable price!
See more of Nick's Disneyana collection and follow the Disney travel adventures of Nick, Barbie and friends on your favorite social media sites:  Disney Musings Blog, on Twitter, on Facebook, On Instagram, On Pinterest.