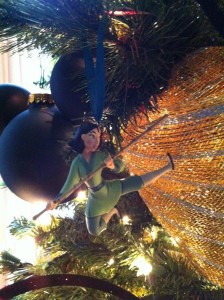 We Disney fans have got to be, without a doubt, the easiest people in the World to buy gifts for – if it's Disney, we love it!  So, the very best thing about having Christmas behind me?  I now get to enjoy the new Disney "toys" I found under our Christmas tree!
Confession time:  While I was shopping Disney for The Fam, I did (I hope I'm not the only one who does this) buy myself a little something.  Couldn't help it – I love Mulan and the ornament was too cute to pass up.
My own purchase aside, I've got to say, I'm completely thrilled with the variety and thoughtfulness of this year's Disney gifts.
Here are some of my most favorite: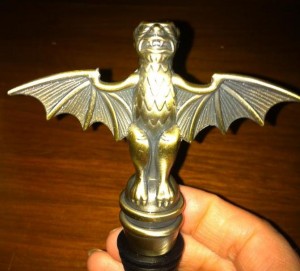 The Haunted Mansion bottle stopper.  Perfect for me since I love wine almost as much as I love Disney – Thanks, Megan!
Tea and cookies, anyone?  If you happen to already have Mickey Mouse dinnerware and an "awning red" kitchen, then a tea-for-one set and matching cookie jar are perfect gifts, no?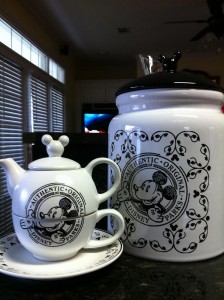 Raymond continued Megan's theme with some additional Disney kitchen items (mixing bowls and salad plates).  Plus he booked a trip to Disney World for us all to take this spring – can't wait!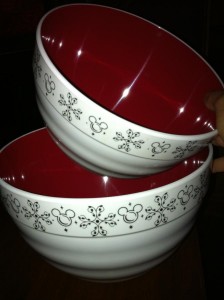 I have been hinting for quite a while that it would be super cool to start collecting those new Disney shoe ornaments.  Have you heard about them?  The Disney Parks Blog as a great write-up about them with fab pics here.  Anyway, someone (sweet Megan) finally took pity on me and got my collection kicked off with a perfect shoe – Tink's –   Check out the wings!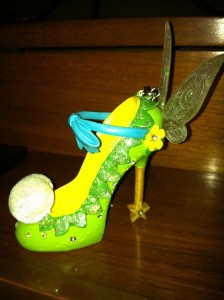 Finally, my very wonderful and thoughtful friend, Phyllis, took the time to make me a Living a Disney Life scrapbook.  She wanted me to have a memento of how I turned my Disney obsession and a little free time into my very own blog.  Posts and pages printed and adorably embellished with colorful Disney bling.  Thanks, Philly!
What Disney gifts did Santa bring you?