Please welcome today's guest, Heather Brainerd from Disney For Five+.
I'd been to Disney World many times as a child, but didn't visit as an adult until my husband and I took our three boys in 2009. It was a wonderful whirlwind of a trip! Although I loved every minute of the vacation, it left me feeling like Disney World is geared toward families of four. From resort rooms to ride vehicles, everything seemed to work better for four. I knew there had to be a way around this and, once home, took to the Internet to research strategies for touring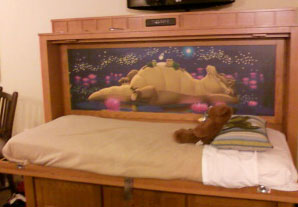 WDW with a big family. Surprisingly, there wasn't much out there on that specific topic. So I started blogging about it. Thus was born Disney for Five+ (http://disneyforfive.wordpress.com).
The biggest challenge facing big families: where to stay. If you want to stay on property (trust me, you do!), but want to stretch your vacation dollar, my top two recommendations are Port Orleans Riverside and All-Star Music.
Port Orleans Riverside (https://disneyworld.disney.go.com/resorts/port-orleans-resort-riverside/) The Alligator Bayou section of this charming, lushly landscaped Moderate resort boasts rooms that sleep five. This is the only resort at either the Moderate or Value level that has *rooms* (we'll get to suites later) that can accommodate more than four people. This is accomplished with two queen beds plus a Murphy-type bed (bench by day, small bed by night). The pull-down bed is only about 65" long, and our boys maxed it out around age 12. Until then, this was our resort of choice. We've since moved on to…
All-Star Music(https://disneyworld.disney.go.com/resorts/all-star-music-resort/) The Calypso and Jazz sections of this Value resort feature family suites that sleep up to six. Art of Animation also has family suites, but we prefer All-Star Music for two reasons: it's cheaper, and it has three sleeping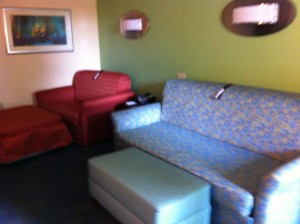 spaces in the living room. My husband and I get the master bedroom, each of the boys gets his own pullout (a couch, a chair, and an ottoman), and family harmony is ensured. Bonus: you get a small kitchen and TWO bathrooms! This makes getting ready in the morning so much more efficient.
There are plenty of other options for big families at Disney World resorts; these just happen to be my personal favorites. For a more extensive list, check out this post: http://disneyforfive.wordpress.com/2014/05/01/rooms-for-five/
To learn more about Heather and read more of her work, you can find her in these places: