So many dining questions (mostly my own) when planning a Walt Disney World vacation!  One of the most common is…What the heck is the difference between a "Table Service" restaurant and a "Signature Dining" experience?  This is an excellent question!!!  For guests on the Disney Dining Plan, the difference boils down to this:  Table Service = one credit and Signature restaurants = 2 credits.  But what is the difference REALLY?  What do I get for either my money or my dining credits?  That, my friends, is an interesting poser!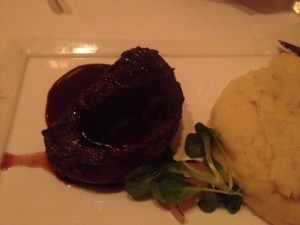 To even the playing field for today's exercise, I'm excluding all in-park dining options and focusing on two main categories:  1.)  Resort or Downtown Disney Dining Options and 2.)  Places Where I've Eaten.  With this information, you'll be able to tell the difference between the two dining categories AND you can think about choosing a restaurant without the added expense/use of a theme park ticket.  Honestly, it's no big secret that our family generally prefers dining at the resorts over the parks anyway.
Disney Dining – Table Service VS Signature Dining
In General:  
Signature Dining is more grown-up.  With the exception of Victoria and Albert's at the Grand Floridian Resort and Spa, Disney World restaurants are kid-friendly.  That being said, folks in Signature eateries tend to be adults-out-for-an-evening versus families with little ones.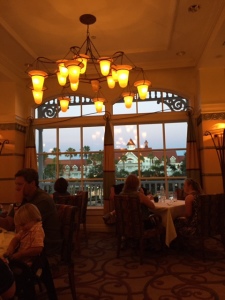 Signature Dining tends to involve dressier attire.  From the Disney Dining Plan information sheet:  "Dress Code for Signature Restaurants is Resort Casual. Not permitted in dining room: Tank tops, swimsuits or swimsuit cover-ups, hats for gentlemen, cut-offs, torn clothing of any kind, or T-shirts with offensive language and/or graphics."  You just get a dressier vibe in general and we tend to clean up at our resort before we hit one of the restaurants of the Signature Dining variety.
Signature Dining is more expensive.  In our experience, this is true.  Sure, you can run up a large tab anywhere, but based on a basic 4-5 course meal, Signature restaurants cost a bit more.
Signature Dining may have better service.  MAY being the operative word here.  We've had incredible service at places like Flying Fish but, on the flip side, have never had poor service at any of our favorite Table Service restaurants.  If you want your server to know more about wine pairings and how certain dishes or sauces are prepared, you're more likely to find that in a Signature Dining restaurant.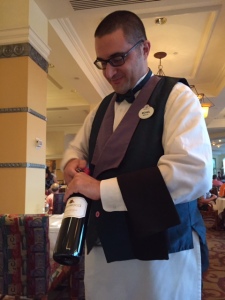 Signature Dining is quieter and more relaxing (and takes longer).  Fewer kids, generally better pacing – the meals tend to flow better in favor of enjoying each course and the dining experience to a fuller extent than at a regular Table Service place.  There's no rush to move families along before a melt-down occurs.
Let's look at specific restaurants and compare!
Our favorite Table Service restaurants include this selection of six from the resorts (all are ONE credit on the Disney Dining Plan):
Boma (Animal Kingdom Lodge) – Buffet with a fixed price (unless you order adult beverages) that includes a selection of both exotic, African-inspired dishes AND kid (and picky eater)-friendly choices.  Soups, salads, entrées, desserts – a feast to please every taste!
Sanaa (Animal Kingdom Lodge, Kidani Village) – Feels very close to a Signature Dining experience with exotic flavors and an unsurpassed appetizer, the "Bread Service".  It's warm, cozy, and boasts an excellent, knowledgeable wait staff.  (Choose this over Jiko if you need to save a Table Service credit, but want the great flavors and atmosphere if Animal Kingdom Lodge.)
Olivia's Café (Old Key West) – Underappreciated and off-the-beaten-path, this place is cozy with a homey, beachy vibe.  The service is above par and the relaxed atmosphere after a hectic day in the parks cannot be beat!
Kona Café (Polynesian Village Resort) – If I had to rank this list, Kona Café would come in last.  Based on the one-and-only time we've eaten there, the atmosphere and service left us underwhelmed, but the food was delicious!
'Ohana (Polynesian Village Resort) – Perfect for families with big appetites looking for a kid-friendly atmosphere.  It helps if you like meat as this is a Brazilian Barbeque-style dining experience.
Raglan Road (Downtown Disney) – We love this place!  For an Irish Pub, it's extremely family-friendly, has fun live entertainment, great music, and a delicious comfort-food-intensive menu.
Resort Signature Dining (TWO Disney Dining Table Service Credits) experiences we've tried include:
Jiko (Animal Kingdom Lodge) – We love this place!  Expensive, yes, but exotic with great service, awesome wine selection, and delicious menu choices that have never disappointed.
Flying Fish Café – The artisanal cheese appetizer is amazing, but we also love the service, the interesting menu (something for everyone, even non-seafood-lovers) and the atmosphere – prime location on Disney's Boardwalk.
California Grill – More kids than we anticipated!  Of all the Signature Dining places we've tried, this one was the nosiest and had the most kids-on-the-loose.  It's the balcony that allows guests a magnificent view of Wishes (Magic Kingdom's nighttime fireworks show) – Access is included with a dining reservation.  The food's great, the service is awesome, but if you're looking for a quieter, kid-less dinner, think about trying a different restaurant.
Citricos (Grand Floridian Resort and Spa) – This place feels elegant, upscale, and unpretentious at the same time.  The service is excellent!  The menu is broad enough for picky or special-restriction diners.  We also think the atmosphere strikes just the right balance between fancy and on-vacation.
Yachtsman Steakhouse (Yacht and Beach Club Resort) – Looking for a great steak dinner?  You'll find one here.  Compared to the great service we're received at other Signature Dining restaurants, Yachtsman's servers possess the most pride in their food, atmosphere, and service.  There seem to be more kids here than at some other Signature Dining restaurants, but they're too busy enjoying their steaks to make noise or cause a ruckus.
Artist Point (Wilderness Lodge) – Again, if I had to rank the restaurants in this category, Artist Point would come in last.  It's dark and, compared to Wilderness Lodge's awesome ambiance, lacks character.  Save your dining credits!  We've found much better experiences at NON-signature restaurants.  Rumor has it that changes are on the horizon for Artist Point, but it would take a lot to get me back in there for another meal when there are so many other, more reliable options.
Whew!  I'm exhausted…and hungry.  I hope I was able to shed a bit of light on the differences between the different dining experiences at Walt Disney World for you.  I believe it's important to be an informed consumer when it comes to my precious vacation dollars.
What would you recommend for an excellent sit-down meal at a Disney resort?