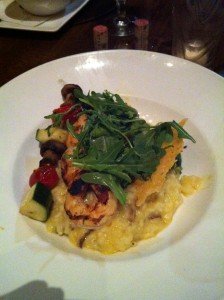 Making ADRs (Advance Dining Reservations) 180 days before every Disney vacation has become a regular part of our trip planning process.  So much so, I've developed mental lists of table service restaurants that fall into three categories:  Want to go again, want to try, and not going back ever.  The first category is currently a medium-sized list.  I'll admit that sometimes, restaurants land on it due to sentimentality rather than for outstanding food or service.  Over the years, a few places that made it into Category One at one time have fallen from favor due to a single really bad dinner.  Category Two is the longest list – there are still many places we haven't tried yet.  A restaurant has to actually work really hard to end up a Category Three, but there are definitely some firmly entrenched eateries on that list.
Raglan Road Irish Pub and Restaurant falls firmly in the first category.  We've never had a bad meal there.  To be honest, the consistency of good food and great service at Raglan Road has been impressive.  Raymond and I like the atmosphere so much, we've been know to drop in for a cold beer on an afternoon just to hang out, relax, and soak up the atmosphere for a while.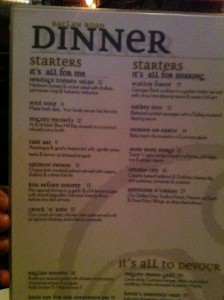 Other than consistently tasty fare and nice wait staff, that's about the only "usual" thing about Raglan Road – because, and I mean this in the best possible way, every experience there has been different!  A special dinner, unique for every visit.
Our most recent Raglan Road dinner was on May 25th, 2014.  We had an ADR for 7:30 pm.  We'd been up since 3:00 am to catch super early flights to Orlando.  Raymond, Joseph and I had been at a wedding in Dallas and flew from there, Megan had been at her boyfriend's college graduation in Louisiana, so she flew from there.  We all met up to change planes in Atlanta and arrived in Orlando early enough to spend the entire afternoon in Magic Kingdom.  After getting soaked (thank you, rain ponchos, you did your best) in a flash-flood-like torrential downpour that struck just as we exited Pirates of the Caribbean, we began to make our way to Downtown Disney for our much anticipated meal.
Our plan was solid (we thought) – take the monorail to the Contemporary, catch the Downtown Disney bus from there and arrive at Raglan Road in plenty of time for our reservation.  We walked as briskly through Magic Kingdom as possible through the deep puddles and pouring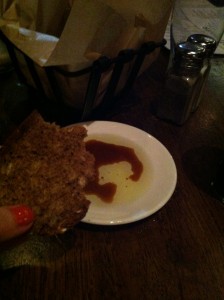 rain.  It was about 6:15.  We'd made our way to the Contemporary's bus stop by just before 7:00.  We waited.  The rain stopped.  Busses came and went.  Still we waited.  It was nearly 7:30 before the Downtown Disney bus pulled up and, even though once we got there we practically sprinted through Downtown Disney, we arrived at Raglan Road at 8:10 (almost two hours after we started trying to get there).  We were wet, tired, and hungry.  Not to mention really, really late.
We had no expectation that we would be seated – and even though we overheard the hostess tell the party in front of us the wait would be two hours – we thought we'd see if anything could be done.  I didn't have high hopes (or low hopes or any hopes, really) that we would get a table that night and I'd already started thinking about what our alternatives might be. I explained that we were a wee bit tardy and the hostess asked (with a beaming smile), "What was the name?"  Note:  I do not recommend testing the limits of the ADR system and do not in any way believe that if you show up for dinner 40 minutes late you'll be seated, but on this day….we had our table within 10 minutes.  I can only believe it was a pinch of pixie dust exactly when we most needed it.  We had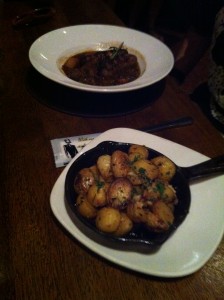 just enough time to get our buzzer, head into the bar for a cold Guinness, and pay our tab before the buzzer sounded. Our table was in a dark alcove by a back door – not in the middle of the action (we thought) but perfect for the four of us since we love to have lively dinner conversation.  Our server, Brett, was absolutely fantastic!  He explained menu items, made recommendations, was friendly and made us feel welcome – also special, like we were his only table.
The menu at Raglan Road offers a great variety of people-pleasing dishes designed for every taste.  Chicken, steak, salmon, scallops, shepherd's pie, Guinness stew, vegetarian choices – good, hearty selections.  Dinner starts with bread service – a dense, delicious Irish bread with a scrumptious dipping sauce!  I can recommend with enthusiasm the "Kiss Before Shrimp" and "Nom Nom Wings" appetizers as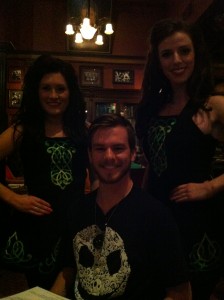 well as the "Braised Be Beef", "Mammy's Roast Chicken", and "Raglan Risotto" entrees and also the "Garlic and Herb Roasted Potatoes" from extensive side dish selection.  (We were, sadly, too full for dessert.)  See the full menu at Raglan Road's awesome website here.
Raglan Road dinner includes excellent evening entertainment.  Every hour on the hour, seven nights a week (from 5-10 pm), talented Irish dancers perform to lively (and live) Irish music. On the evening we were there, we were enjoying the music and dancing from our table in the back.  And then (more pixie dust!), the dancers were beside our table for a little dance-off.  We were able to meet them and visit with these happy, enthusiastic performers – one of the best moments of this vacation! (Follow the Raglan Road Irish Dancers on Facebook here.)
Raglan Road currently accepts the Tables in Wonderland discount card.  If you're on the Disney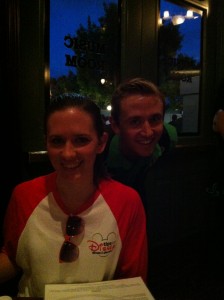 Dining plan, Raglan Road is ONE table service credit (lunch or dinner).
Have you had the opportunity to enjoy a meal at Raglan Road?