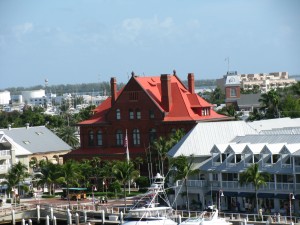 Disney Cruise Ports – The Beauty of Key West, Florida
Just about this same time of year in 2007 – we cruised with Disney to celebrate Megan's Senior year of high school and ring in the New Year for 2008.  On our Western Caribbean itinerary, the beautiful island of Key West, Florida was one of the first ports of call after sailing from Port Canaveral.  Recently I noticed that the Western no longer visits Key West, but some of Disney's cruises in the Bahamas do stop there now.
We'd heard about Key West and had high expectations.  Let me just say, it's one of the best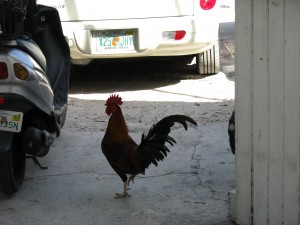 places for living up to its reputation!  It was absolutely gorgeous, pedestrian-friendly and true to what we'd been told, there really were chickens everywhere, key lime pie stores on every corner, and wonderful homes with fabulous gardens that made this town look like paradise.  I'm only sorry we missed seeing one of the famed 6-toed cats!
Knowing that we had excursions booked in Grand Cayman and Cozumel, we decided to tour Key West on our own.  The plan was to debark as early as possible, walk to the continental United States' southernmost point, then take a leisurely stroll around town – taking in all the sights.  The only important mission we had was to get back to the ship before all-aboard time.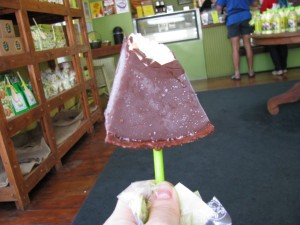 Since Key west is only 4 miles long and 2 miles wide, we thought we could see quite a bit on foot.  As far as plans went, it was simple and, as it turned out, perfect.  Our time in Key West was as laid-back and relaxed as the town itself.  We had a such great day that Key West is now near the top of the list of places we'd love to visit again.
Here are the highlights:
Key Lime Pie-on-a-stick!  Frozen and dipped in chocolate, these delectable treats were a perfect way to sample one of Key West's most famous foods.  Key West is also know for its conch fritters – unfortunately, we did not get the opportunity to try any of those.
A stroll through the heart of Key West's Old Town – from the enchanting Victorian mansions to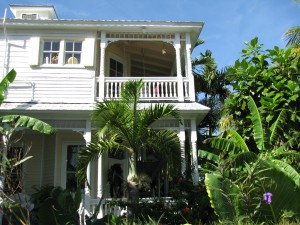 the famous bars and restaurants on Duval Street, this was a walk through history – so much to take in!  Great little shops with an eclectic assortment of wares and curb-side hat weavers were a couple of more notable offerings.  We found a great tee-shirt shop where you could pick your design from a catalog and have a shirt printed while you wait.
The Southernmost Point in the U.S. – Cuba is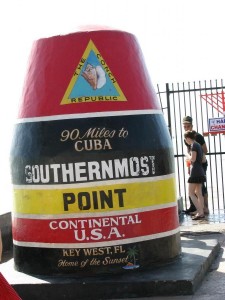 just 90 miles away!  It's a fun place to see/visit and a great place to rest for a few minutes and enjoy the view.
The Hogsbreath Saloon – on our way back to the ship, we just couldn't help stopping in for a cold refreshment and a souvenir tee shirt.  A great way to end one very enjoyable day.