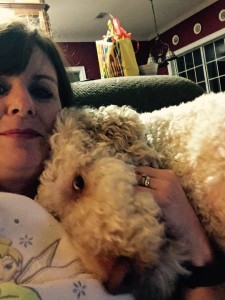 Recently, right on schedule, I again celebrated the anniversary of my arrival on Earth.  You'd think after so many years, my birthday would have become less of a thing.  It would be just another day, ho-hum, yeah, yeah, I'm another year older. But NOT in my family!!!  That's one of the best things about us, we love a good birthday and know how to make each and every one unique and special.
Some things are always a given on your birthday at our house – you'll be treated like royalty, you'll receive gifts that are complete surprises, you'll get at least one serious card that will make you cry a little, and you'll be celebrated and made to feel loved.  Oh, and you'll get food.  And cake.  Not so different from other families probably, but this is how we do it.
Disney Collectibles for Me!
So, my birthday rolled around and as usual, the first words I heard upon waking were "Happy Birthday!" from Raymond.  This year, I took the day off so I could enjoy a 3-day weekend and have some relaxing time hanging around with Junior while everyone else was working.  That was my gift to myself.  I ended up cleaning house and giving aforementioned canine companion a much needed haircut and bath.  That probably doesn't sound very special or relaxing, but I knew I could expect a family gathering and Junior and I were ready, looking our best, when the time came.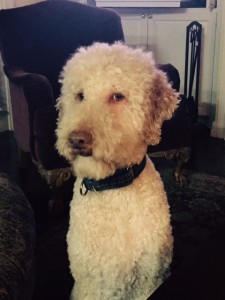 As expected, later that evening, folks showed up with food and presents.  Megan, Grant, Joseph and Raymond put dinner together while I sat on the couch, munching on appetizers and watching TV.  We ate, we laughed, we caught up and then it was time for birthday cheesecake and presents.  Let's talk about the presents!!!
Raymond's gift was something I'd wanted for a long time and wouldn't buy for myself.  He initially didn't think it would be a good idea to give his wife this item as a present.  He was afraid it would be saying something negative about me and that's not his style. Ever.  Anyway, since I'd been dragging him to look at Fitbits every time we were in a story that carried them, he knew I really wanted one and he made the potentially risky decision to buy me one.  I was ecstatic!  He was relieved.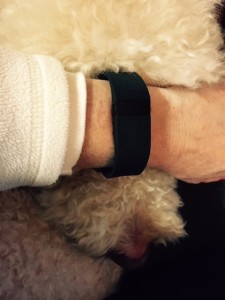 So far, so good since then – I'll give it a couple more weeks and then do a full review on how Fitbit changed my life (I hope).  You know I've been carrying around a few extra pounds and I'm ready to tell them goodbye.  I also got a couple of pairs of my favorite running socks – THE most wonderful running socks in the world! (Balega Socks)  Good job, Raymond!!!
Megan, Grant, and Joseph went in together on a joint gift – I should say GIFTS! How exciting it was to unwrap each treasure – and treasures they were.  All vintage Disney collectibles!!!  Here they are: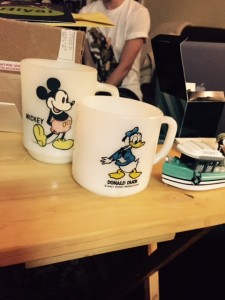 Milk Glass Mickey and Donald Mugs!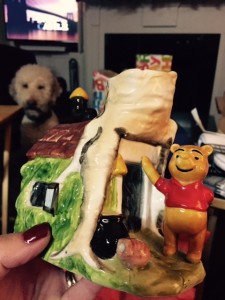 Winnie the Pooh Bank!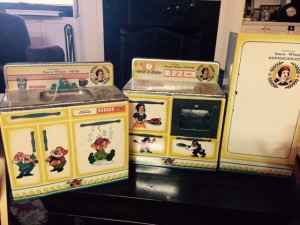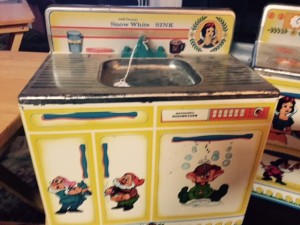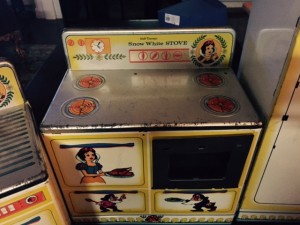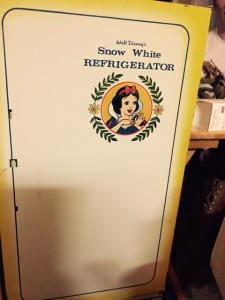 Snow White Play Kitchen – Sink, Stove, and Fridge!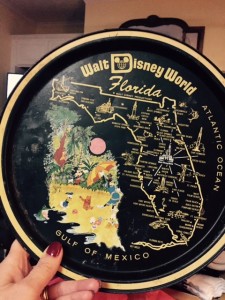 Walt Disney World Metal Tray!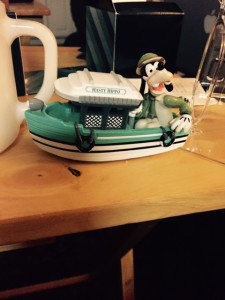 Goofy and one of the original Animal Kingdom Boats!
Softens the blow of turning another year older, let me tell you – Great company, good food, fantastic gifts – all in all, being 51 is fantastic!!!  Best family EVER!
What are your family's birthday traditions?