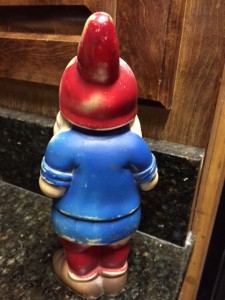 Don't ask me how we ended up with such a wide array and volume of items in our (mostly Joseph's) Disneyana collection.  I adore the lunch boxes, comic books, and record albums.  The books, watches, and mugs – yes, I totally get why we have all of those.  I understand the attraction of every single lovingly curated item…except one.
Several years ago, it seems, a well-worn, somewhat faded and tired lone figure made its way into the collection.  Still bearing his antique store price tag, this bespectacled gentleman seems to have joined our menagerie for a solid $4.  He seems a bit lost, a tad lonely, and a lot dirty but was once a part of something really special.  As it turns out, our little vinyl Doc figurine was actually manufactured in the late 1950's and, predictably, was part of a complete set of 8 characters.  (See the original set here.)  I feel certain Doc took up residence in our home after Joseph spotted him in one of his favorite stores and, a lone Dwarf, without his friends, could not be left behind.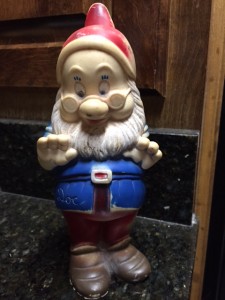 Touting the features of purchasing this set of toys, the original box read, "Walt Disney's Snow White and the 7 Dwarfs. Entire Doll and Dwarfs Made of Miracle Vinyl. Washable Rooted Hair. Finest Details of Face, Hands, and Body Ever Achieved. Completely Unbreakable from Head to Toe."
I pass by Doc on the curio shelf where he resides many times a day – usually without notice.  This weekend, though, I had Snow White on the brain and Doc caught my eye.  I decided he could use a little attention and at the same time, I could satisfy my curiosity about the little guy.
Eighty years ago in 1934, Walt Disney began his serious pursuit of bringing Snow White and the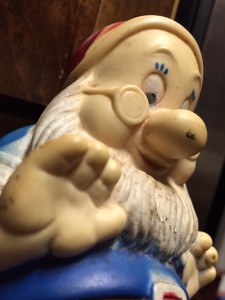 Seven Dwarfs to animated life.  He was meticulous in his plans – scrutinizing every detail until he could achieve perfection.  For the first feature length animated film in movie history, Walt Disney was serious about making his dream a success – critics referred to the endeavor as "Disney's Folly".  They would be surprised by Mr. Disney's achievement.  The movie premiered to wildly receptive audiences and is today regarded as one of the greatest movies ever made.
Back to our little guy.  In Snow White and the Seven Dwarfs, Doc's animated character, voiced by veteran actor Ray Atwell (1878-1962), was scripted to be the leader of the Dwarfs – self-important, yet somewhat bumbling.  He turned out to be an adorable, much loved persona who, thanks to a little research, now holds a special status among his curio cabinet companions in our home.
Do you collect any Disney toys or collectibles?  What's your favorite item?