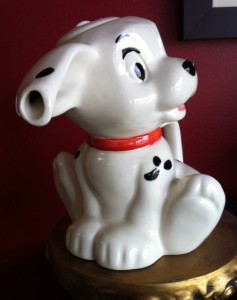 We have Disney dinnerware with Mickey on it and a Ratatouille wine print on our kitchen wall.  I've got that Haunted Mansion bottle-stopper and a spiffy Disney cookie jar.  Know what else you can find in my kitchen?  An adorable Dalmatian teapot.
To be honest, I can't remember exactly where I bought it, but I can tell you the happy circumstances under which I discovered my little spotted treasure.  Raymond's family, until very recently, had a traditional annual get-together – a trip + family reunion that allowed everyone (parents, brothers, sisters, nieces, nephews, children, grandchildren, you get the idea) to meet up at a different location every summer and enjoy a long weekend of family togetherness while exploring new destinations.  Over the years we've been to places as far away as Disney World, San Antonio, and Fredricksburg, Texas – we've also traveled not so far, to off the beaten path places like Broken Bow Lake (Oklahoma), Gaston's White River Resort (Lakeview, Arkansas), Branson (Missouri) and once, some funky little cabins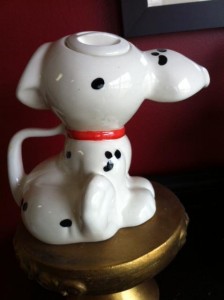 in Breaux Bridge (Louisiana).  Some of these locations offered exceptional antique shopping!  The Fam is always game for that.
It was in a small-town antique store – I may not remember which town (I suspect it was Eureka Springs, Arkansas) , but I can picture the store perfectly.  On the far right side of the shop, in the very back, on a crowded lower shelf, I spotted Roly, the Dalmatian teapot, among an eclectic group of kitchen oddities.  He's rather small (about 8″ tall) and in perfect condition – as soon as I saw him, I knew he'd be coming home with me.  Usually, I just go along for the entertainment of watching Joseph and Raymond find amazing items – some Disney collectibles, some in need of a little TLC, some quirky (like a rather scary looking antique metal dentist's chair Joseph bought once on a whim).  For once, I was not leaving empty handed!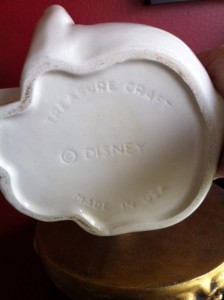 Roly was Made in the U. S. A. by Treasure Craft, a pottery company founded in California in 1945 and later purchased by Pfalzgraff.  Treasure Craft made a number of Disney-themed items ranging from teapots to cookie jars, salt and pepper shakers, and cups and saucers.  I know Roly's not very old, but he's precious and adorable and he cost me $12 – which is an excellent price to pay for a happy memory AND a Disney collectible perfect just for me.
What's the best Disney treasure you've ever found?