Today I was invited to collaborate with some fellow Disney fans in posts about our favorite Disney characters and where to find them.  When Livy at hollywoodlassie.com emailed me about participating, I immediately responded with an enthusiastic YES!  Donald's my guy!  How he went from a grumpy duck to my most favorite character was a story from another day (here) but he's held a special place in my heart for a very long time.  When I'm at Walt Disney World, I find ways to add Donald to my vacation on nearly every visit.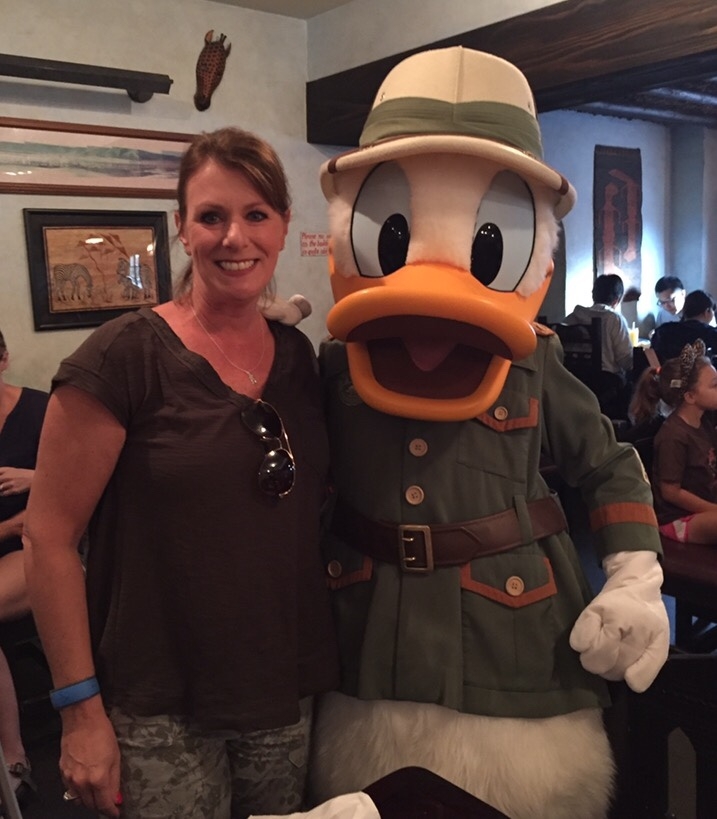 Finding Donald at Walt Disney World
The best (okay, only) ways to locate my most beloved member of the Fab Five are 1) on purpose and 2) by accident.  The first takes a bit of pre-planning and the second just takes some careful observation.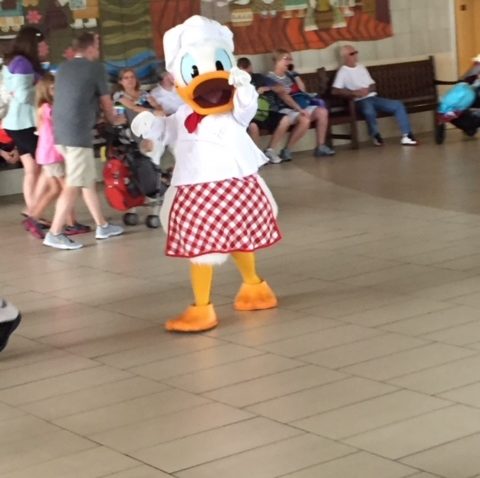 To guarantee a brush with Donald-greatness, I schedule a meal at either Chef Mickey's (Disney's Contemporary Resort) or Tusker House (Disney's Animal Kingdom).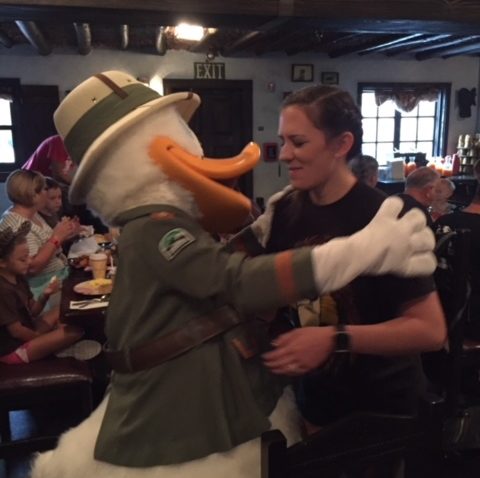 Both places are great, but I'm partial to Tusker House for both the food and the fact that Daisy is there instead of Pluto, who's at Chef Mickey's.  Otherwise, guests will meet Mickey, Minnie, and Goofy in those restaurants as well.  In both places, the character interactions and photo ops are fantastic!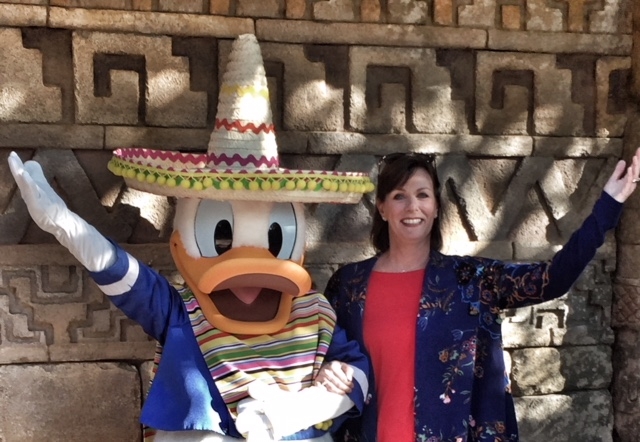 Meet-n-Greets are a fun way to see Donald, but can use up big blocks of time and only work out well if you make it in line before the queue is shut down.  Sure, you can check a park's times guides for Donald appearances, but what fun is that?  I prefer keeping a lookout for Donald and try to catch up with him on the spur of the moment.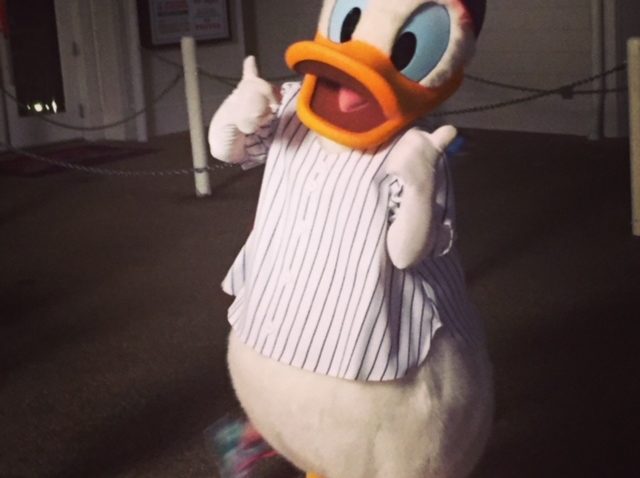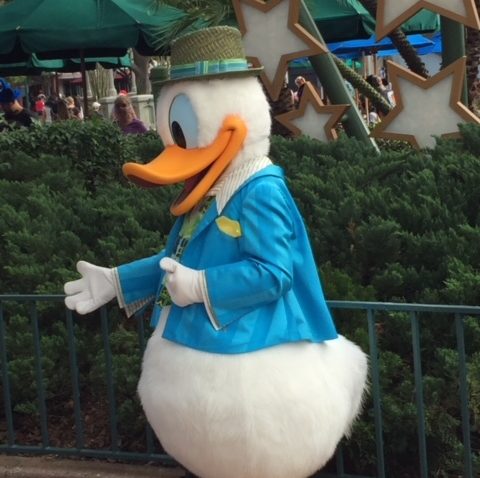 I've met Frontierland Donald, Fiesta Donald (Mexico Pavilion), Baseball Donald (runDisney event), and Donald and Daisy in the Studios.  I've also seen Donald around and while I wasn't able to get in line to meet him, I was able to snap pictures of his adorableness.  My kids also love Donald!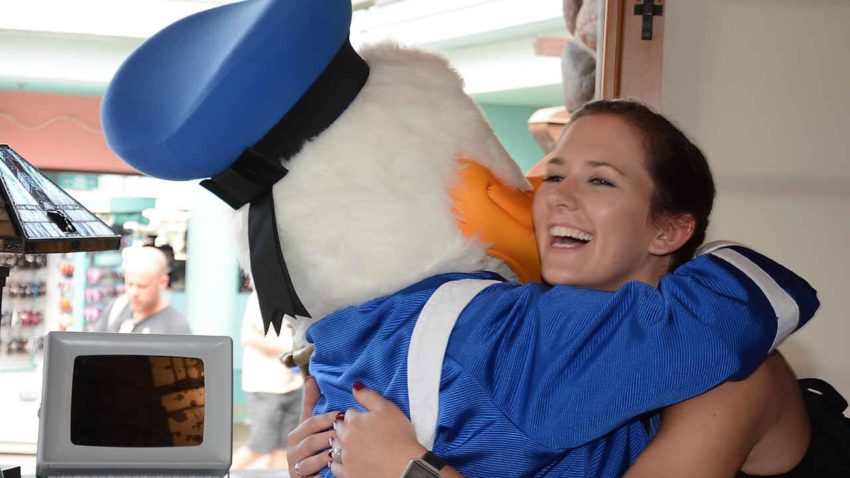 Can't do a character meal?  Don't feel meeting by happenstance is reliable enough?  You can always count on seeing Donald in the Festival of Fantasy Parade in Magic Kingdom.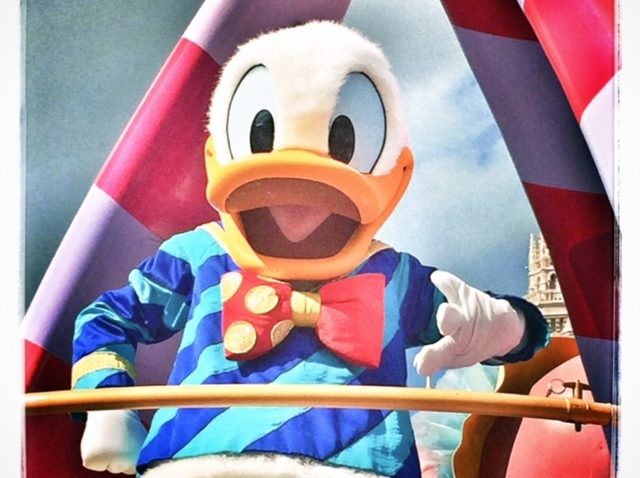 The parade is absolutely wonderful and there's, you know, DONALD!  At Disney's Animal Kingdom, you can now catch Donald and other beloved Disney characters in DinoLand U.S.A. at Donald's Dino-Bash!
Shout on out if you're a Donald fan too!
Be sure to check out these blogs for more Disney character love…
Hollywood Lassie – (Rapunzel)
Disney Insider Tips – (Ariel)
Luxury Disney Travel Blog – (Cinderella)
So Cal Style – (Alice)