A couple of weeks ago, Walt Disney World announced a new option for park-hopping transportation.  Pass-holders and guests with Park-Hopper tickets can now pay an upcharge ($15 single day or $24 per 7-day stay) to travel from park to park on special, behind-the-scenes bus transportation.  Beginning at 10:00 am daily (through park closing), visitors who've added this Express Transportation Option can exit one park through a "back door" and enter the next park the same way.  As with everything Disney adds or changes, this has generated quite a bit of chatter on social media, much of it negative.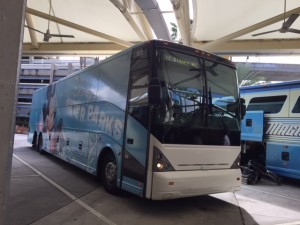 About WDW Parks Express Transportation
This new option sounds great to me!  If I don't want to pay extra or do not plan to park-hop, I can still rely completely on Disney's well-organized transportation that is included in the price of my stay.  If I want to park-hop (I DO!) and am visiting during a super-crowded time of the year (I AM!), I can pay the $24 and potentially save a bunch of time and extra walking.
We like to park-hop between Magic Kingdom, Epcot, and Disney's Hollywood Studios.  Typically, we spend an entire day (or two) at Animal Kingdom with no hopping.  For five days during our upcoming Christmas vacation, we've either planned to switch parks or have left the option open to do so in our touring plans.  Based on our last visit in October, I can expect the bag-check lines to be longer and slower than ever before (due to increased security).  I'm pleased that Disney is taking security more seriously and, by the number of people they've caught attempting to enter a park with a weapon, they need to.  The metal detectors are also a way of life now and again, based on our last experience, I can expect to be chosen for extra screening every time I reach a park entrance.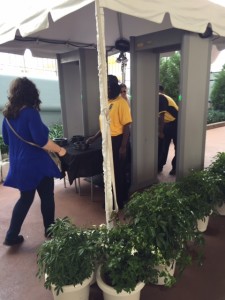 Park-hopping has become much more time consuming!  Leave one park, walk to bus, boat, or monorail (depending on personal choice & which park is next), wait for transportation, travel to next park, walk to park entrance, wait in bag-check line, wait in security line (likely), wait in line to scan Magic Band/ticket, finally enter park.
The Express Transportation Option sounds like a way to avoid much of the walking, checking, screening, etc.  I expect to have my Magic Band scanned (maybe by a Cast Member with an iPad?) as I get on the bus to the next park.  No need for long walks, waits in line, bag checks, or metal detection!  Just exit the bus right into the next park!  (All the details about where to board and exit busses can be found here.)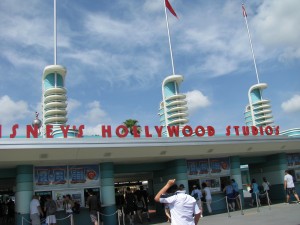 Will it be worth $24?  I'll have to wait and see if the process is as good as it sounds, but I'm certainly going to give it a try.  Do I believe this will negatively impact those who do not choose to pay the upcharge?  I do not.  Disney transportation has been, in our opinion, getting better over the past couple of years.  If enough guests choose the park-to-park Express, it could reduce wait-times at bag and security checks for other visitors.  I don't believe busses will be taken away from non-Express users to offer this new service.  Like the in-park cabanas being tested in Magic Kingdom, guests can choose NOT to pay extra without being negatively impacted by visitors who choose to take advantage of these new options.
In my Disney fan bubble, I like to believe the Disney Parks folks are hard at work to find revenue-generating offerings so they don't have to raise ticket and food prices as often.  Stop laughing!  It's a nice thought.  I'll let you know how the bus thing works out when I get back.
Would you pay an upcharge for park-hopping faster?