Festival of the Arts?  Flower and Garden?  Food & Wine?  Choices abound!  If you're a fan of Epcot festivals, you now have more choices than ever!
Must Be WDW Epcot Festival Fever
I've had a great time following along with friends via social media during Epcot's inaugural Festival of the Arts.  I'll confess, I've also been Goofy-hat-green with envy.  This brand new festival runs Fridays through Mondays only from January 13th to February 20th this year (2017).  I hate that we couldn't be there!  What a cool idea full of truly unique experiences!  Packed with art in many forms from Broadway performances to living statues to artists' workshops and, of course, culinary arts.  What would an Epcot festival be without the food?  Several attendees I know have gone so far as to say Festival of the Arts may now be their most favorite festival.  Certainly this will become an annual event and I'm working hard on figuring out how I'm going to get there for at least one festival weekend next year.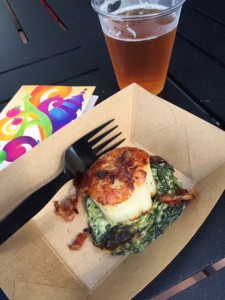 I've got Epcot Festival Fever.  Here's how I know…I've managed to make sure I'll be at Walt Disney World during both Flower and Garden and Food and Wine this year.  If I can pull off a visit during next year's Festival of the Arts, it'll be the festival trifecta!  For a non-local, I think that qualifies me as a true festival fan.
What's the draw for us?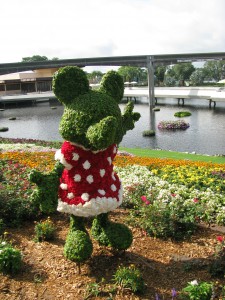 Epcot's International Flower and Garden Festival (March 1-May 29, 2017) – It's springtime, the flowers are blooming and Epcot goes all out with music, topiaries, special seminars and yes, FOOD.  I'm particularly excited about this year's lineup of offerings at the festival's outdoor kitchens.  If you're into gardening (we are!), there's a lot to love including seminars and informational experiences to help you make the most of your green (or in my case, not so green) thumb.  Timed just right, the weather for most of the festival isn't too hot and most schools are not yet out for the summer.  While our favorite time to take in Flower and Garden has been mid to late May, we'll be visiting in April this year.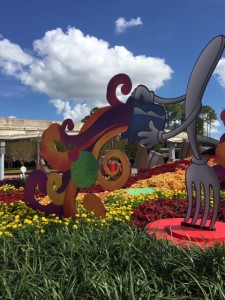 Epcot's International Food and Wine Festival (August 31-November 13, 2017) – Yes, it's extremely crowded at times and has a reputation for being a bit rowdy on the weekends, but Food and Wine can also be incredibly fun.  Raymond and I love the special food and wine pairing events offered during the festival.  Enjoying a long, leisurely lunch sampling tasty international flavors while learning about regional wines specific to the host pavilion is worth the splurge for wine lovers like us.  We like to spend our time at the festival early in the day rather than at night.  The craft beers and specialty food booths are great!  The weather in October and November is usually fantastic.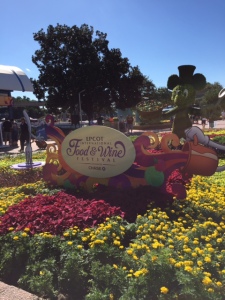 We've found Epcot's festival seasons to be an extra special time to visit Disney World.  Sharing tables with other visitors and getting to meet fellow festival fans is part of the fun.  Planning which booths and seminars are must-dos while leaving ample time for soaking up the extras allows us to make the most of these very special times of the year.
Are you a festival fan?  Which Epcot festival is your favorite?  Are you planning to be at Disney World during Flower and Garden or Food and Wine this year?