— By Joseph Green
When Mom asked me to try out some new Walt Disney World food and beverages and write some reviews for her blog, I agreed.  Enthusiastically!  I mean, win-win, right?  I get to eat and Mom gets to pay for it…what's not to love?  She emailed me a list and I got busy.  What I didn't expect on the list (Mom knows me and loves me and wants me to be happy) was a cocktail.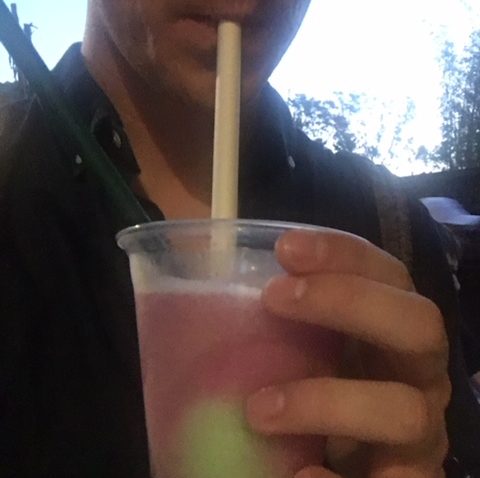 Rum Blossom in Pandora's Pongu Pongu
This was the one item on Mom's list that sounded unappealing to me.  I'm a craft beer and dry red wine kind of guy.  Occasionally, when I'm especially flush (or Mom and Dad are buying), I like a good single malt scotch.  A fancy, fruity cocktail is never on my radar.  Ever.
I thought I was taking one for the team.
Mom's list is pretty long and my time at Walt Disney World is limited, so I dove right in by choosing the one thing I knew I'd like the least (to get it out of the way).  Billed as "Bacardi Superior Rum with layers of Apple and Desert Pear Limeade topped with Passion Fruit Boba Balls" – this drink was nothing I'd order on my own.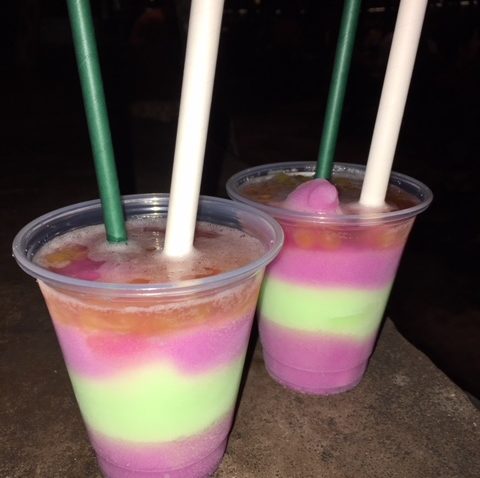 The Rum Blossom proved me wrong!  It was incredibly delicious.  It was both sweet and tart, much like Sweet Tart candy.  The Boba Balls were just as tasty!  I loved it and would definitely recommend it.  This drink was very refreshing after having worked outside all day.  Let's hear it for trying something new!  Okay, okay…I admit it was under duress, but still.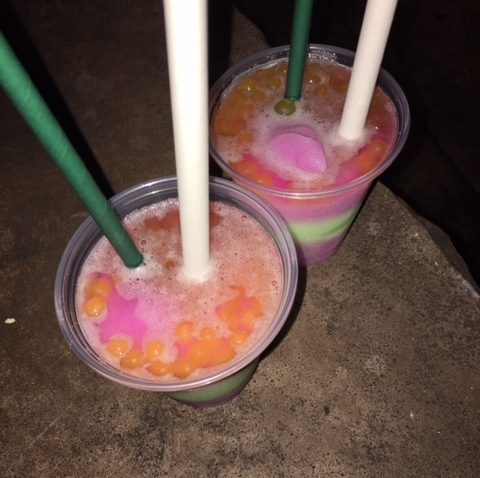 So far, this taste testing thing is working out even better than expected!  Next up?  D-Luxe Burger in Disney Springs!  If you've got any Disney food/beverage suggestions (hint-hint), I'm sure my mom will pay for me to try them and report back.
Thanks for reading…Joseph