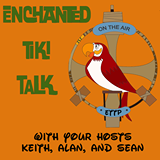 Again!  Can you believe how lucky we are?  Last week, we had an awesome planning post by Keith from the Enchanted Tiki Talk Podcast and today, I'm super stoked to bring you a post by my friend Sean who also happens to be a host in the Tiki Hut!  Sean's bringing us a great restaurant review – those of you who love character meals will love this post! (For lots more Disney fun, be sure to follow Sean and Enchanted Tiki Talk on Twitter and Like Enchanted Tiki Talk on Facebook, if you haven't already, please give the podcast a listen – Sean, Keith, and Alan do a great show and score awesome interviews!)
Breakfast at Cape May Café in the Beach Club
By Sean from Enchanted Tiki Talk Podcast
There are several good character breakfast buffets at Walt Disney, but one of my favorites is at Cape May Café in the Beach Club resort.
My wife Sharon and I have grown to love Cape May Café. Not only is the resort a great place to visit but Cape May Café is much quieter than Chef Mickey's. Granted Mickey doesn't make an appearance here but you do get Goofy, Donald and Minnie Mouse. But you also get them in their swimming suits which is a nice touch. Disney certainly plays up the beach atmosphere at the resort which adds to the charm of your breakfast there.
Now Cape May Café is smaller and a little less rowdy in my opinion. The food selection is a bit smaller as well but they still serve all the basics like, pancakes, eggs and Mickey Waffles among other things.  The staff was always attentive and we never felt like we needed to get out of there for the next guest to sit. We also like to book the later times for character breakfasts just because it usually is a little less crazy.
The thing that we really have come to love is the character experiences. The last few times we have gone we have noticed that the characters spent a little more time with the kids. Just as an example Goofy drew his name on my sons paper mat on the table and then Minnie Mouse came for pictures with my son and then noticed my daughter sleeping in the stroller. Next Minnie wanted a photo-shoot covering her mouth with 1 finger showing us that we need to be quiet with a sleeping baby there.  Then you have Donald who stole my hat. You would think after Mickey's Philharmagic he would have learned his lesson.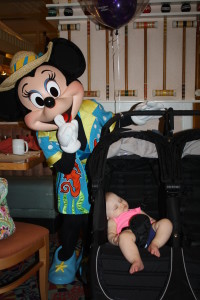 In many ways I felt it was more of an intimate experience with the characters. I think some of that comes into play because it does feel smaller and there isn't ever a rush to get to the Magic Kingdom.  It is just less chaotic overall and that's what I love about eating there.
I know lots of people prefer to eat in the parks or feel like they don't want to stray too far from the parks, but just taking time to explore the Beach Club Resort is worth the trip. Just as an example take a look at Stormalong Bay which is the pool that is shared by the Beach and Yacht Club. It has a sandy bottom and probably one of the best water slides on property.  As a non-resort guest you probably can't explore the pool area but maybe if you ask nicely they might let you have a look.
I think the biggest thing for me here is that it's a great idea to get out of the parks and explore the resorts a little more.  You can certainly kill a few hours exploring the Epcot area resorts especially at night. But for something a little different take a look at Cape May Café for breakfast. Oh did I tell you that at night it's a seafood buffet with all the crab legs you can eat! Well now you know. Only thing is it's not a character meal but did I mention all you can eat Crab Legs!!!
Have you tried Cape May Café?  Where is your favorite character dining experience at Walt Disney World?