Back in February I received an email from author Christopher Lucas. Christopher offered me a free copy of his new book to review. Of course I responded with an enthusiastic, "Heck yes!". He had me at the book's title: Top Disney: A Book of 100 Top Ten Lists, from the Man to the Mouse and Beyond.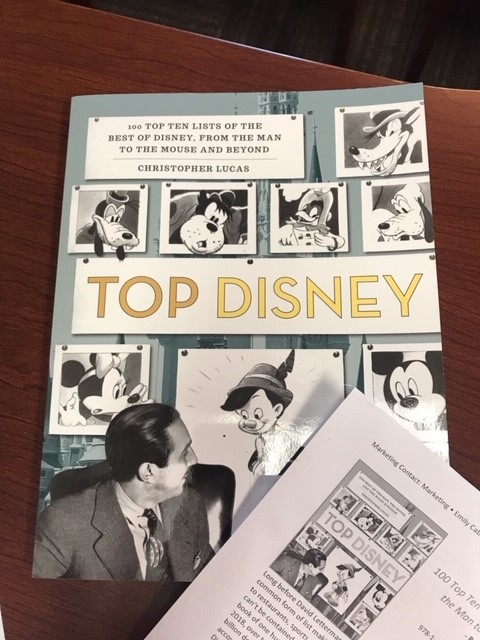 Book Review! Top Disney (Lists)
I must confess, I've had the book a few weeks. It's been sitting in my kitchen where I look over the chapters and their dozens of lists while I'm prepping dinner in the evenings after work. It's become part of my daily routine and I am finding myself both entertained and educated in the process.
Here are the Chapter Titles…
Lists About Walt Disney Himself
Lists About the Disney Company
Lists About Disney Films
Lists About Disney Characters
Lists About Disney Cast Members
Lists About Disney Television/Other Media
Lists About Disney Parks and Attractions
One evening as I reached for the book, Joseph told me he'd taken time to read through several lists and was extremely interested in the Disney information that was new to him. He particularly liked "Lists About Cast Members" and "Lists About Disney Parks and Attractions." This book absolutely has multi-generational appeal.
As for me, I find the lists as thought-provoking as my favorite Disney Blogs and Podcasts. Sometimes I agree with which items made a list and sometimes I don't. For example, I would not have rated Inside Out as a top Pixar Film (unpopular opinion: I didn't care for it!). I would have chosen Ratatouille instead. I was pleased to see that Remy at least made the "Disney Critters" list. That's one of the best aspects of this book for me – critiquing the lists based on my own Disney favorites in each category. If "Dinosaurs" hadn't made the list of top "Live-Action Disney TV Series", I'd have been crushed. I loved that show!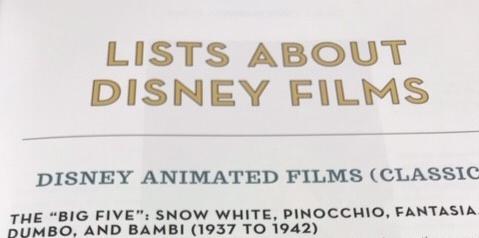 There are also tons of new-to-me facts about a lot of Disney topics! Two lists in particular, "Disney Legends Who Should Be Better Known" and "Folks Who Are Overdue For Recognition as Disney Legends" are exceptionally interesting.
"Top Disney" is a treasure trove for Disney fans of all types and ages.
It's made me want to watch movies I haven't seen and download music I haven't heard (or had forgotten about). I didn't read the chapters and lists in order, preferring to skip around as the mood strikes. I've learned something new every time I open the cover. I'm honestly very happy I got the opportunity to review this book and highly recommend it! Fellow Disney fans will not be disappointed! You can pick up a copy here.
Many thanks to Christopher Lucas for reaching out to me and getting this great read into my hands. Your book is a fantastic addition to my Disney library.