Who Would Love Talking Mickey Mouse?
Last year, Raymond and I found ourselves with a few minutes to spare in Magic Kingdom. I'm not certain now if we were between FastPasses or waiting for a dining reservation, but we used the My Disney Experience app to check wait times for various attractions.  I noticed that meeting Mickey in the Town Square Theater had only a 30 minute wait.  We'd had FastPasses for Mickey that we did not use back in 2014, so I was all, "Hey! We can meet Mickey now!" and Raymond, being Raymond, took a deep breath and gave me the look that means he'll do it because he loves me and wants me to be happy.  Off we went!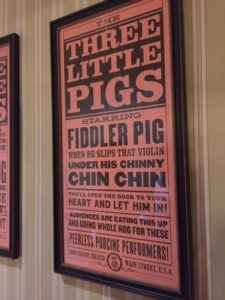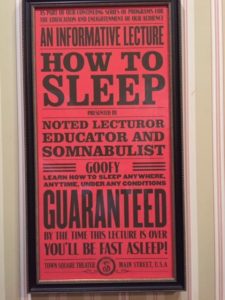 When we entered the theater that day, there were two lines – one for Tinker Bell and one for Mickey. Tinker Bell's line was much longer than Mickey's.  We moved along at a steady pace and I started taking in some of the surrounding details.  There were a bunch of cute posters to look at as we moved ever closer to The Big Cheese.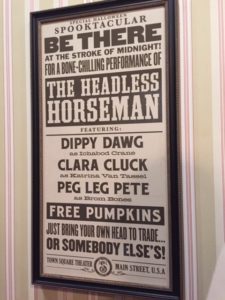 The queue narrowed as we made our way down a hall and into a room decorated as an office.  On the far side of the room was a closed door.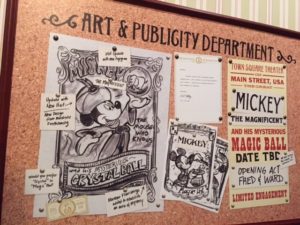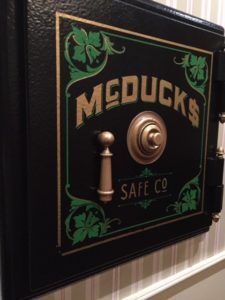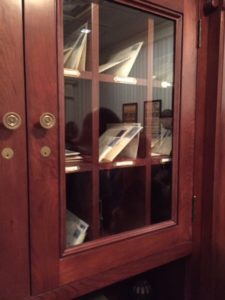 As each party's turn to see Mickey arrived, they were ushered through the door, which was quickly closed again behind them.  Much mystery surrounded the meeting of the Mouse.
Finally it was our turn! We entered what was clearly Mickey's dressing room and there he was!  He was dressed in his magician's costume and surrounded by much Mickey paraphernalia.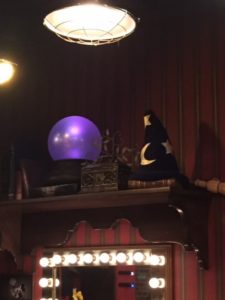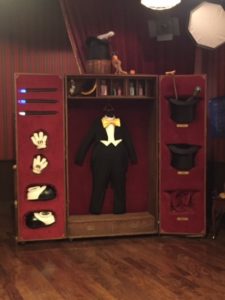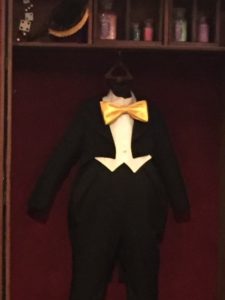 Mickey walked towards us to exclaim, "It's YOU!" and my first reaction was nervous laughter.  I was not expecting to be overcome by a small but undeniable amount of fear (for lack of a better word).  Talking Mickey was kind of creeping me out.  He said Mickey stuff you'd expect like, "Great to see ya, Pal" or things to that effect.  I'm sure he has a variety of phrases from which to choose, but we felt suddenly awkward now that we were face to face with THE Mouse.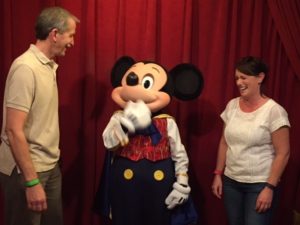 He did his best to make us feel welcome, but the talking threw me off my usually happy-to-meet-you character mode.  We posed for a couple of pictures and, saying goodbye, moved quickly for the exit.
My first impression of the situation was that maybe I'm too old for the kind of technological advance that makes a previously beloved (but silent) Disney character into a blinking, talking one.  I want quiet Mickey back.  While I'm sure Mickey Mouse fans of all ages may enjoy meeting this new marvel of communication, I'm probably going back to putting my character-meeting efforts into seeing Donald – who IS my absolute favorite character and still quiet as a mouse…uhm…Duck?
Have you met Talking Mickey?  How'd it go?