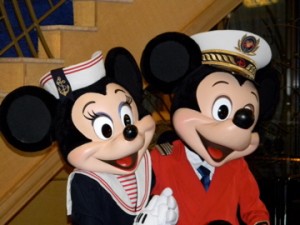 Recently a couple of friends mentioned that they'd been thinking about taking a Disney cruise.  Those TV ads make the experience look amazing, but having never cruised before, the idea seemed a little scary.  We've all heard horror stories of extreme seasickness, severe weather, and people falling overboard while on a cruise ship.  We've also listened to other people who, like our family, have had some of the best vacation experiences on a Disney cruise.
5 Reasons to take a Disney Cruise Vacation
You already love Disney vacations – While Disney parks offer much different experiences than Disney cruise ships, the food, the excellent Cast Members, the lovable Disney Characters, and the entertainment are all exactly as a Disney park fan would expect (and maybe even better).
You want to visit new places – There's a world to explore out there beyond the parks, but once addicted to the Disney Bubble, it's hard to break free and visit a new location.  Disney cruise ships still allow you into the Bubble while moving you around to see and experience new places.  If you book Disney excursions, you can be assured you'll be as well taken care of off the ship as you are on board.
You're on a fixed budget – Sure, there are plenty of expenses on a Disney cruise, just as there are at Disney parks and resorts.  What's great about cruising is that you can pre-calculate nearly every single expense – unless of course you want to consume copious amounts of adult beverages on your cruise.  The cruise price includes food, so all you have to calculate is excursion costs, any upcharge for specialty dining (if you elect to experience one of the adults-only restaurants) and Cast Member tips before you go – this gives you a great idea how much you'll really be spending.  Again, adult beverages are extra and can be expensive.
You'd like vacation activities suitable for a variety of ages – So much less walking required on a cruise ship than in a theme park!  From toddlers to grandparents, Disney Cruise Line excels at making sure there are interesting and entertaining activities for everyone.  We love the onboard movie theater, the evening shows, the cooking demonstrations, the fitness center, and when our children were young, they loved the kids club areas.
You need a relaxing vacation – A Disney cruise, depending on the itinerary, can be just as exhausting as Walt Disney World after a week of non-stop touring.  The right itinerary, though, can serve up an incredibly tranquil and relaxing getaway.  Short cruises in the Bahamas spent enjoying the sun, sea and gorgeous weather are perfect for recharging your battery while escaping winter weather at home.  Castaway Cay, Disney's very own island paradise, is a port of call on most Bahamian itineraries.  It's the perfect place to kick back amid palm trees, sand and sea and let go of stress.
"When life gets rough I like to hold on to my dream
of relaxing in the summer sun just lettin' off steam!" – Olaf
Have you taken a Disney cruise?  What did you think?  Would you recommend it to fellow Disney fans?